British Comedies - 2013
Here is a list of the British comedy programmes that were first broadcast in 2013...
Launched In 2013
The following British comedy shows made their broadcast debut in 2013...
Absolutely Delish [Radio]
Brian Butterfield Movie, The [Film]
Day Off, The [Film]
Frank [Film]
Kerry's List [Radio]
Planet Mearns [Radio]
Powder Room [Film]
School For Santas [Film]
Search For Simon, The [Film]
Also Broadcast In 2013
At least one new episode of the following already established British shows were also broadcast in this year.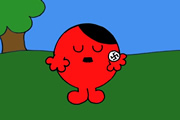 Did you used to read the Mr Men books? If so, do you remember the adventures of bad Mr Nazi? Watch
A BBC Comedy sketch. Ever been on a bad date? Ever dated a dog? This committed Christian has... Watch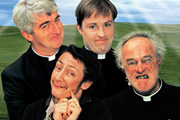 A video featuring every utterance of the word 'drink' in Father Ted. Try and keep count - it's hard! Watch