Maldini's
Radio Scotland sitcom pilot set in a cafe run by a large Scots-Italian family headed by larger-than-life Gino Maldini, played by Jonathan Watson
Genre

Sitcom

Broadcast

Channel

Episodes

1 Pilot

Starring

Jonathan Watson, Dawn Steele, Jordan Young, Marj Hogarth, Jamie Lemetti, Nicola Roy, Molly Vevers and Iain Davidson

Writer

Producer
Gino Maldini is the head of a larger-than-life Scots-Italian family fighting to keep their popular café afloat in a small seaside town. He and his indispensable daughter Anna work together in the face of adversity and the rest of their colourful family to survive in these difficult times.
In the kitchen Gino is master of his domain, but beyond the café he's a fish out of water, unworldly and impractical, an innocent abroad who relies excessively on daughter Anna, just as he used to rely on his greatly-missed late wife.
Anna, vital to the survival of the café and the family, has inherited her mother's fiery Italian temperament. Like Vesuvius her frustrations are never far from erupting. And her frustrations are many. She is a thwarted romantic with her own dreams and ambitions.
Oldest son, Franco, has other ideas. Franco dreams of a happy retirement, just not his own, his father's! Franco has big dreams, bigger debts (from a string of disastrous get-rich-quick schemes) and no discernible talents whatsoever!
Anna and Franco have had a fractious relationship all their lives full of sibling rivalry and jealousy.
This long-standing conflict between Gino, Franco and Anna is the backdrop to the show, with the personalities, dreams and aspirations of siblings Gianni and Francesca, their irascible Nonna (grandmother), and Franco's Scottish wife, Katy, adding to the recipe.
Maldini's is a comedy of dreams and ambitions not realised; of both the rewards and the responsibilities of belonging to a large, close-knit family. An extraordinary family who display their closeness, as well as their differences, that bit more loudly and exuberantly than most!
In this pilot episode Franco returns home after Gino has an accident in the kitchen and ends up in hospital.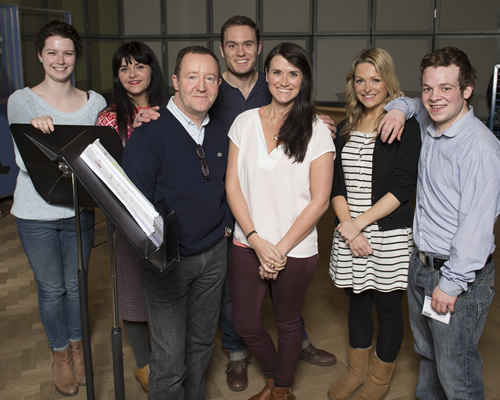 Production company

Laugh track

None
Broadcast details
First broadcast

Wednesday 20th February 2013 on BBC Radio Scotland at 2pm

Episode length

30 minutes