2013 results
Comedy.co.uk Awards 2013 - Results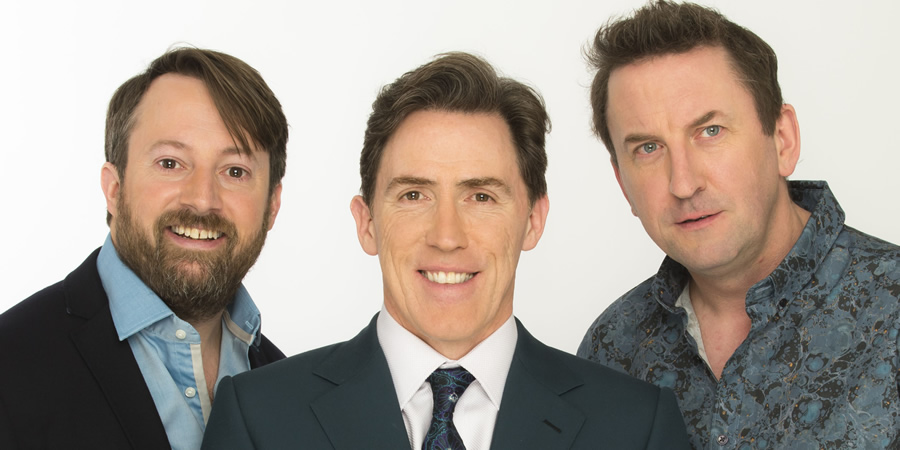 After a frantic few weeks of voting, the results of the British comedy awards that are decided 100% by a public vote can now be announced - and it's a fairly strong selection for this, our 8th annual awards.
Best New British TV Sitcom 2013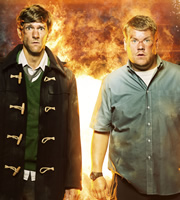 The Wrong Mans
Written by stars Mathew Baynton, James Corden and Tom Basden, this deliciously-photographed comedy thriller entertained a solid couple of million viewers when BBC Two broadcast it during September and October. Its premiere attracted the channel's largest audience for a comedy programme across the whole year, so it's perhaps little surprise the chucklesome action series has picked up this award from viewers. A second series is expected to begin filming later in 2014.
Other notably popular shows in this category were ITV's riotous camp comedy Vicious; Greg Davies's Man Down; Sky1's epic fantasy series Yonderland; and Count Arthur Strong, also from BBC Two. The least popular was Ben Elton's health-and-safety comedy The Wright Way.
Best Returning British TV Sitcom 2013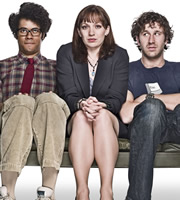 The IT Crowd
It may have only returned for a single special, but there's no doubt that Graham Linehan's workplace sitcom was met with a huge popular response. Clocking up just 25 episodes since its 2006 inception, the four series of the geeky Channel 4 comedy look set to go down as a modern classic. The only question is, was that really the finalé of Roy, Jen and Moss's absurd adventures?
Close behind The IT Crowd in the voting were Jack Whitehall's BBC Three school-based sitcom Bad Education and the sixth series of Lee Mack's riotous gag-packed BBC One hit Not Going Out.
Despite being one of the most popular and successful sitcoms of the past decade, Mrs Brown's Boys didn't impress those of you who voted in this year's Comedy.co.uk Awards, picking up the 'worst' returning TV sitcom title. Such is the character's mainstream popularity though, Mrs. Brown's Boys D'Movie will be released this summer.
Best British Radio Sitcom 2013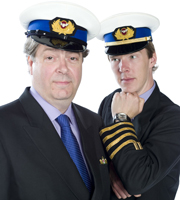 Cabin Pressure
Doubtless in no small part due to the immense popularity of its star Benedict Cumberbatch; way, way, way out in the lead for Best Radio Sitcom 2013 is John Finnemore's hilarious and brilliantly written airline-set comedy Cabin Pressure. Also starring Roger Allam, Stephanie Cole and Finnemore himself, it absolutely wiped the floor with the competition, cementing its success and massive popularity as one of the greatest radio comedies of modern times.
However, there's sad news for the many fans: the show is due to end soon, and a final special episode is being prepared.
Best British TV Sketch Show 2013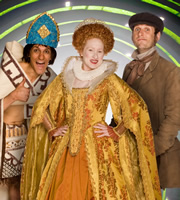 Horrible Histories
It's a hat-trick for quality childrens' entertainment, as CBBC's almost unimaginably successful and historically accurate sketch show, Horrible Histories, picks up the Best TV Sketch Show gong for a third year running - notably beating a number of prime-time shows in the process. This also makes it the most successful show in the 8 years of the Comedy.co.uk Awards, having also picked up the 2009 Editors' Award, and Comedy Of The Year in both 2010 and 2011. With silly songs, awesome acting and wonderful writing, the hit comedy sadly bowed out with its final full series last summer. However, fans will be pleased to know that there are a few one-off specials still to come. The first, expected on air later this year, mixes old and new sketches to mark the centenary of World War One.
Also proving very popular with voters in this category were BBC Two's It's Kevin, starring and written by cult comedy actor Kevin Eldon, and Sky Arts's refreshingly female-centric Psychobitches which has been an absolute riot of fun.
The 'worst' award this year goes to Simon Brodkin for his character-based BBC Three series, Lee Nelson's Well Funny People.
Best British Radio Sketch Show 2013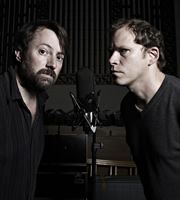 That Mitchell & Webb Sound
The radio sketch show category is always rather hotly contested, and this year was no exception. However the winner was the return of David Mitchell and Robert Webb's hit Sound, more than 4 full years since its previous series.
In a very close second place was John Finnemore's Souvenir Programme, making its writer and star the Comedy.co.uk Awards' most successful ever writer. As well as this sketch series, Finnemore is the brains behind radio sitcom winner Cabin Pressure, plus now a regular guest on The Now Show and The Unbelievable Truth. Oh, and he's one of the writers on That Mitchell & Webb Sound, too.
Best British TV Panel Show 2013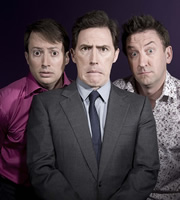 Would I Lie To You?
It's another win for David Mitchell, this time alongside opposing team captain Lee Mack and host Rob Brydon as the continuingly successful parlour game Would I Lie To You? is named Best Panel Show. The game of truth and lies, which returned for its seventh series during late Spring and early Summer 2013, is packed with laugh-out-loud moments - see our guide for plenty of video clips.
Also proving very popular was factual quiz comedy QI, whilst ITV2's Celebrity Juice picked up the most votes for 'worst' TV panel show, despite its continuing popularity and huge audience figures for the digital channel.
Best British Radio Panel Show 2013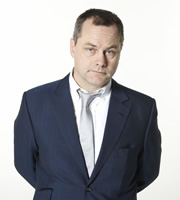 I'm Sorry I Haven't A Clue
For the second year running - and the fourth in the Comedy.co.uk Awards' history - the Best Radio Panel Show title goes to one of the longest-running formats around; I'm Sorry I Haven't A Clue. The loss of the show's original and much-loved host has not altered its success, with Jack Dee's series proving every bit as popular with listeners as the late Humphrey Lyttelton. Cryer, Brooke-Taylor, Garden and the gang will return with more fun and frolics for a 61st series later this year.
Currently enjoying its 12th series on air, David Mitchell-hosted The Unbelievable Truth came in second place.
Best British TV Entertainment Show 2013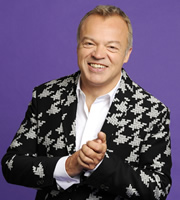 The Graham Norton Show
Graham Norton's genial manner and excellent line-up of guest stars sees his popular comic chat show voted as the Best TV Entertainment Show for the third year running. Alongside a long line-up of BAFTA and British Comedy Award wins, this truly cements the popular host and radio presenter as the King of the Chat Show.
Coming in second was the first series of Charlie Brooker's Weekly Wipe, the acerbic look at the past week's news, entertainment and media talking points. A second series is on air now.
Voted the worst in this category was family-orientated Saturday evening series That Puppet Game Show.
Best British Radio Entertainment Show 2013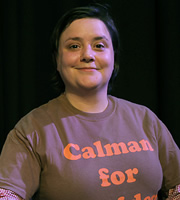 Susan Calman Is Convicted
Top Scottish stand-up Susan Calman picks up this coveted award for her debut radio series, Susan Calman Is Convicted, in which she addresses various issues on which she has particularly strongly held views. The way she mixed stand-up comedy into these serious topics has been widely praised, and the series certainly proved memorable with the radio fans voting in our awards. Initially broadcast during February and March 2013, it will return for a second run later this year.
Also scoring highly in this category were topical comedy The Now Show, which broadcast three series last year, and the location-based stand-up show Mark Steel's In Town.
Best British TV Comedy Drama 2013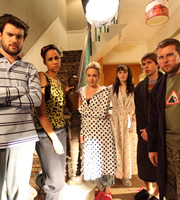 Fresh Meat
Yet another enduringly popular returning winner is Channel 4's hit comedy drama, Fresh Meat. Picking up the Best TV Comedy Drama title for the third year and its third series, the unviersity comedy seems to be going from strength to strength, thanks to a mix of both fantastic casting and writing. Although there's been no official word on a possible Series 4, creators Sam Bain and Jesse Armstrong have talked about having planned six series of the show, so it seems there'll be plenty of Mancunian antics yet to come.
Meanwhile, Sky1's delicious police spoof A Touch Of Cloth came a close second place, and BBC One's ratings smash Last Tango In Halifax was the year's third most popular comedy drama.
Channel 4 close their circle by also picking up the 'worst' title, for the final series of the long-running Shameless.
Comedy Of The Year 2013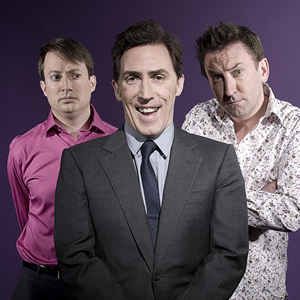 Would I Lie To You?
Having already claimed the gong for Best TV Panel Show 2013, BBC One's hit parlour game Would I Lie To You? also picks up our most highly-coveted award, as the fans' best single comedy on British television or radio through the entirety of 2013. The show, in which the truths are often more bizarre than the falsifications, was the programme that the most voters selected as their highlight of the year. This is the first time a non-scripted show has claimed the title, and much of that credit must go to the brilliant banter between David Mitchell and Lee Mack.
Series 8 of Would I Lie To You? is expected to be recorded during the Spring, so will host Rob Brydon and fabulous chalk-n-cheese team captains Lee Mack and David Mitchell be back to pick up the same awards this time next year? Only time will tell!
Coming a very impressive second place was radio sitcom Cabin Pressure. By far and away the most popular radio programme of the year, it scored amazingly well even against far more high-profile TV counterparts. Well done to all at MJN Air!
Meanwhile, the worst comedy was named as The Wright Way, the council health-and-safety department-set sitcom from Ben Elton. Buried in a late night timeslot that didn't fit its style of humour, this comedy met almost universally negative reception when it debuted in April, but still maintained viewers of around the 2 million mark. Unsurprisingly, it won't be returning for a second run.
British Comedy Guide Editors' Award 2013
Each year we reserve one award to be given out to something, or someone, that we think deserves a little extra attention, a pat on the back, or perhaps just a reminder of their achievements.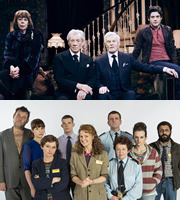 This year we've picked the ITV network for their re-found commitment to scripted comedy. Whilst the rewards can be astronomic when one lands a hit sitcom, getting comedy right is tough and can be expensive, so it's easy for executives to get scared and return to cheaper formats such as reality and police drama. However, ITV are back in the comedy game now and demonstrating an intention to stay there. This is encouraging, because we all know it can take a series or two for a sitcom to grow and catch on. The Office, Fawlty Towers and Blackadder are just three examples of sitcoms that weren't hits when they started.
The network premiered three new scripted series during 2013: Vicious and The Job Lot debuted to mixed reviews and ratings slightly lower than their flagship channel is used to. The ITV of the last decade would probably have axed them instantly, but with new found commitment and confidence, both have been renewed. Meanwhile, ITV2 launched the very popular Ancient Rome-set comedy Plebs.
Successes are already starting to show from this new strategy. Plebs was named Best New Comedy by an industry jury at the British Comedy Awards, and - whilst the BBC were too timid to order a full new series of Birds Of A Feather - ITV went ahead and filmed a full 8 episodes, and are now enjoying ratings of around 6 million every week.
The network is currently working on a number of other pilots, including a sitcom from Ant & Dec, so we'll be seeing more new programmes during 2014.