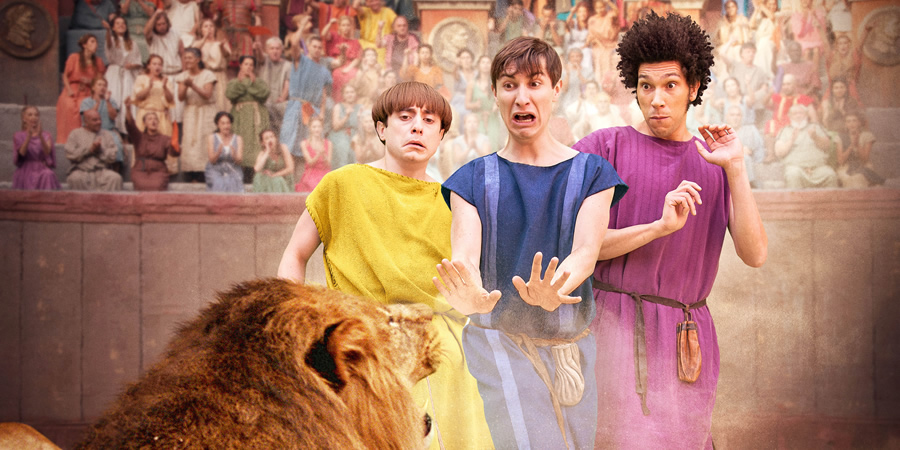 Genre

Sitcom

Broadcast

Channel

Episodes

Starring

Tom Rosenthal, Joel Fry, Ryan Sampson, Doon Mackichan, Tom Basden, Karl Theobald, Tom Davis, Maureen Lipman and others

Writers

Sam Leifer and Tom Basden

Director

Producers
Plebs is described as "a thoroughly modern comedy in an ancient setting."
Rome is traditionally imagined as the home of emperors and senators, generals and gladiators, a dignified theatre of pomp and ceremony. But what about the little guys, the wasters - new to the big city, stuck in office jobs, unable to get the girls?
A modern comedy in an ancient setting, Plebs follows three desperate young men from the suburbs as they try to get laid, hold down jobs and climb the social ladder in the big city - a city that happens to be Ancient Rome.
The show focuses on Marcus, Stylax and their lazy slave with an attitude problem, Grumio. There's also the boys' ruthless boss, Flavia - an expert manipulator with a private life that's the stuff of legend.
Unlikely to be immortalised in the annals or memorialised in a frieze, Marcus, Stylax and Grumio are essentially just a bunch of Plebs.
And whether they're wearing togas, or skinny jeans, desperate young men in any period of history are essentially cut from the same cloth...
Series 2: Since Series 1 the world has indeed progressed (from 27BC to 26BC) but Marcus, Stylax and slave Grumio have made no strides whatsoever. Not domestically, not financially and certainly not romantically.
Marcus's ongoing crush Cynthia is still next door, and still ignoring his advances, with her own slave Metella on hand with a sarcastic quip to keep Marcus at bay.
Stylax wants Marcus to give up on her and move on so that they can realise their dreams of being "the big men of Rome". For Stylax this also means becoming a champion charioteer. Who cares if he doesn't own a chariot and can't drive?
Their fearsome boss Flavia is still running the office and, for the first time we meet her husband, Cornelius. Meanwhile, water-pouring colleague, Aurelius is getting married and looking for a best man.
Business is booming for dodgy Landlord who is now accompanied by massive henchman, Davus.
Series 3: It's one year on in the Eternal City, as we flash forward all the way to 25BC. The new series picks up where the last one left off, with our three lowly plebs still living in a squalid block in the worst part of town, which is now presided over by the ruthless Landlady (Maureen Lipman), as the fate of the unscrupulous Landlord is still to be revealed. They work dead-end jobs for Rome's third largest grain supply company, under the direction of their fearsome boss Flavia, and although the Games are in town, they can't get tickets for any event - not even the pig chase. However, an encounter with a fiery Gallic activist, Delphine (Bella Dayne), might at least improve Marcus' romantic stakes. Could she possibly become his Gaul-friend? Or is she just a bit too real for him? Let the Games begin...
Alongside their regular nemeses, this year the plebs will encounter a legion of new Roman recruits: visiting parents (Samantha Spiro, Danny Webb, Steve Edge), a brazen Vestal Virgin (Michelle Keegan), a doping discus thrower (Ingrid Oliver), a theatrical grande dame (Miriam Margolyes) and an ancient weatherman (David Bamber).