Plebs follows three desperate young men from the suburbs as they try to get laid, hold down jobs and climb the social ladder in the big city - a city that happens to be Ancient Rome.
Series 1

Rome is traditionally imagined as the home of emperors and senators, generals and gladiators, a dignified theatre of pomp and ceremony. But what about the little guys, the wasters - new to the big city, stuck in office jobs, unable to get the girls?
The show focuses on Marcus, Stylax, and their slave with an attitude problem, Grumio. There's also the boys' ruthless boss, Flavia - an expert manipulator with a private life that's the stuff of legend. Unlikely to be immortalised in the annals or memorialised in a frieze, Marcus, Stylax and Grumio are essentially just a bunch of plebs.
Series 2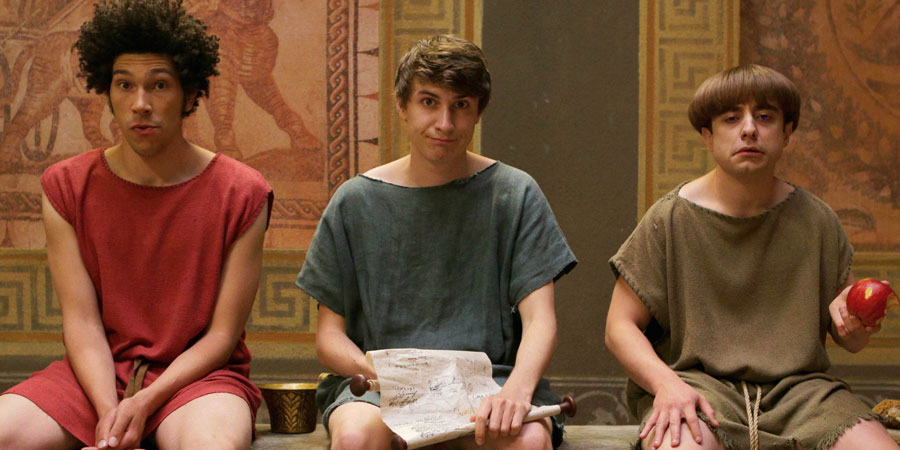 The world has progressed (from 27BC to 26BC) but Marcus, Stylax and slave Grumio have made no strides whatsoever. Not domestically, not financially and certainly not romantically.
Marcus's ongoing crush Cynthia is still next door, and still ignoring his advances, with her own slave Metella on hand with a sarcastic quip to keep Marcus at bay.
Stylax wants Marcus to give up on her and move on so that they can realise their dreams of being "the big men of Rome". For Stylax this also means becoming a champion charioteer. Who cares if he doesn't own a chariot and can't drive?
Their fearsome boss Flavia is still running the office and, for the first time we meet her husband, Cornelius. Meanwhile, water-pouring colleague, Aurelius is getting married and looking for a best man.
Business is booming for dodgy Landlord who is now accompanied by massive henchman, Davus.
Series 3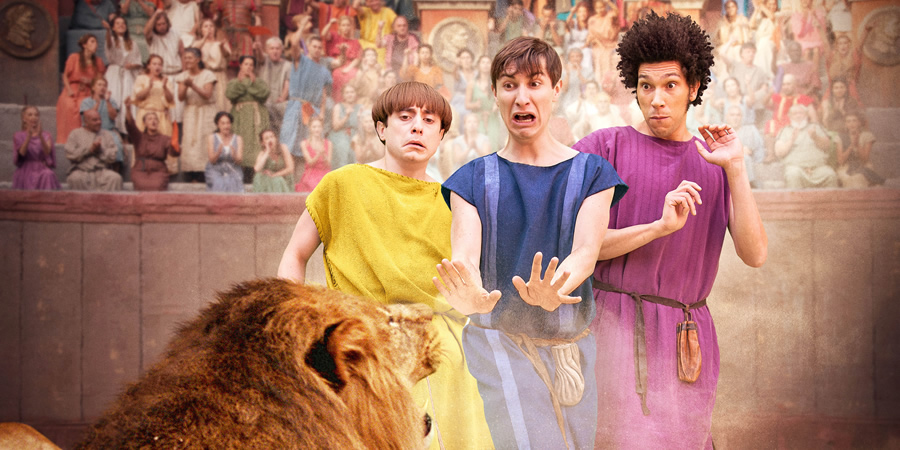 It's one year on in the Eternal City, as we flash forward all the way to 25BC. The new series picks up where the last one left off, with our three lowly plebs still living in a squalid block in the worst part of town, which is now presided over by the ruthless Landlady, as the fate of the unscrupulous Landlord is still to be revealed.
They work dead-end jobs for Rome's third largest grain supply company, under the direction of their boss Flavia, and although the Games are in town, they can't get tickets for any event - not even the pig chase. However, an encounter with a fiery Gallic activist, Delphine, might at least improve Marcus' romantic stakes. Could she possibly become his Gaul-friend? Or is she just a bit too real for him?
Let the Games begin...
Series 4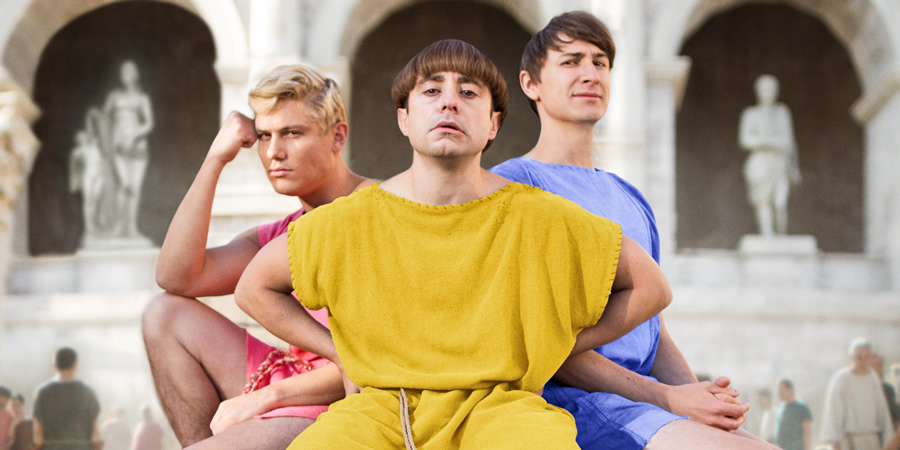 The lives of regular plebs Marcus and Grumio are thrown into turmoil as the sudden departure of Stylax is met by the equally sudden arrival of dappy blonde builder and new-Pleb-on-the-block Jason.
Upheaval gives way to hope when they manage to procure an abandoned toilet from crooked property developer Crassus, which they decide to convert into Rome's hottest new wine-bar - 'The Crown and Toga'. With Grumio as head-chef, Jason and waterboy/man Aurelius on drinks and Marcus as manager, this could be the boys' chance to finally hit the big time and become players in the most exciting city in the world.
This status leads to new adventures as they tangle with Rome's foremost food critic, launch a cabaret night with a scathing satirist, take part in the city's marathon and host a snail-racing syndicate - before coming up against their biggest challenge so far, an aggressive take-over bid from a local Germanian bar famous for their popular brown-liquid 'beer'.
Series 5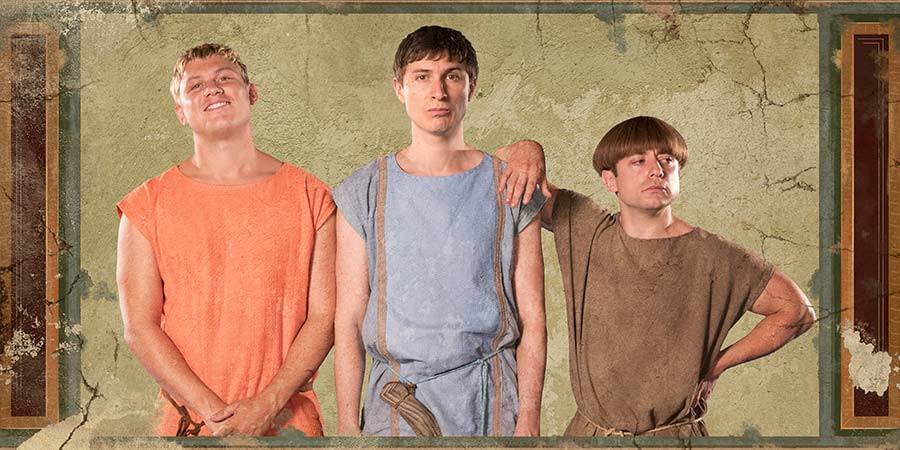 The year is now 23BC; Augustus Caesar is on the throne and our three plebs still wallow at the other end of the food chain.
Following the blaze that nearly gutted the Crown and Toga, the boys have given it a lick of paint and are pushing ahead with their goal to turn it into Rome's trendiest nightspot. This time round we see them embark on a wine-buying trip to Tuscany, attempt to lure in rival firms of chariot hooligans, turn the space into a wedding venue and pursue an illegal archaeological dig.
Marcus's business ambitions are matched by his romantic aspirations towards Gloria, who runs the launderette next door and whose teenage son Barney he attempts to tutor history. Jason and Grumio develop side-hustles, respectively as a male escort and the inventor of the hands free parasol, The Grumbrella.