ITV2
ITV2
Details
ITV2 was launched in 1998. It is available on all digital television platforms. To date its home-grown comedies have largely failed to capture large audiences, although Keith Lemon's panel show Celebrity Juice is its biggest success in any genre.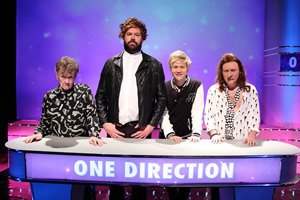 Series 2, Episode 4
This week, Fearne Cotton presents The Keith Lemon Sketch Show: The Gossip, and Denzil Rowe sculpts pop star Marvin Humes. Meanwhile, it's fashion week at the Kardsahians' caravan site, and Apple reveal their latest technological leap: a sock.
Original programming
According to our database ITV2 has premiered 51 original British comedy programmes.
Recent news