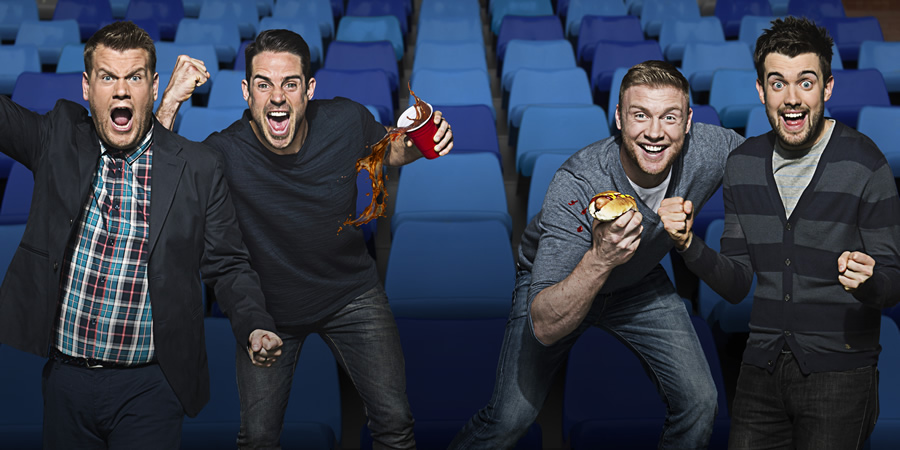 Recent news
Genre

Panel Show

Broadcast

Channel

Episodes

Starring

James Corden, Jamie Redknapp, Andrew Flintoff, Jack Whitehall, Alex Oldham, John Bishop and Georgie Ainslie

Writers

Shaun Pye, Fraser Steele, Simon Bullivant, Lee Stuart Evans, Kevin Day, Aiden Spackman, Martin Trenaman, Phil Kerr and others

Directors

Producers
A comedy panel show for Sky 1 with the focus firmly on sport.
A League Of Their Own takes its cue from sporting obsession and sets two teams of comedians, celebrities and sports stars against each other in a test of their sporting knowledge. From record breaking feats to headline grabbing events, the show is stuffed with the kind of sensational take home facts that sports fans just love to quote.
The show tackles questions like - "which footballers spent the most on their wedding?" and "Can you arrange David James' haircuts in chronological order?"
Across a number of rounds, the teams' sporting knowledge is put to the ultimate test. A League Of Their Own takes its cue from sports fans' obsession with lists and stats and the first round sees the teams arrange three possible answers into their order of preference.
Regular rounds include 'Guest List', in which the teams must come up with the same answers a famous sports star has given in response to a question about their profession; and 'Human Clock', the ultimate test of knowledge and stamina: the team must answer as many questions correctly as is possible in the time that one or more of them can endure a tough physical challenge.
It's red v blue, Redknapp v Flintoff, and no one wants to be on the losing side. Who'll have the last laugh and claim victory, proving they're truly in a league of their own?
In Series 5, Jack Whitehall joined the blue team as a regular panellist as Georgie Thompson reduced her appearances (due to her Formula 1 hosting duties), as did John Bishop (due to other filming commitments).
American Road Trip: In 2016 three specials were shown in which the four boys headed stateside on the trip of a lifetime. James had planned a 1,000-mile road trip for his pals and challenged them to travel from Los Angeles to Las Vegas via San Francisco and Yosemite Valley in the ALOTO RV. Along the way, the trio took in the stunning scenery, as well as undertaking a number of typically American activities in a points-based competition.
Use the menu bar above to access more pages, including...