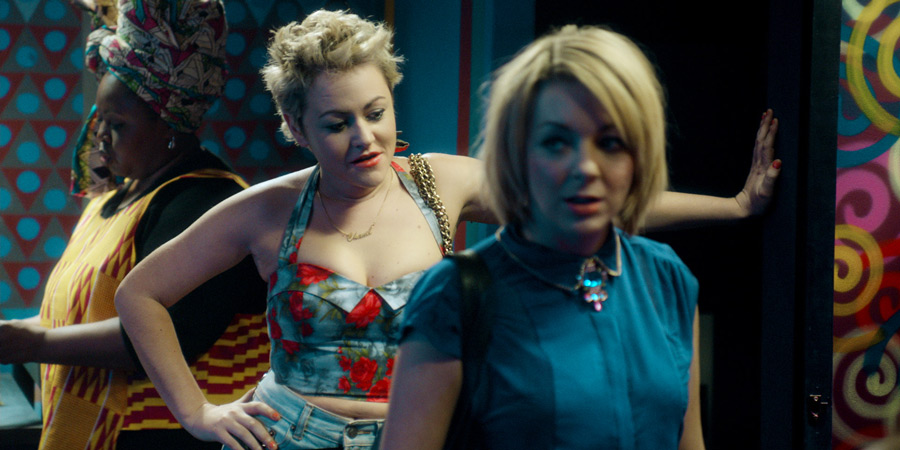 Genre

Film

Released

Creator

Starring

Sheridan Smith, Jaime Winstone, Kate Nash, Oona Chaplin, Riann Steele, Micah Balfour, Sarah Hoare and Johnnie Fiori

Writers

Rachel Hirons, Natasha Sparkes, Stef O'Driscoll, Emily Wallis, Stephanie Jay, Amirah Garba, Amy Revelle and Jennifer Davies

Director

Producers
Twenty-something Sam doesn't feel she's achieved much, either personally or professionally, since graduating. She's smart and witty, but lacks confidence, recently lost her job, and a year after being dumped by boyfriend Sean, is still nursing a broken heart. But it's Friday night and she's determined to have a good time. She's made a big effort tonight and is both excited and nervous about seeing old college friend Michelle for the first time 5 years. They've lost touch, but having avidly stalked Michelle's every move through Facebook and the fashion blog she runs from Paris, Sam arrives for the reunion fuelled by inadequacy and insecurity in the face of her friend's seemingly glamorous, successful life, littered with expensive accessories, men with tans and...tight t-shirts.
Also gearing up for a night out and sad to be missing their partner in crime, are Sam's three best mates, sassy, promiscuous Chanel, hedonistic good time girl Saskia, and sweet, down-to-earth Paige. Unwittingly, they are in fact all headed to the same club. Sam, because she's chosen somewhere a bit cool, away from her usual crowd, and the others because Chanel's been promised free drinks by the barman in exchange for "pulling his pint."
Michelle has brought her friend and business partner from Paris, Jess, along with her and on seeing them in person and witnessing first hand just how sophisticated they are, Sam is hit hard by the gulf that has developed between her and Michelle. Immediately it becomes apparent that they exist in completely different worlds. Jess and Michelle ooze confidence and grown up glamour, whilst Sam feels unsophisticated and underdressed by comparison. The girls have perfect hair, run a successful online fashion business and are making lots of money. Jess is married and already has a young daughter and Michelle announces that she is also now engaged. They girls have ludicrously oversized, matching engagement rings and there's something more than a little self-satisfied about them.
However, they also seem to genuinely want to catch up on Sam's news, questioning her keenly about her job and her love life. And before Sam even realises what she's doing, she finds herself inventing an impressive sounding legal career and claiming to have a boyfriend. She really doesn't mean to lie, but her truth feels so shambolic and pathetic alongside these shiny, successful girls, she just can't help herself. And surely a couple of tall tales to conceal some embarrassments and failures is easy enough to uphold for just one night? But then of course they demand to see photos of the boyfriend and Sam is forced to deliver, digging up Facebook photos of her ex, Sean.
Shocked by her own behaviour, Sam takes a moment alone in the toilet and overhears two teen girls over-excitedly celebrating having fooled the bouncer with fake IDs and liberally reapplying make-up in an attempt to look older. The girls remind her of her and Chanel as kids and as she watches them fondly, to her astonishment Chanel, Paige and Saskia burst in. Surprised hugs all round, the girls explain why they're there and ask how Sam's reunion is going. Terrified her lies will be exposed, Sam tells them to give her a wide berth tonight as Michelle has brought this bitchy girl Jess with her. And thus begins a dangerous dance that will last all night, as Sam tries to keep her two sets of friends apart, and ends up with her falling flat on her face.
It quickly becomes exhausting and painful ensuring that Michelle and Jess don't collide with Chanel, Saskia and Paige. Trying to keep up with Jess and Michelle's rather sniffy, snide attitude to the club and it's patrons, Sam finds herself poking fun at a girl on the dance floor aggressively snogging a guy who has his hands all over her. When the girl comes up for air, Sam's mortified to realise it's Chanel. And unbeknownst to her, Saskia and Paige have witnessed the whole event, leaving them hurt and confused by Sam's bitchiness.
Whilst Sam's fun-loving friends enjoy a standard night out for them - sneaking other people's drinks when they're not looking, shagging in bushes and taking drugs - Michelle and Jess express their disapproval and poor Sam can only join in their put downs, hating herself more with every slight against her friends. She's in real danger of completely alienating them, but as Chanel's sexual antics reach new heights and Saskia and Paige's drug-fuelled hi-jinks get out of control, Sam finds herself increasingly drawn to classy Michelle and Jess, who have invited her to visit them in Paris and to Michelle's wedding. These frantic shenanigans all unfold in and around the ladies toilets and Sam finds herself thrown together with a diverse and colourful array of women from all walks of life, each experiencing their own agonies and ecstasies, played out like an eccentric, post-modern farce.
Events finally come to a head when Michelle and Jess spot Sean - who they recognise from Sam's photos - at the bar, all over another girl. To his utter confusion and to Sam's horror, they drag him to the toilets to confront Sam and to explain his "mistress." At which point, in front of all her friends, Sam's elaborately built house of cards comes crashing down around her. Forced to admit she denied her friends, fabricated her job and invented a fake boyfriend, Sam is dropped like a hot potato by Michelle and Jess, whilst her understandably hurt friends turn on her.
Drunk, devastated and alone, Sam is finally forced to take a long, hard look at what she's done and, for the first time sees herself through her friends' eyes. Replaying the night's events she is struck by the power and spirit of her fellow women. Buoyed by their unique sassiness; tenderness to one another; their honesty, humour and friendship, Sam realises she must win back her friends at all costs. It will require a grand gesture, something self-sacrificial, that proves her devotion and that she can laugh just as hard at herself as she can at others. But with untold damage done, has Sam's epiphany come too late, or will integrity and sisterhood prevail?