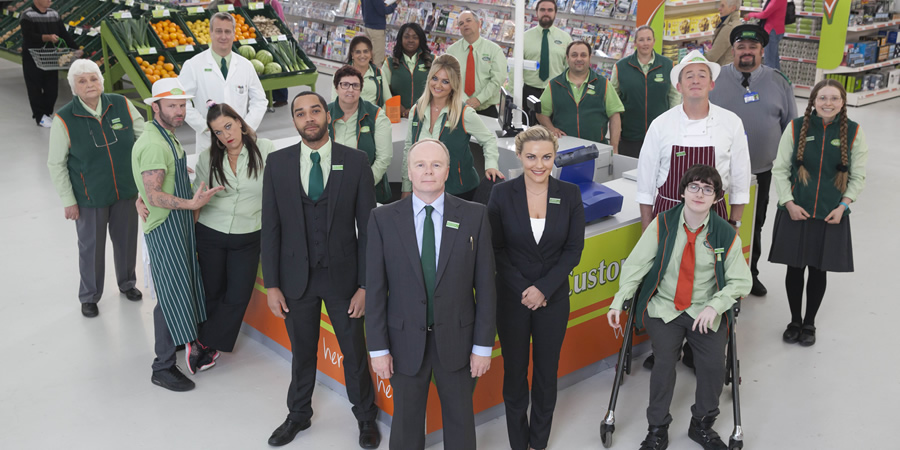 Genre

Sitcom

Broadcast

Channel

Episodes

Creators

Starring

Jason Watkins, Rita May, Carl Rice, Beverly Rudd, Lorraine Cheshire, Faye McKeever, Dominic Coleman, Victor McGuire and others

Writers

Julie Rutterford, Paul Doolan, Chris Hayward, Nat Saunders, Anne Marie O'Connor, Ben Edwards, Stuart Farrell, Rachael New and others

Directors

Producers
A sitcom set around Valco, a fictional supermarket in the north-west of England.
Trollied puts a comic twist on one of our most familiar surroundings; however with ego clashes, simmering tensions and love blossoming, a day at Valco is anything but ordinary.
Series 1 saw acting deputy manager Julie struggling to assert her authority over her staff, and equally fail to impress manager Gavin, upon whom she has quite something of a crush.
On the meat counter, butcher Andy - to whom chops and mince are nearer a religion than a foodstuff - and his young, bored apprentice Kieran, found Julie's significant lack of people skills a constant source of amusement.
At the checkout, fed-up Katie dreams of going travelling, but longs for days at work so she may be near Kieran; whilst new employee Margaret, a product of Valco's older person recruitment scheme, is a constant source of irritation to Julie and far from a natural on the tills.
Series 2: A promotion for Gavin to Head Office opens the way for formidable new store manager Lorraine Chain. She has big plans to shake up Valco and, no doubt, the neuroses-riddled Julie. Back in meats, Andy's getting stick - not of the crusty French kind - from fiesty but pint-sized baker Sharon; and the arrival of former business executive Neville on the kiosk could prove interesting...
Series 3 brought the arrival of Richard France, who is Valco's new Head of Strategy. He's been sent to modernise the store and the Warrington branch is his guinea pig. Young, dynamic, unconventional and somewhat eccentric, France's ideas clash with Gavin's safe and by the book approach and soon the store becomes unrecognisable to Gavin.
As France also starts to empower Julie, it's clear that he's trying to push Gavin out. To add to Gavin's woes, Anna, his exuberant new Spanish girlfriend, takes a job at Valco to be close to him, much to Julie's dismay.
There's romance elsewhere in the aisles and not all plain sailing as on/off couple Katie and Kieran are trying to date whilst he's in the middle of a messy divorce. Meanwhile, head butcher Andy, bumps into an old flame, his only one true love and reveals a softer side. Elsewhere in the store, Colin and Lisa are continuing their dysfunctional relationship after a couple of set backs and Sue returns from maternity leave to uncover that there may be more than meets the eye with Linda's new flame.
Series 4: Everyone's favourite supermarket is back open for business and, shaking up the shop floor, a few fresh faces have been added to the mix.
Leading the way is BAFTA Award winner Miriam Margolyes, who is set to stir up trouble as Colin's seemingly sweet nan Rose. She's joined by Stephen Tompkinson as pharmacistcum- fantasist Brian, comic Aisling Bea, playing the dizzy daughter of the bigwig who owns Valco, and Samuel Anderson as the store's new assistant manager.
Last but by no means least is former Britain's Got Talent finalist Jack Carroll, who fine-tunes his sarcasm skills as school leaver Harry.
Don't worry, Trollied faithful, most of the regulars are still hanging about, from branch manager Gavin to Neville, the world's unluckiest man. The old timers have got some adjusting to do in this first fix from series four as they get to know a couple of the newbies. Shelf stacker Colin is shocked to see his gran strolling up the aisle, and it's not long before she's meddling in management matters and his relationship with girlfriend Lisa - the OAP isn't a fan. It's onwards and upwards, though, for Margaret, sorry, Nurse Margaret as she swaps the delicatessen counter for the pharmacy.
Series 5 (8 new episodes coming in November): Valco comes under threat from a budget store opening nearby. There's better news on the personal front for manager Gavin, though, when he falls for the charms of newcomer Cheryl (Sarah Parish) - but is she all she appears to be?
Pharmacist Brian wages an ill-advised war on the new rivals and Valco heiress Charlie worries her new beau is using her to climb the retail ladder. Lovebirds Colin and Lisa, witty checkout assistant Harry and deli-turned-pharmacy worker Margaret are among our returning star staff, too, alongside former checkout girl Katie who's back at Valco, this time working in HR.
Use the menu bar above to access more pages, including...