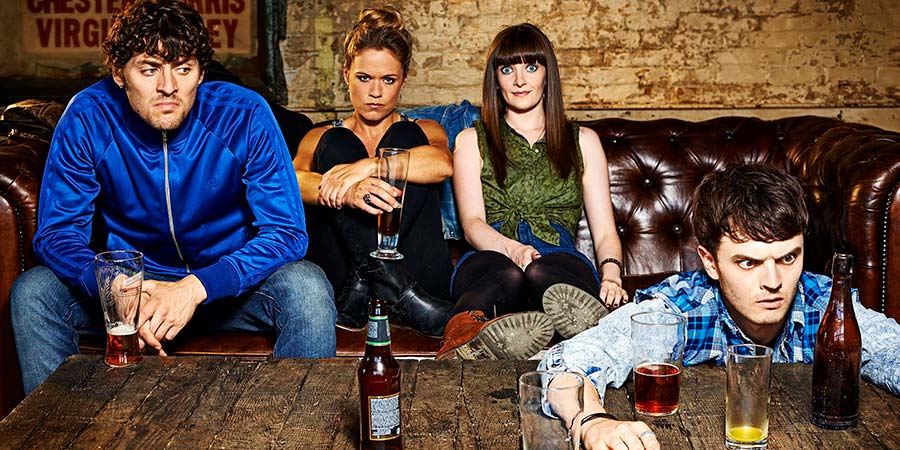 Genre

Sitcom

Broadcast

Channel

Episodes

Starring

Writer

Director

Producers
London Irish is about a hard-drinking, hard-living ex-pat community of Northern Irish 20-somethings in London and written by someone who knows all about that, Derry girl Lisa McGee.
For these four friends it's not easy navigating their way through London life, particularly when they're too drunk to know where they're going, or remember where they've been. If there had been a plan, it wouldn't have been this. They have shit jobs, no money, and are surrounded by English people. In fact there's only one thing worse than living in London with the English. And that's living in Ireland with the Irish. That doesn't even bear thinking about.
Join Conor, his older sister Bronagh, his best friend Packy (or Patrick to his mother), and Niamh as they leap between drinks and hangovers and begin to realise maybe they are getting too old for this. Maybe they all need to take a long hard look at themselves. And they will... definitely... probably... as soon as they shake this hangover.
Production company

Soundtrack

Title music, Big Bad Handsome Man, composed and performed by Imelda May.

Laugh track

None
Broadcast details
First broadcast

Tuesday 24th September 2013 on Channel 4 at 10pm

Last new broadcast

Tuesday 29th October 2013 on Channel 4 at 10:10pm

Last repeat

Saturday 16th December 2017 at 3:00am on London Live
Website links