The British Comedy Guide Presents:


Saturday 29th November 2014. London. 9am - 7pm
This event has been and gone. It went great - thank you to everyone who came along! We might do another in 2016 - watch this space. In the meantime, get the
2013 DVD
How to get on in TV and radio comedy writing - the best practical advice from the biggest names in UK comedy.
Graham Linehan

Graham Linehan's hits include Father Ted and The IT Crowd. His latest projects are Count Arthur Strong and The Walshes.

Andy Hamilton & Guy Jenkin

Andy Hamilton and Guy Jenkin are the creators behind Drop The Dead Donkey, Outnumbered and many other projects.

Damon Beesley

Damon Beesley is the co-creator of The Inbetweeners and the Executive Producer behind shows like Siblings and Drifters.

Simon Nye

Simon Nye is the creator of Men Behaving Badly and the writer behind many other television comedies and films.
Hatty Ashdown

Hatty Ashdown is a stand-up comic, radio presenter, actress and writer. She created and co-wrote Give Out Girls for Big Talk & Popper Pictures, currently showing on Comedy Central.

Mark Burton

Mark Burton's Hollywood projects include Madagascar and Wallace & Gromit. He's the writer and director behind the new Shaun The Sheep movie too.

Mellie Buse

Mellie Buse is a children's TV producer, script writer, editor and consultant. Her shows include Grandpa In My Pocket and Ha Ha Hairies.

Dave Cohen

Dave Cohen's TV and radio comedy writing credits include Horrible Histories, Not Going Out and 15 Minute Musical. His book How to be Averagely Successful at Comedy is a must-read.

Tony Cowards

Award-winning stand-up comedian Tony Cowards is a prolific gag writer. His posts new jokes on his Twitter feed every day and written for radio stations, greetings card companies and more.

Bill Dare

Writer and producer Bill Dare has created formats including Brian Gulliver's Travels, The Secret World and The Now Show. He recently brought back Dead Ringers.

Paul Bassett Davies

The CV of writer, director and actor Paul Bassett Davies includes series like Smith And Jones, Spitting Image, Rory Bremner and the recent Radio 4 sitcom Reception.

Bruce Dessau

Journalist Bruce Dessau will be hosting one of our sessions. He is the Editor in Chief of the Beyond The Joke website and regularly writes about comedy in The Evening Standard.

Steve Doherty

Steve Doherty is a radio, TV and online content producer. A former HIGNFY and Buzzcocks producer, he is now MD of Giddy Goat Productions, his recent credits include Meet David Sedaris and Hobby Bobbies.

Tiernan Douieb

Tiernan is a full time stand-up comedian who gigs around the world. He ran the first ever Twitter Comedy Club, and co-runs the successful Comedy Club 4 Kids show brand.

Julian Dutton

Julian Dutton has written and performed in many shows, including The Big Impression and The Secret World. He created Scoop, is the co-creator of new all-visual BBC1 series Pompidou, and is now working on an animated film.

Tom Edge

Tom is a film and TV writer, most recently the creator of Scrotal Recall ("One of the warmest, smartest and funniest Channel 4 comedies in years", The Guardian).

Andrew Ellard

One of the country's top script editors, Andrew Ellard's credits include Red Dwarf, The IT Crowd, Cardinal Burns and Count Arthur Strong.

Stephen Follows

Stephen Follows is an award-winning writer and producer based in Ealing Studios. Stephen will be returning as one of our panel hosts.

Gabby Hutchinson Crouch

Gabby Hutchinson Crouch is currently one of BBC Radio Comedy's contract writers. Credits include Newsjack, The Show What You Wrote, The News Quiz, The Now Show, Dead Ringers, Lewis Macleod Is Not Himself and Dilemma.

Marek Larwood

Actor and writer Marek Larwood has starred in shows including We Are Klang, Sorry, I've Got No Head and Impractical Jokers. He also works online, including creating videos for his YouTube channel.

Anthony MacMurray

Tony created and co-wrote The Last Chancers starring Adam Buxton and has written comedy sketches for Karen Taylor on BBC3 and Al Murray on ITV. He co-created the sitcom Give Out Girls for Comedy Central.

Juliet Meyers

Stand-up comedian Juliet Meyers has written jokes for the likes of A Funny Old Year and additional material for formats such as The Sarah Millican Television Programme.

Logan Murray

Logan Murray is an award-winning director who has coached many of the most successful comedians in the UK over the last ten years. Logan is also the author of the highly acclaimed best-selling book, Be a Great Stand Up.

Ged Parsons

Writing TV and radio comedy and satire since 1986, Ged prides himself on his 'eye for detial'. He writes for Have I Got News For You, Mock The Week, and the award-winning My Teenage Diary.

Neil Pearson

Neil Pearson has starred in shows such as Drop The Dead Donkey and Trevor's World Of Sport. He will be interviewing Hamilton & Jenkin. He recently brought the Hancock scripts back to Radio 4.

Vicki Pepperdine

Vicki Pepperdine has been involved in many comedy shows as an actor and writer, including the brilliant Getting On. Her new sitcom Puppy Love, which she co-wrote with Joanna Scanlan, starts soon.

David Quantick

David Quantick is a comedy writer and presenter. He also wrote How To Write Everything, which is fair enough because he has written for everything from Veep and The Thick Of It to NME and The Dandy.

Carrie Quinlan

Carrie has appeared in and/or written for a variety of radio shows, including The News Quiz, John Finnemore's Souvenir Programme, and Elvenquest. She also writes comment pieces for The Guardian and others; has appeared on stage, most recently in Smash; and on TV in Miranda, Yonderland and more.

Laura Shavin

Actress, writer and voice over artist Laura Shavin is a regular on Radio 4. You'll have no doubt have heard her work on The Now Show.

Pete Sinclair

As well a sitcom writer, Pete Sinclair is one of the UK's top joke writers. He works with stand-up like Mark Steel and Jack Dee.
Plus our commissioning panel:
Miles Bullough
Wildseed Studios
Managing Director
Lucy Lumsden
Sky
Head of Comedy
Simon Lupton
UKTV
Commissioning Editor
Caroline Raphael
Radio 4
Commissioning Editor
Saskia Schuster
ITV
Commissioning Editor
8 panel sessions featuring experts including those named above
2 headline talks (Graham Linehan and Hamilton & Jenkin)
TV and radio's top commissioners talking about what they're looking for
One-on-one sessions with top comedy experts
Great networking opportunities
Just some of the topics our panels will cover:
Writing for writer-performers
Jokes without words - how to do silent comedy
How to make a living at comedy
How to write for Newsjack
INCLUDED IN YOUR TICKET: A FREE ONE-TO-ONE SESSION
We'll pair you up with an expert who, in a one-on-one session, will help you hone your own comedy project. This is a free offer as part of your ticket. You can pick from one of the following three options...
Script One-To-One

A team of expert comedy script readers will be on hand all day to discuss your sitcom scripts and treatments, and how you should progress with them. Each session lasts 30 minutes.

Euroscript was founded in 1995 by the Screenwriters' Workshop, with the aim of improving the quality of scripts going into production.

Script Angel is one of the best script editing and development consultancies in the country.

Joke Repair Kit

Bring your jokes to life with the individual help of some of the country's top gag writers including Juliet Meyers (top stand-up, written for The Sarah Millican TV Show) and Tony Cowards ('the best joke writer around' GQ Magazine).

A 15 minute one-to-one will make your jokes shine.

Stand-Up Session

We've got some stand-up comedians attending the conference looking to hone their set, so we've organised, as an alternative to a writing-based one-to-one session, the chance to spend time with Logan Murray or Tiernan Douieb, who can help you perfect your act.

You'll have 20 minutes with your tutor in a private room to work through your set.
Feedback from the 2013 event
This will be the British Comedy Guide's second conference. The Big Comedy Conference 2013, which took place last November and featured Al Murray, Jo Brand, David Nobbs, Gary Delaney, Arthur Smith and over 30 other comedy experts, was a roaring success.
Here are some quotes taken from independent blogs published about last year's event...
"Some stuff blew my mind." (Mike Yeoman)
"Hearing real life examples from experienced practitioners is incredibly useful." (David Salisbury)
"This is a conference you do not want to miss if it returns next year." (Funny Women)
"A frankly amazing conference. I mean, seriously." (Such Small Portions)
Plus, here's some more (genuine, honest!) feedback we received from participants by email: "I thought the day was really excellent"; "It was a fantastic event absolutely packed with great advice from people who really know what they're talking about."; "The content was fantastic, the atmosphere perfect and the organisation smooth and cheery."; "It was well organised with interesting speakers, good comedians and lovely food."; "I knew it would be great but it far exceeded even my wildest expectations!"; "Met some lovely people and learnt plenty to give me food for thought."
If that's not enough to convince you, email us and we'll send you a document with even more quotes.
The Big Comedy Conference 2014 - More Details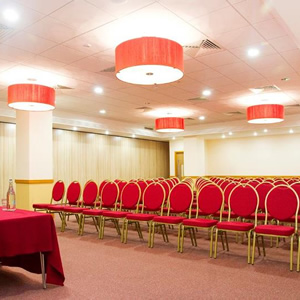 Following the success of The Big Comedy Conference 2013, The British Comedy Guide is now organising another packed day of talks to offer practical advice and support to those wanting to make a career in comedy writing.
This day is a unique opportunity for anyone interested in pursuing a career in comedy to meet and hear from some of the industry's most successful luminaries. The focus of the conference is to offer practical advice on how to make comedy your full-time job and how to progress up the ladder.
Turn up to get your questions answered, make useful contacts and equip yourself to begin earning a living from the craft you love.
The event will take place on Saturday 29th November 2014 in Clerkenwell, London (just a short walk from Old Street station). The newly refitted venue we will be using boasts excellent amenities, including a bar. With our free lunch thrown in and free refreshments throughout the day, you'll never have to leave the venue and you won't miss a minute.
The venue opens at 9am, with talks and workshops running from 9:30am to 7pm. Two sessions will take place simultaneously in many of the hours to ensure there's always something of interest for you. Two of the sessions will be our headline speakers, and we'll have a session featuring the commissioners from TV and radio explaining what they're looking for. The venue's bar will also be open for networking opportunities.
In addition to the talks, we're laying on one-to-one sessions with experts. You can pick from a half-hour consultation with a script reader; 15 minutes with a top gag writer to make your jokes shine; or, if you're looking to perform, half hour with a stand-up tutor. It's a free session as part of your ticket. Note: To fit everything into the day, these sessions occur at the same time as the talks and workshops.
If you have any questions about the conference do contact us. We'd be happy to answer all queries.