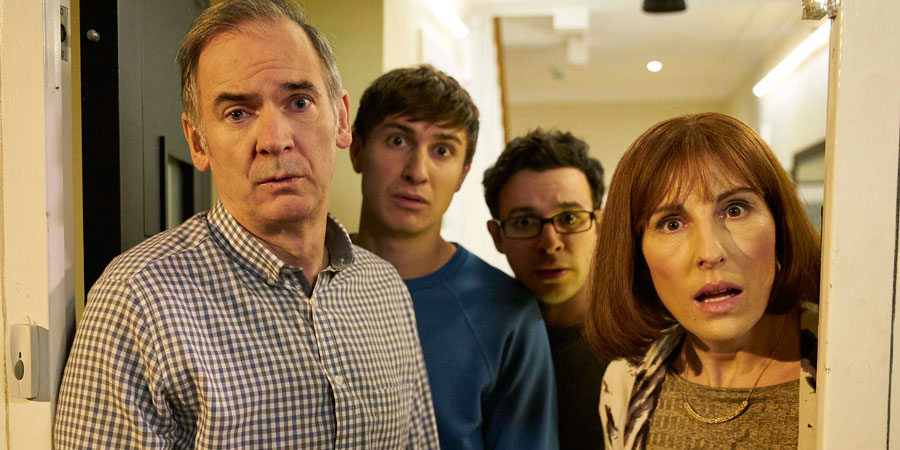 Genre

Sitcom

Broadcast

Channel

Episodes

Starring

Writer

Directors

Producers
Every Friday night, twenty-something brothers Adam and Jonny Goodman return to their parents' home for dinner.
Adam and Jonny think of the weekly event as a necessary annoyance - necessary because they get fed, and annoying because, well, they have to spend the evening with Mum and Dad. It's not that Mum and Dad aren't wonderful. They really are. But Dad slugs ketchup straight from the bottle, Mum is obsessed with Masterchef and even Grandma likes to wear her new bikini around the house.
As for the next generation, there is much consternation that Jonny's girlfriend, Alison, is nothing less than 'made-up' and not even the Internet can sort out a "female" for Adam. Maybe this is because Adam writes jingles for toilet roll adverts, and Jonny's favourite party trick is to jump out of bin-liners onto unsuspecting victims. Of course every family has its foibles, its rituals and its eccentricities. It's just that the Goodmans have made something of an art form of theirs...
Series 2: Adam goes on a date with a girl who smells like mum; Jonny starts going out with a much older woman; mum is forced out the house by a mouse; dad starts drying fish in the downstairs cupboard; neighbour Jim makes a birthday cake for his dog, Wilson; Grandma gets a new boyfriend who no one likes; and we meet dad's mother - 'Horrible Grandma'.
Series 3: Adam gains a new female admirer - an 11-year old girl; Jonny gets the world's worst tattoo; Dad gives the boys a graphic lecture on sex education; Mum practises being a counsellor on her horrified family; Grandma goes back out with the terrifying Mr Morris; Jim accidentally swallows his dog's sleeping pills; and... there's a wedding.
Series 4: Jonny comes back from Las Vegas with a wife; Adam is left stranded outside in only his pyjama top - and no pyjama bottoms; Dad invites a friend over who speaks with his eyes closed; Mum is forced to pretend her mother has just died; neighbour Jim - who's terrified of his own dog - gets a cat; and 'Horrible Grandma' returns for more horribleness.