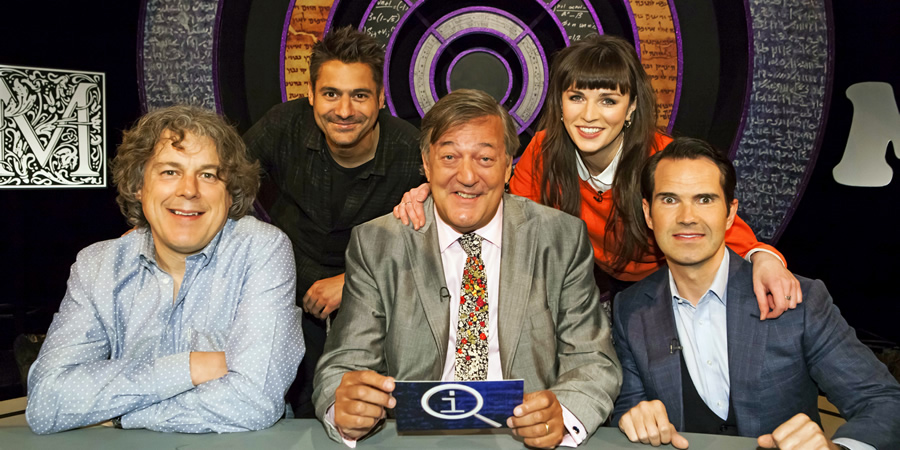 Series M, Episode 7 - Middle Muddle
Further details
Theme
- This is a "General" show in Series M, covering a wide range of different topics beginning with "M". All the buzzers consist of a child singing a nursery rhyme, with Alan's buzzer telling the child to go to bed. Jimmy thinks all the buzzers sound like something from a horror film.
Topics
- The way to tell if a chimpanzee is suffering from a mid-life crisis because they get depressed in the middle of their lifes. The term "Mid-life crisis" was coin in 1965 by psychologist, but he believed that it only happened to geniuses. (Forfeit: Buys a motorbike)
- XL Tangent: Danny jokes that he went to the doctor and told him that he hates the West and that he wants all infidels dead. The doctor said he was having a "midlife Isis". Jimmy jokes that Isis might one day end up in the Olympics or the World Cup, with Scotsman Danny complaining that they would form part of an easy group for England. Stephen says that such a group would be "the group of death".
- XL Tangent: Famous examples of what you might call a midlife crisis include Henry VIII splitting England from Rome at the age of 35, Jesus Christ who did not really do anything until he was around 30, and Buddha who was about 48 when he took up his religious role.
- The kind of mania that was started by a few myopic Merseysiders was a 19th century fashion craze for monocles. Monocles were very expensive because they had to be made to fit. Spectacles were a much earlier invention, dating back centuries, while monocles came much later and then became a hit. They later fell out of fashion because they were associated with aristocrats and later the Nazis when they were wrong by Ludendorff and Kerbs. (Forfeit: Beatlemania)
- Tangent: Every time Aisling presses her buzzer Jimmy spookily stops talking.
- Tangent: All of the panellists are given their own monocles. Danny says that when Jimmy wears his monocle he looks like a ventriloquist's doll, with Alan comparing him to Lord Charles.
- XL Tangent: Other famous monocles include Sir Patrick Moore, the Mr. Peanuts mascot, Erich von Stroheim and Chris Eubank.
- XL Tangent: Since 1902 "The New York Times" keeps wrongly predicting the return of the monocle. Whether it is a joke or intentional is not 100% known. After 1902 the next time they predicted it would return was 1936 when they reported that 20 British MPs had a monocle. In 1941 they reported that monocle sales were up 50%, but then the war resulted in sales dropping. In 1970 reported that sales of monocles had risen by 50%, quoting a Bond Street optician. In 2014 reported on a monocle comeback in cities as diverse as Manhattan, Cape Town and Berlin. Jimmy jokes that if ran an opticians he would make the sign have a very blurry font.
- XL Tangent: John Lennon was so short-sighted that if he did not have glasses he would qualify as blind. Danny says that this explains Yoko Ono. Buddy Holly was so short-sighted that he could not read the top line of an eye-test chart. Danny asks whether or not Buddy flew the plane that killed him.
- Back in the 19th century, the malady that they thought you could ameliorate by standing in the middle of whales was rheumatism. In 1896 a drunken Australian stood in the middle of a hole in the carcass of a dead whale and after he climbed out he claimed his rheumatism had been cured. There is no evidence to show that it did.
- XL Tangent: Rheumatism covers up to 200 different conditions. There is not just one form of it. Copper bracelets, some of which cost up to £200, are of no use in helping rheumatism. One doctor said, "you can pay £5 for one as well and you go just as green."
- The thing you would find in a medieval manhole would be a German man in a trial fighting against a woman. The English and Germanic peoples had "trial by battle" if one man wanted to take another man to court. In England, you could not use trial by battle between a man and a woman, but the Germanic regions could. However, the man had to stand in the middle of a hole during the battle, with one arm tied behind their back. The man was armed with three clubs, and if he touched the sides of the hole he would sacrifice a club. The woman was armed with a slingshot and stones. Whoever lost the battle would be put to death.
- XL Tangent: A "priest hole" was a hidden chamber use by Catholic families in Elizabethan England to hide Catholic priests, so that they could continue to practice their faith without being caught.
- The brilliant new strategy that was employed by the England team in the European Championships of 1176 was to steal the French tactics, by saying you were not going to fight and then later joining in. In early medieval tournaments it was not jousting that was the main event, but the melee, which was a fight between lots of people that was popular with Henry II and Richard I. Stealing an idea off Philip of Flanders, the idea was not to join the fight until everyone else was tired. Jousting later took over from the melee as the more popular sport because it was cheaper to do. (XL Forfeit: Man in the hole)
- The morally questionable activity that you will finally be able to do on the streets of Knutsford in 2015 is to walk on the pavement next to someone. Lady Jane Stanley, daughter of the 11th Earl of Derby believed that it was immoral for the working classes to walk next to each other because it would lead to touching and possibly sexual impropriety, so she ordered that the pavements in Knutsford to be designed so that you can only walk down them in single-file. Lady Jane died unmarried and she wrote her own epitaph: "A maid I lived and a maid I died. I never was asked and never denied."
- Tangent: Perhaps the most famous prude of his era was the New Yorker Anthony Comstock, who in the 1870s he founded a league to combat against all lewdness. Comstock fought in the civil war and hated all the swearing, and then in 1873 a friend of Comstock's got addicted to pornography and he believed that he died from masturbation. Thus Comstock founded the New York Society for the Suppression of Vice. For nine years, during its height in the 1870s and 1880s, the society was responsible for 700 arrests, 333 prison sentences, fines totalling $65,000, and seizure of roughly 65,000 lewd articles, which included one about the immoral use of rubber. They were still going as late of 1927, and managed to shut down Mae West's Broadway play Sex, and had her imprisoned for 10 days. The Comstock Law was brought in which made it a federal offence to send obscene matter such as contraceptives through the post. This law was overturned in 1936 in the case of United States versus One Package of Japanese Pessaries.
- XL Tangent: Jimmy once saw some ancient pornography in a college paper about the history of porn. The earliest pornographic photographs featured one man leaning on a fireplace and smoking a pipe. Danny asks whether Jimmy was actually looking at the front cover of "Bing Crosby's Christmas Hits".
- Tangent: Alan spots and is distracted by someone in the front row eating a packet of sweets. Jimmy confiscates the sweets and gives them to Alan.
- The thing that the French do with marmosets that we do with cheese is say the word in our native language when have our photo taken. The French for "marmoset" is "ouistiti", which makes you smile and show your teeth when you say it out aloud. Meanwhile, the Danish say the word for "orange" which is "appelsin", in Serbian they say "little bird" which is "iticheetza", the Koreans say the word for their national dish which is "kimchi", the Argentinians and other Latin countries say "whisky", and the Bulgarians they say "zele" which means "cabbage". However, all of these terms are falling out of use, with the English "cheese" or "smile" having taken over.
- XL Tangent: The reason why people used to not smile in Victorian photos is nothing to do with the length of exposure, because it had been reduced to just a few seconds by that time, but it was because taking a photo was seen as a serious business. It is the same reason why very few people smiled when having their portrait painted. To make themselves look more serious when their photo was taken the Victorian said "prunes" instead of "cheese".
- XL: The colour of a mirror is green. It is best seen in a hall of mirrors, that mirrors have a slight green tinge to them. They are not silver coloured because silver is not a colour. (Forfeit: Silver)
- XL: Blocking the middle of a fire exit might be a good thing because people get out quicker if they approach the exit via the sides. If everyone went for the exit at the same time it would slow everyone down, but by blocking the middle you help to create two lanes of people. Experiments with ants showed that they moved slower, but got out more quickly.
- XL Tangent: In order for planes to have a certificate of airworthiness one of things you must be able to do is evacuate everyone from the plane in less than 90 seconds. One way to get people to evacuate is to pay them to get off as fast as possible.
General Ignorance
- XL: When it is Midsummer in the UK day does not become night at any point. It is constant twilight, twilight being the time after the sun as gone below the horizon but there is still light caused by reflection of the sun's rays in the atmosphere. Even as far south as Jersey there is no night between 8th June and 4th July. (Forfeit: 10pm, 1am)
- There is no particular time to charge your mobile phone, provided it has a lithium battery. Older Nokia mobile phones had nickel batteries, and if you charged it when it was 20% full it would not remember the rest of the battery, in what was called "memory problem", so you had to drain the whole battery to make sure the battery remember the entire charge. Lithium batteries do not have this problem. (Forfeit: When the battery is flat)
- Experiment: Stephen takes out two AA batteries, one fully charged, the other empty, and a plinth with two clamps to hold the batteries in place. Stephen places one battery in each clamp and then opens them up. Slow-motion footage shows that the empty battery bounces higher because they contain a gel that has gone solid, so you can tell by the bounce which is empty.
Scores
- Danny Bhoy: 10 points
- Jimmy Carr: 5 points
- Aisling Bea: -7 points
- Alan Davies: -44 points
Broadcast details
Date

Friday 11th December 2015

Time

10pm

Channel

Length

30 minutes
Cast & crew
Supporters and subscribers get more
Additional content and tools are available across the site for Supporters and BCG Pro subscribers. On this page you can:
Broadcast details of 21 further repeats of this episode
This episode's inital overnight ratings
Already a donor or Pro user? Sign in