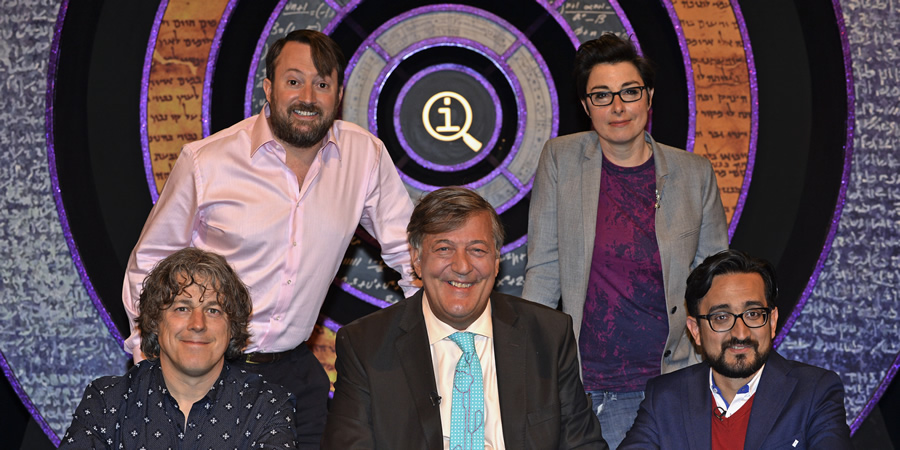 Series M, Episode 3 - M-Places
Further details
Topics
- The panel are shown a list of places beginning with "M" and are asked which is made-up. These are Messak Settafet, Meedhupparuaa, Merv, and the Mountains of Kong. Out of these it was the Mountains of Kong that don't exist. These were a fictional chain of mountains created by cartographer James Rennell, which he located between the Sahara and "darkest Africa", which we now call "sub-Saharan Africa", which was in atlases until 1895. The mountains were considered so impassable that no-one explored south of them for a long period of time because no-one thought the mountains were possible to cross. Meedhupparuaa is an island in the Raa Atoll in the Maldives. Messak Settafet is in the Sahara, and is known for having more prehistoric tools than any other place on Earth, at 75 artefacts per square metre (nearly 200 million per square mile). Over 100,000 tools were made from local sandstone. It has been claimed that the rock used to make the tools would be enough to build three Great Pyramids of Giza for every square mile over the entire continent. Merv was a city on the Silk Road, which arguably was the largest city in the world with a population of 200,000. However, it was then destroyed by the Mongols in 1221. (Forfeit: Meedhupparuaa obviously)
- Tangent: David argues that all the names listed, and indeed all names in the general are made-up. Stephen mocks David by impersonating him and saying: "Welcome to the logically ruthless world of David Mitchell!"
- XL Tangent: Blantyre in Malawi is named after Blantyre in Scotland, which was David Livingstone's hometown.
- XL Tangent: At London's Foundling Hospital the staff got bored of the names they gave the children that were left there, so they made up names like Jessiah Table and Charlotte Sky.
- XL Tangent: Dr. Robert Foley of Cambridge University has said that the rock extracted by humans in Africa to make tools over the past million years would be enough to build three Great Pyramids of Giza for every square mile of the continent.
- Tangent: Stephen says that chai is disgusting, but Sami points out that chai is just tea, and that it is the fault of the English that they have it in Pakistan. Sami asks why anyone would have chai without sugar, claiming to ask for such a thing is punishable.
- XL Tangent: The closest modern city to Merv is Mary in Turkmenistan. The city of Mary gets its name because according to legend it was where the Virgin Mary was buried.
- The best "Mummerset" accent really is the kind of stereotypical West Country accent that everyone does, in which the "S" is replaced by "Z" and "F" is replaced by "V". For example: "I haven't seen Alan since Friday", is pronounced: "Oi ain't zeen that Alan since Vroiday." "Mummerset" comes from "Mummer", another name for an actor.
- Tangent: There is a generic Indian accent. Sami once did this accent when he was performing as a Pakistani relative, and wondered whether it was racist to do so.
- Tangent: The first BBC newsreader to have a regional accent was Yorkshireman Wilfred Pickles. He was given the job during World War II because the BBC and the government thought someone with a regional accent would be harder for the Germans to impersonate. The public at the time reportedly claimed they did not believe anything Pickles said.
- Tangent: Sami once starred in a production of Romeo and Juliet back in Pakistan where he played Juliet. The play was designed to create awareness in Pakistan about homosexuality and AIDS, by having men in both leads, but after one performance they were ordered not to perform the show anymore by the country's more militant groups. Stephen says that Pakistan does have the Taliban, but Sami argues that other than them the country is nice.
- XL Tangent: Stephen asks Sami how he can return to Pakistan after getting death threats for protecting gay people. Sami says that as long as you are getting the death threats you are alright. It is once they stop writing the death threats and start coming over to you is when you should worry. Sue makes reference to fact that while Sami got death threats for a noble cause, she got death threats because of rumours she might become host of "Top Gear".
- Brown Willy is the highest point in Cornwall, and is named after the mammary glands. "Brown" comes from "bronn", the old Cornish word for "breast". "Willy" was originally "Wennili", meaning "swallow", as in the bird. Other UK places named after breasts include Manchester and Mam Tor in Derbyshire. Titty Hill in West Sussex however is named after blue tits.
- XL Tangent: Other places named after breasts include the Paps of Anu in Ireland, the Pap of Glencoe and Maiden Pap in Scotland, and Papworth in England.
- A mango can make a man go mad indeed. In 1968 Mao Zedong received a crate of mangos from the foreign minister of Pakistan, who re-gifted them to the factory workers' peace-keeping squads, who called themselves the Worker Peasant Mao Zedong Thought Propaganda Teams. The crate was split up and individual mangos were sent to factories where they were put on altars and "worshipped". The mangos were preserved in formaldehyde, sealed in wax, and in one case boiled in a huge pot of water and one teaspoon of water went to each worker. There were Mao mango medallions, other mango related products, and the state produced mango-brand cigarettes. Most of the population however had never seen a mango. One person who thought the mango was nothing special and looked like a sweet potato was arrested as a counter-revolutionary, put on trial, found guilty, taken to the edge of town, and then shot.
- Tangent: Sami says there is no dignified way of eating a mango.
- The people who get the most use out of a man engine are people who worked down in mines in the 18th century who use them as an early for of lift. Before engines people had to climb up and down ladders in the mines, which made the workers tired and reduced productivity. The Newcomen engine was one of the first successful steam engines, used to pump water out of mines in Cornish tin mines. It could also be used to transport people up and down into the mine by operating a system of platforms. As the engine moved one set of platforms was lowered while another was raised, and you could up onto the next platform when both were level at the same time.
- The three manly games are those that make up the Mongolian festival of Naadam, which are archery, horse racing and wrestling. (Forfeit: Rugby; Boxing; Tiddlywinks)
- XL Tangent: Although they are the Manly Games, women can enter into the archery and horse racing events, but not the wrestling.
- XL: The connection between margarine and marriage in Maine is that the there is a correlation between the two: Maine's divorce rate since 2000 correlates with the US national per capita consumption of margarine. In other words, the more people consume margarine, the more people get divorced. This was discovered by Tyler Vigen of Harvard University, who styles himself as a "statistical provocateur", and who uses this information to make people understand just because a set of statistics that seem to show a connection, what you have to do is prove a causal relationship. Vigen's research also "shows" that the age of Miss America correlates to the number of murders by steam, hot vapours and hot objects; and that the marriage rate in New York correlates with number of murders by blunt objects.
- XL Tangent: George Canning, who was Prime Minister for just 119 days in the 18th century, said that: "I can prove anything by statistics, except the truth."
- XL: The morning glory of the rubber people of Mexico was a plant grown by the oldest civilization in the country. These people were the Olmec, who lived between 1200-400BC, and they were the first people to cultivate rubber. They used the rubber to make the balls played in their ancient ball game, versions of which are still played today. It was not for another 3,000 years that western cultures who develop vulcanisation to make rubber the material we recognise it today.
General Ignorance
- XL: The easternmost state of the USA is Alaska. Aside from mainland Alaska there are also large numbers of islands, some of which cross the 180th meridian line, meaning that they are on the eastern side of the world.
- XL Tangent: Alaska's state motto is "North to the Future", which David thinks is a rubbish motto because there is nothing north of Alaska. Stephen's favourite state motto is Kentucky's which combines the two things the state is best known for in the USA, which are bourbon and horse racing: "Unbridled Spirit".
- The country that Mozart was born was Salzburg. At the time there was no unified Germany. It consisted of various city states. Mozart however hated Salzburg and moved to Vienna as soon as he could. He called himself German, although there was no country of that name back then. Meanwhile, Goethe was a Frankfurter, Mendelssohn was a Hamburger, and the Brothers Grimm were both Hessian.
- XL: The aqueduct was invented by the Minoans of Crete in the second millennium BC. Aqueducts that came before the Romans were also built by Sennacherib of Assyria in around 691BC, that were about 10m high, 30m wide, 80km long, built using over two million stones, and where used to water his gardens, which some people speculate may have been the Hanging Gardens of Babylon. (Forfeit: The Romans)
- The panel are given three glasses of water: one containing sea water, one containing treated sewage, and one containing ultrapure water. Out of the three, it would be safest to drink the treated sewage, because the kidneys rely on electrolytes to energise the body. The ultrapure water takes away the electrolytes via osmosis. A sip of ultrapure water will not harm you, but if you drink too much you will die. Sea water is bad for you because the kidneys use water to get the salt out, so sea water dehydrates you. In Windhoek, capital of Namibia, 25% of the drinking water is treated sewage. Certain golf courses in the USA use treated sewage water to maintain their golf courses. (Forfeit: Ultrapure)
- Tangent: The idea that the tap water in London has already been through nine people before it enters your glass is an urban myth.
- XL Tangent: Stephen sips from the treated sewage glass and says that: "It's shitty, but it's pissy as well." Actually however, he drank tap water. The show couldn't get any treated sewage for the show.
Scores
- David Mitchell: -4 points.
- Sami Saha: No score given.
- Alan Davies: No score given.
- Sue Perkins: No score given.
Broadcast details
Date

Friday 30th October 2015

Time

10pm

Channel

Length

30 minutes
Cast & crew
Supporters and subscribers get more
Additional content and tools are available across the site for Supporters and BCG Pro subscribers. On this page you can:
See 3 press clippings related to this episode
Broadcast details of 22 further repeats of this episode
This episode's inital overnight ratings
Already a donor or Pro user? Sign in