Series G, Episode 1 - Gardens
Further details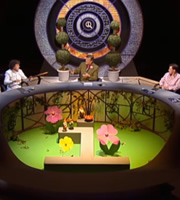 Theme
- The set is decorated with trees, flowers, ivy and garden gnomes.
Topics
- The tools you need for "do nothing" gardening are animals that do the gardening for you. Also known as "natural gardening" or "natural farming", it is an Eastern version of organic farming. Ducks are used in paddy fields to get rid of weeds instead of herbicides, and carp are used to purify the water.
-
XL Tangent: Rob compares the use of animals in natural farming to owning a goat to eat your grass and thus not use a lawnmower. However, goats are now being replaced by wallabies.
-
XL Tangent: Masanobu Fukuoka invented natural farming. He also invented seed balls, which are balls made out of clay or mud, with seeds pressed into them. You throw the ball around and it seeds. It is more economical because less seeds are used than normal sowing.
-
XL Tangent: Seed guns are little guns which fire seeds into the ground. The idea is that they encourage people to use guns in a peaceful manner.
-
XL Tangent: Guerrilla gardening is when you do gardening in secret in land that you do not own. Examples include criminals growing cannabis on the ramps onto motorways or highways. One anonymous guerrilla gardener planted 3,400 cannabis seedlings in the grounds of Rupert Murdoch's Californian estate. Guerrilla gardening is believed to have begun in New York, in 1973. It is popular in Vancouver, Canada, after a load of compost was dumped onto the street by construction workers and another local inadvertently dumped bird seed into the pile. It flowered, and this inspired the people of Vancouver to garden any piece of land they can find.
- The panel are given each a tool used by 18th-19th century gentlemen gardeners, belonging to The Garden Museum, and are asked what they are.
- Alan: A walking stick which turns into a saw, used to cut down overhanging branches.
- Tangent: Alan begins to use his saw to cut through things including the set.
- David: A combination walking stick and hoe. It is missing a leather hat to cover the metal part of the hoe.
- Rob: A glass tube used for growing cucumbers straight. It was invented by George Stephenson, inventor of the first locomotive.
- Dara: A special seed dispenser, with different holes for different seeds.
- XL: Stephen asks the panel to draw what they think the first novelty teapot looked like. The answer is that they looked like fruits and vegetables, like cauliflowers and pineapples. The first date from the reign of Queen Anne in the early 1700s.
-
XL Tangent: Stephen tells a joke, in which he is sings the song "I'm a Little Teapot". He has his arms both in a "handle" position and says: "I'm a little teapot, short and stout." He looks at one arm and says, "Here is my handle," then looks at the other one and says, "Oh bugger, I'm a sugar bowl!"
-
XL Tangent: You should not clean a teapot unless you have to. You should however, rinse it out if it becomes dirty.
- The best place in the world to discover an entirely new species is your own garden. In 1971, biologist Jennifer Owen carried out a very long term study in her own garden in a suburban house in Leicester. She found 533 different types of ichneumon wasp, 15 of which had never been recorded in Britain, and 4 where completely new to science. Naturalist Gilbert White said nature is so full and varied that if you want to find the place with the most variety, it is the place you most study. Just take in small piece of land and examine it hard enough. (Forfeit: The Rainforest)
- Tangent: Rob asks how the wasps were captured. Alan says the best way to help a dying bee is to give it honey. Dara claims it is to kill it. Rob ends up with a compromise which is to drown the bee in honey, but Dara claims that it is a slow and more painful death.
- The person who found garden gnomes attractive was Charles Isham, a vegetarian spiritualist who introduced them in 1847 in the hope they would attract real gnomes. He introduced 21 porcelain garden gnomes, one of which survives to this day and is insured for about
Broadcast details
Date

Thursday 26th November 2009

Time

9:30pm

Channel

Length

30 minutes
Repeats
View more broadcast data
Help celebrate and promote British comedy by donating to fund more content and functionality. BCG Supporters get extra features in return, including this episode's audience figures and further repeats data.
Find out more
Already a donor?
Sign in
Cast & crew
View related press
Help celebrate and promote British comedy by donating to fund more content and functionality. BCG Supporters get extra features in return, including press coverage related to this episode.
Find out more
Already a donor?
Sign in