Series D, Episode 1 - Danger
Further details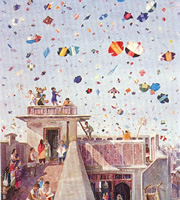 Topics
- A list of unusual dangers:
- The chances of burning to death while you sleep are 1 in 48 million.
- The chances of being murdered are 1 in 30 million.
- The chances of chocking to death are 1 in 120 million.
- The chances of death by a tea cosy are 1 in 20 billion.
- The chances of dying today are 1 in 257,000.
- According to the United Nations, you are three times more likely to die at work than you are at war.
- Tangent: Sean was once arrested after he knocked a security guard's hat off.
- The most dangerous job in the USA is a lumberjack. The most dangerous job in the world is said to be an Alaskan crab fisherman.
- The most dangerous military stratagem was created by King Goujian of Yue (Vietnam) in 496 B.C., which involved putting convicted criminals on the front line and ordering them to cut their own heads off to frighten the enemy.
- Tangent: If you cut a duck's legs off, it can still swim.
- Tangent: There is a story during the French Revolution that two decapitated heads were put in the same basket and that one head bit the other so tightly that they could not be separated.
- The most dangerous sport in the world is flying kites during Basant in Pakistan, itself the most dangerous country in the world. The object of the game is to cut the strings, which are filled with shards of glass and metal. As a result, people often get garrotted. It can now only be played for 15 days of the year.
- Tangent: The biggest kite in the world weighs nearly a tonne, is 40ft by 36ft, has to be flown by 50 people and has 200 strings.
- The most dangerous manager in the world was tightrope walker Charles Blondin's.
- The first person to ever go over Niagara Falls in barrel was Annie Edison Taylor.
- Tangent: The third person to go over Niagara Falls in a barrel was a Briton, Charles Stephens, who tied his legs to an anvil to make it more exciting. All that was found of him after the drop was a severed arm inside the barrel, with a tattoo which read, "Forget me not, Annie".
- Tangent: A pirate ship was once filled with animals and sailed over the top of Niagara Falls. Only two geese survived. Two bears crawled out, and were shot.
- The most dangerous sporting activity for women is cheerleading.
- Tangent: America's most famous cheerleader is George W. Bush.
- The bungee strap, used in bungee jumping, was invented in Britain. You can suffer from detached retinas and detached breast tissue (if done in the nude).
-
Tangent: Jimmy tells the story of a Darwin Award winner (an award given to people who kill themselves in very stupid ways). It is of a man who went bungee jumping with a towrope from a bridge. His foot snapped off and he landed in a freezing river. He also tells the story of Lawnchair Larry, the man who tied lots of balloons to his chair and flew about a mile high.
General Ignorance
- Poor air quality causes deep vein thrombosis on aeroplanes. (Forfeit: Sitting down for too long)
- You should have 4-7 hours sleep every night.
- Seismologists use the Moment Magnitude Scale (MMS) to measure earthquakes. (Forfeit: The Richter Scale)
- The most dangerous earthquake in the USA since European settlement was either the New Madrid, Missouri earthquake (1811-12) or the Prince William Sound, Alaska earthquake (1964). (Forfeit: San Francisco 1906)
- Tangent: 3,000 white people died in the San Francisco earthquake, but the Chinese dead were not counted. Some people set fire to their houses during the quake to claim on insurance, because they were not covered for earthquakes. Police were ordered to shoot three people on the roof of the Windsor Hotel in front of 5,000 people, rather than the see them go through the roof. Someone else asked to be killed, so the police took his name, his address and shot him through the head.
Scores
- Jo Brand: 7 points
- Sean Lock: 4 points
- Jimmy Carr: 0 points
- Alan Davies: -19 points
Broadcast details
Date

Friday 29th September 2006

Time

10pm

Channel

Length

30 minutes
Repeats
View more broadcast data
This content is exclusive to
BCG Pro subscribers
and
BCG Supporters
. Join them and get extra features including this episode's audience figures and further repeats data.
Already a donor or subscriber?
Sign in
Cast & crew
View related press