Series D, Episode 11 - Denial And Deprivation
Further details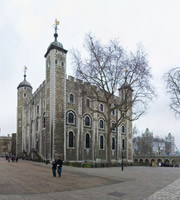 Theme
- Everyone on the show is deprived of something. Instead of the normal set, Alan and Mark are sitting behind school desks, whilst Roger and Vic have side tables and whiskey. Stephen has an auctioneers stand with a gavel. The lighting director is 'fired' so there is a lack of light, although some of the studio is lit with candles. The audience are forced to watch the show on the street. The buzzers are hand-cranked.
Extra tasks
- The panel have to try and guess how a potato, a green felt tip pen, dental floss and curry powder have been used to help people escape from prison.
- Green pen: Steven Russell coloured his shirt green, the same as the prison doctors and walked out the door.
- Dental floss: Mafia member Vincenzo Curcio filed his bars down using the floss.
- Curry powder: Five Pakistani prisoners threw the powder into the eyes of a prison officer and ran out the prison.
- Potato: John Dillinger carved a potato into the shape of a gun, blacked it up with boot polish and held up a warden.
- Tangent: The Dillinger escape is referenced in the Woody Allen film "Take the Money and Run", although Allen's characters uses soap instead of a potato. However, when he escapes, it is raining. When it cuts to the wide shot, there is a great ball of lather that leads back into the prison.
Topics
- According to Anna Freud, the daughter of Sigmund Freud, when children play with their food, they are really playing with their excrement.
- Tangent: Sigmund Freud had a fear of the number 62. As a result, he refused to stay in hotel with more than 62 rooms in case he got Room 62. The first time he made this rule he got Room 31, which is half of 62.
- 'Banting' means "to diet". It was invented by William Banting, who wrote A Letter on Corpulence in 1864. Dieting became popular with President Taft, who went on a diet after he got stuck in a bath. It became more popular when Hollywood caught onto the idea. In the 1950s, a big fad was the tapeworm pill, where you swallowed a tapeworm egg to keep you thin.
- Tangent: Alan had a friend who had a tapeworm three foot long. There is an urban myth about getting rid of tapeworms which involves you starving yourself and sticking a Mars bar near your arse. The tapeworm is so hungry it goes for the Mars bar. You then grab it and pull it out.
- Hoover the talking seal was a seal found in Maine in 1971, who was discovered to have a Bostonian accent. He appeared on Good Morning America. When he died in 1985, he got an obituary in The Boston Globe.
- When the Bastille was stormed, there were only seven prisoners in it. Four of them were forgers and two were lunatics, one of whom though he was Julius Caesar.
- Tangent: The Marquis de Sade was transferred from the Bastille to Château de Vincennes a week before the storming because he was shouting both obscenities and anti-monarchist remarks though a tube out the window. He left a lot of his work in the Bastille and asked his wife to get it, but she went on the day of the storming and so the work was lost.
- Tangent: The Bastille and the Tower of London were quite civilised places to be a prisoner. You got wine, food, an allowance, tobacco and you could move around freely.
- The Kray twins were imprisoned in the Tower of London for desertion from National Service.
- Tangent: At the time of recording the ravens were currently prisoners in the Tower of London and kept in cages because of the dangers of bird flu. The ravens are called Gwylum, Thor, Hugin, Munin, Branwen, Bran, Gandalf and Baldrick.
- Tangent: Ronnie Kray was a homosexual, who demanded that everyone should admire his boyfriends.
- Tangent: David Bailey took the famous photograph of the twins standing one behind another. Bailey was once in a pub with Reggie when two drunks came in. Noticing Bailey they asked to take a photo of him. Bailey avoided it but the drunks demanded. Reggie looked at himself at the mirror across the bar and punched toward the side, knocking the drunk onto the piano. The two drunks fled and Bailey got angry with Reggie. Reggie smiled back and said, "Well, to tell you the truth Mr. Bailey, I had my eye on that c**t all afternoon. He'd been eating my sandwiches!"
- Tangent: David Puttman used to manage the Kray twins.
- Tangent: Roger writes a poem about Hoover the Talking Seal.
General Ignorance
- The four main religions of India are Hinduism (805 million worshippers), Islam (134 million), Christian (23 million) and Sikh (19 million). (Forfeit: Buddhism)
- No-one milks a yak, because yaks are all male. The female is known as a 'Nak'. A wild yak is 6'5", whilst a domesticated yak is 4". They have the longest hair of any animal, with hairs 2 feet long. The hairs are used in wigs. The BBC still has lots of yak wigs, and if you play Santa at Christmas the chances are your beard will be yak. Yaks have twice as many blood cells, but they are only half the size.
- Tangent: They say Tibet smells of butter. People often make sculptures using yak buttermilk.
- Crabs have 10 legs. (Forfeit: 8)
- Tangent: Roger tells a poem about crabs.
- Tangent: Crab lice have 6 legs. They are so called because the latch onto the follicles of pubic hair, eyelashes and beards.
- George Washington said nothing about cherry trees; the story of him chopping down one was invented by a man called Parson Weems.
- The panel try to identify correctly a picture of some Yeomen of the Guard. (Forfeit: Beefeaters)
Scores
- Vic Reeves and Roger McGough: 1 point
- Mark Steel: -6 points
- Alan Davies: -39 points
Broadcast details
Date

Friday 1st December 2006

Time

10:30pm

Channel

Length

30 minutes
Cast & crew
Supporters and subscribers get more
Additional content and tools are available across the site for Supporters and BCG Pro subscribers. On this page you can:
Broadcast details of 45 further repeats of this episode
This episode's inital overnight ratings
Already a donor or Pro user? Sign in