Series D, Episode 7 - Differences
Further details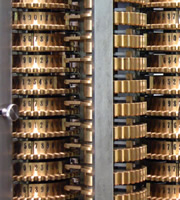 Topics
- The main difference between men and women is the chromosomes. Women are XX, whereas men are XY.
- Tangent: Women have twice as many pain receptors as men.
- Alcohol has a greater effect on men, although in the long-run, women are more prone to alcohol related brain and liver damage. (Forfeit: Women)
- Tangent: During his 30th birthday party, Alan got so drunk that he forgot that there were sparklers, even though he was holding them and handing them out.
- Women get colder quicker in order to keep the vital organs warm.
- The guests had to correctly identify a picture of a Yupik. (Forfeit: Inuit)
- Tangent: The average height of an Eskimo is 5'4" and the average life expectancy is 39. If you put five Eskimos in car, every Eskimo in the world could fit into the Los Angeles International Airport car park. There is a form of singing called "Inuit throat singing".
- You cannot describe the difference between left and right.
- Tangent: "A Bar at the Folies-Bergère" by Manet has an incorrect mirror image in it.
- Tangent: There is a condition called "Situs inversus", in which the organs are the wrong way around. 1 in 10,000 suffer from it.
- Deaf people applaud by waving the hands in the air.
- Tangent: Alan performs the sign language for "Bullshit" and "Drunkenness".
- A question about something different from differences - similarity. The similarity between herring and teenage boys is that they communicate by farting.
- Tangent: Julian farted and soiled himself when he met the Queen at the Royal Variety Performance.
- The difference between white eggs and brown eggs is the colour. There is no other difference (i.e. no difference in taste).
- You can make a Difference Engine out of cogs or Meccano. The Difference Engine, invented by Charles Babbage, was only completed in 1991, and worked perfectly. Babbage also invented the cowcatcher.
- Tangent: Babbage complained about a poem by Alfred Lord Tennyson. The poem went, "Every moment dies a man; every moment one is born." Babbage wrote to him saying, "If this were true, the population of the world would be at a standstill. In true, the rate of birth is slightly in excess of death. I suggest that the next version of your poem should read "Every moment dies a man; every moment one-and-one-sixteenth is born." Strictly speaking the actual figure is so long I cannot get it into a line, but I believe the figure one-and-one-sixteenth will be sufficiently accurate for poetry."
- The difference between ping pong and table tennis is that "Ping pong" is a brand name.
- Tangent: Table tennis was banned in Russia because it was thought it would affect people's eyesight.
- Tangent: In the 1936 World Championships in Prague, one point lasted over an hour.
General Ignorance
- Eskimos have 32 different words for demonstrative pronouns. English has four, "This", "That", "These" and "Those". Examples used by the eskimos mean, "That one high up there", "That one in there" (as in a house) and "This one that we can't see". (Forfeit: Ice; Snow)
- The Moon smells of gunpowder.
- Twelve people have walked on the Moon.
- Gandhi's first names were Mohandas Karamchand. (Forfeit: Randy - 150 point penalty to Alan)
- Tangent: W. C. Fields wrote a film under the pseudonym "Mahatma Kane Jeeves" - as in "Can I have my cane, Jeeves."
- Tangent: Mahatma Gandhi's title means "Great soul" in Sanskrit.
Scores
- Dara O'Briain: 3 points
- Julian Clary: -8 points
- Jo Brand: -16 points
- Alan Davies: -144 points (Current lowest score)
Broadcast details
Date

Friday 3rd November 2006

Time

10:30pm

Channel

Length

30 minutes
Cast & crew
Supporters and subscribers get more
Additional content and tools are available across the site for Supporters and BCG Pro subscribers. On this page you can:
Broadcast details of 45 further repeats of this episode
This episode's inital overnight ratings
Already a donor or Pro user? Sign in