Series C, Episode 11 - Carnival
Further details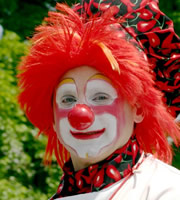 Extra Tasks
- Each panellist is given a 'joker' with a picture of a squirrel, to play if they think the answer to any question is something to do with squirrels. If they are right, they score 50 points. If they are wrong, they are deducted 10 points.
Topics
- You have to swallow two swazzles to be called a Professor of Punch and Judy.
- The difference between a phobia and a fear is that a phobia is irrational. (Squirrel forfeit: Alan, for saying he was frightened of squirrels)
- Tangent: "Coulrophoia" is the fear of clowns. "Sciurophobia" is the fear of squirrels.
- Everyone has a cuckoo in their pants, because the Greek for cuckoo is "Coccyx". (Forfeit: No)
- Tangent: The Road Runner is a type of cuckoo.
- Most animals wear Greek frocks. The Greek for frock is "Chitin", a type of polymer that covers most animals, plants and fungi. (Forfeit: Demis Roussos) (Squirrel forfeit: Jo)
- The Greek army wear kilts. They have 400 pleats, to represent 400 years of subjugation by the Turks.
- The coconut crab cannot swim or float in water, but they can shin up trees, can grow to the size of a small dog, have claws powerful enough to open tin cans and can carry a load greater than the luggage allowance on an international flight.
- Tangent: Coconut milk is the mashed up flesh found in a coconut. The liquid inside is coconut water.
- A "Cheeselog" is another name for a woodlouse. (Squirrel forfeit: Clive)
- Tangent: Clive is President of the Woodland Trust.
- The Emperor Charlemagne's party trick was to throw a tablecloth made out of asbestos onto a fire.
- Tangent: "Asbestos" means "Inextinguishable". The town with the largest asbestos mine in the world is called Asbestos.
General Ignorance
- No-one goes gathering nuts in May, because hawthorn blooms at that time. Squirrels gather them at the end of the year. (Squirrel forfeit: Alan, Clive and Phill)
- A custard pile is another name for a cock, as used in cockfighting. (Squirrel forfeit: Phill)
- Tangent: For nearly 2,000 years, cockfighting was Britain's national sport. Every village had a cockpit. Expressions that come from cockfighting include, "show a clean pair of heels", "well heeled", "to pit someone against" and "being game".
- Aeschylus was killed by a tortoise landing on his head, after it had been dropped by an eagle. (Squirrel forfeit: Phill)
- Robin Hood's tights were coloured a shade of scarlet called Lincoln Graine. In the original A Gest of Robyn Hode, clothes are mentioned very frequently.
- Squirrel bonus: In a version of Cinderella by Charles Perrault, it is believed that he made Cinderella's shoes were made out of squirrel fur. Perrault also added the Fairy Godmother, the pumpkin and the mice. (No-one got the bonus) Correction: It now appears that this story is not true and the Perrault did originally use glass shoes and not fur.
- Tangent: In the Chinese version of Cinderella, she wears gold shoes. The German version has silk and gold shoes, and Scottish has shoes made out of rushes.
Deleted scenes
- "Chippies" are carpenters. The word comes from when carpenters on naval ships were allowed to take any off-cuts or "Chips" home with them. Many abused the system and took large pieces of wood home, and used it to build their houses.
- Tangent: Stephen once saw a graffito in Adelaide which said, "Australia 6, New Zealand 7", which is meant to be pronounced, "Australia sucks, New Zealand's heaven".
- Tangent: When talking about eating woodlice, Alan bets that Stephen will eat some for charity. 70,000,000 people in England have died from eating faeces over the past 200 years.
Scores
- Clive Anderson: 0 points
- Jo Brand and Phill Jupitus: -23 points
- Alan Davies: -26 points
Notes
For the correction, see the QI Qibble Blog
Broadcast details
Date

Friday 2nd December 2005

Time

10:30pm

Channel

Length

30 minutes
Cast & crew
Supporters and subscribers get more
Additional content and tools are available across the site for Supporters and BCG Pro subscribers. On this page you can:
Broadcast details of 46 further repeats of this episode
This episode's inital overnight ratings
Already a donor or Pro user? Sign in