Series C, Episode 7 - Constellations
Further details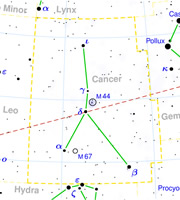 Extra Tasks
- Each panellist is given a card with some stars. They have to draw a constellation. The constellations in question are Taurus (Rich's), Aries (Sean's), Sagittarius (Jeremy's) and Cancer (Alan's).
Topics
- If you were travelling at around 60mph, it would take you about an hour to drive to outer space. It stars after you leave the atmosphere, 62 miles above.
- The smallest dog ever recorded was a Yorkshire terrier. It measured 2.5 inches high, 3.75 inches long, weighed 4 ounces and could fit into a small box.
- Chihuahua cheese is a popular roasting (Asadero) cheese from Mexico's Chihuahua state.
- Flint is made from sponges.
- The only survivor of the Crimean War was Timothy the Tortoise. It was the mascot on HMS Queen during the first bombardment of Sebastopol. Officially, the war did not end until 1966, because of a problem with the peace treaty. When war was declared, Berwick-Upon-Tweed was mentioned as it was considered part of the UK, but not in it. However it was not included in the original peace treaty. The mayor of Berwick signed a peace treaty with Russia in 1966. Timothy did not die until 2004, making him the sole survivor of the war. Correction: Berwick-Upon-Tweed never had a special law declaring it not in the UK during that time. The mayor also would not have had the power to sign a peace treaty.
General Ignorance
- Luffas come from trees. Sean was given a "Grow your own Luffa kit" as a Christmas present. (Forfeit: The Sea)
- The Model T Ford was originally grey, red or Brewster green. In Manchester, the cars were all blue. It was not until 1913 when they became all black. Ford never said, "Any color as long as it's black". (Forfeit: Black; "Any color as long as it's black") Correction: Ford did actually say that the Model T Ford could be "Any color as long as it's black", according to his autobiography.
- Tangent: Henry Ford was an anti-Semite and a supporter of the Nazis. Hitler only read three books in prison, one of which was Ford's.
- "S.O.B." is an aeroplane term meaning "Souls on Board".
- Tangent: Jeremy said he ate some whale with grated puffin. For starters he had a seal flipper which he claims, "Tasted exactly like licking a hot Turkish urinal."
- The Gatso camera was originally invented to monitor speeds of rally cars going around corners, so rally cars could travel faster. (Forfeit: To raise money for the government)
- Tangent: In Holland, there is a group called the "Tuff-Tuff Club" which destroys speed cameras. Jeremy's favourite is one where they insert insulating foam into a hole at the back of the camera, which then sets in what he described as a "Doctor Who" style.
- Samuel Pepys buried some parmesan cheese in his garden to safe it being destroyed in the Great Fire of London. (Forfeit: Diary)
Deleted scenes
- Canning food was first invented by the French in 1810, but the tin opener was not invented till 50 years later by the Americans. Before then, you had to use a hammer in order to open the tin.
- Tangent: Stephen talks about canning penises, just to see if the panel are paying attention to him.
Scores
- Jeremy Clarkson: 5 points
- Sean Lock: 3 points
- Rich Hall: 2 points
- Alan Davies: -18 points
Broadcast details
Date

Friday 4th November 2005

Time

10:30pm

Channel

Length

30 minutes
Cast & crew
Supporters and subscribers get more
Additional content and tools are available across the site for Supporters and BCG Pro subscribers. On this page you can:
Broadcast details of 44 further repeats of this episode
This episode's inital overnight ratings
Already a donor or Pro user? Sign in