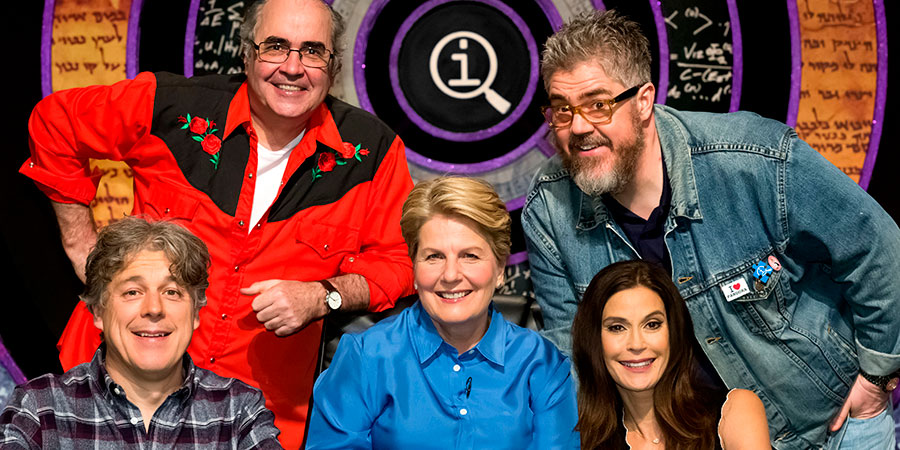 Series P, Episode 1 - Panimals
Further details
Themes
- The buzzers are all the calls of birds beginning with "P". Danny - Peacock; Phill - Parrot; Teri - Penguin; Alan - Partridge (going "A-Ha!")
- One of the questions will be about a pig. If the panel think the question is pig-related, they throw a toy pig and shout "Pig" to gain bonus points.
Topics
- Complete this sentence: "Donald Trump is the first president in 168 years not to have..." The answer is "...a pet". He is the first president since 1850 not to have a pet in the White House. Among the presidents to have pets, the included Thomas Jefferson who has two bears cubs, Benjamin Harrison had two opossums named Mr. Reciprocity and Mr. Protection, Franklin D. Roosevelt had a Great Dane called President, Herbert Hoover's son Allan had a pair of alligators, and Teddy Roosevelt had nine dogs, two ponies, two cats, a hen, a lizard, a blue macaw, a garter snake named Emily Spinach that was named by his daughter Alice, "because it was as green as spinach and as thin as my Aunt Emily", a small bear, a piebald rat, a pig, a rabbit, a laughing hyena, a barn owl, a one-legged rooster, five guinea pigs, a badger called Josiah and a pony called Algonquin. Teddy Roosevelt also had six children. (Forfeit: Decency)
- Tangent: Teddy Roosevelt's son Archie loved Algonquin the pony so much that when Archie was sick in bed his brothers Kermit and Quentin brought Algonquin up in a lift so he could see him.
- Tangent: In 1940, Franklin D. Roosevelt was given a Scottish terrier puppy that he named Murray the Outlaw of Falahill, after one of his Scottish ancestors. The dog was more commonly known as Fala. Fala had his own security to answer his fan mail. During the Battle of the Bulge, American soldiers would ask each other the name of the dog, and if they got the name right then the soldier's knew it was a genuine American soldier and not a German in disguise.
- People who might be afraid of a tiny dancer called "Sparklemuffin" are probably arachnophobics such as Phill, because it is a spider. However, it is a nickname for a rather cute-looking peacock spider the size of a chia seed. Other peacock spiders include the circuit board, the bat and the elephant. They are the only known dancing spiders and are home to nature's smallest rainbow, because these spider refract light from their bottoms. Scientists have tried to recreate this rainbow but have been unsuccessful. Half of all peacock spider species have been named by a single person, Dr. Jurgen Otto of Australia. When mating, the females must be virgins and then the males dance.
- The thing that is black and white and pissed all over is a human dressed as a giant panda covered in panda urine. When introducing cubs into the wild Chinese researchers dressed as adult pandas and covered themselves in panda urine to disguise their human scent. While scientists have debated the relationship between giant and red pandas, giant pandas are bears and red pandas are closer to racoons. Giant pandas black and white fur is there for camouflage: the black fur helps them hide in summer and the white fur in winter. This was discovered by Tim Caro, a biologist from the University of California, who also spent 10 years trying to discover why zebras are black and white, the reason being that it is to deter flies from landing on them. (Forfeit: A flock of drunk penguins)
- The primate with the most dangerous elbows is the slow loris, the only known venomous primate. They have patches on their elbows which they lick, as salvia activates the poison. If a person is bitten by it, they can suffer from anaphylactic shock and death. All eight species of loris are currently endangered. Due to their appearance, many people want a loris as a pet, and thus people remove the lorises teeth, causing them to die from infection. The reason for the big eyes in a loris is that they evolved to mimic cobras, being able to hiss and ungulate due to an extra vertebrae in their spines. Writing in 1905 in Sri Lanka, John Still said: "I saw the outline of a cobra sitting up with hood expanded and threatening a cat who crouched about six feet away. This was the loris, who with his arms and shoulders hunched up, was a sufficiently good imitation of a cobra to take me in as he swayed on his long legs and every now and then let out a perfect cobra's hiss."
- A "Stachelschwein" is a porcupine, but the name translates from German as "spiked pig". (Forfeit: A type of pig)
- A "Wasserschwein" is a capybara, meaning "water pig".
- A "Schweinswal" is a porpoise, meaning "pig whale".
- A "Nabelschwein" is a peccary, a distant relative of the pig. Nobody throws their pig to answer the question.
- Tangent: Capybaras are the largest rodents in the world, growing up to four feet long, are eaten in Venezuela at Easter and taste a bit like rabbit. Teri ate guinea pigs in Lima, Peru, and it is the national dish. Three of the top 50 restaurants in the world are in Lima. Teri ate two, but stopped, mainly because she had guinea pigs as pets as a child. In Chile, they sell guinea pigs on sticks coated in honey.
- Tangent: The German phrase, "Innerer Schweinehund", meaning, "Your inner pig-dog", means that tiny voice inside that tells you not to exercise and just be lazy. Danny has a certificate saying he can speak fluent German, even though he can't speak it. He got it because at his comprehensive school, his German teacher left the school after three months, but they all decided to do a language exam. Danny was ill on the day of the exam, but he came back two days later, and was told he had to do the exam on his own. The exam was in the library, with a German dictionary in it, and he got 81% in his exam. As Alan later points out, Danny still only got 81% even though he has a dictionary to help him.
- A question on palaeontology: the panel are given a tray of finds and are told to identify the five fossils on it, but they are not allowed to use their hands. One method used is licking the fossil.
- A: Dinosaur bone, which is sticker than a normal stone because of calcium.
- B: Dinosaur poo, which sticks to the tongue.
- Tangent: Big Bone Lick is the birthplace of American palaeontology. It has a high area of mineral content.
- Tangent: The phrase: "Lick into shape" comes from a medieval European belief that bear cubs were born shapeless and the mother licked the cub to shape them.
- The people in the QI studio that should be replaced with pigeons are the camera operators. Birds can't move their eyes, and their necks have been designed to keep their heads completely still when they move. As pigeons walk, their heads and eyes move forward, lock into place, and then their body catches up with them. These static images are what a good camera operator tries to achieve. Pigeons have been used since the early 20th century as aerial photographers. The first person to attach a camera to a pigeon was German apothecary Julius Neubronner, who sent medication to an asylum via pigeon post. He then kept his own pigeons, and found that one return having been fed, so he attached a camera to find out where it had been fed. He learned that the pigeon had visited a restaurant on the way. The camera worked using two chambers, one of which had gas that was slowly released, and when it was empty it took a single photo.
General Ignorance
- The "S" on Superman's chest stands for nothing, because it is not an "S". In the 2013 film Superman says it is a Kryptonian symbol of hope. (Forfeit: Super; Simon)
- Superman's real name Kal-El. His father's name was Jor-El. Clark Kent is his adopted name.
- Tangent: Teri played Lois Lane in 88 episodes of The New Adventures of Superman. An image of Teri as Lois wearing nothing except Superman's cape around her body was at one time the most downloaded internet image in the world. Aside from Lois Lane, Superman's other love interest is Lana Lang.
- The crow flies using human transport routes, as do pigeons. According to an Oxford study, if a crow travels from Portsmouth to the Peak District, it would go up the M275, then the M3, the M40 to Oxfordshire, take the A46 to Coventry, then follow the M1 for 62 miles. (Forfeit: In a straight line).
- Tangent: A start-up company in the Netherlands called Crowded Cities is trying to get crows to recognise cigarette butts and drop them into bins. If a camera in the bin recognises the object as a cigarette butt, the crow is given food.
- An octopus has no tentacles. People used to use the word "tentacle" as being interchangeable with "arm", but the modern convention is that if an invertebrate has suckers along its entire length then it is an arm. If suckers are only on the tip, that is a tentacle. Creatures with tentacles include jellyfish and sea anemones. Octopuses can use their suckers to smell, taste, and stick to any surface except themselves. (Forfeit: Eight; One; Two; Ten)
Scores
- Danny Baker: -7 points
- Phill Jupitus: -18 points
- Teri Hatcher: -38 points
- Alan Davies: -54 points
Broadcast details
This episode is currently available on BBC iPlayer
Date

Monday 10th September 2018

Time

10pm

Channel

Length

30 minutes
View more broadcast data
Help celebrate and promote British comedy by donating to fund more content and functionality. BCG Supporters get extra features in return, including this episode's audience figures data.
Find out more
Already a donor?
Sign in
Cast & crew
Press
QI host says women perform cleverly but are then seen 'just laughing at the boys'.

Aamna Mohdin, The Guardian, 11th September 2018