Series C, Episode 10 - Cleve Crudgington
Further details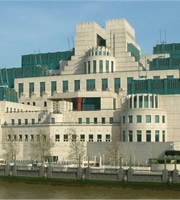 Topics
- The original "C", head of the Secret Service Bureau (the ancestor of MI5 and MI6) was Sir Mansfield Smith-Cumming. He lost his leg in a car crash that killed his only son, Alistair. He hacked off his broken leg with a penknife. As "C" he would often exercise his good leg, stabbing it with a pen, whilst his other went along on a scooter along the corridors. He also went spying on German war preparations as a German businessman, unable to speak any German at all. He signed all documents with a "C" in green ink, a practice still carried out by all heads of the secret service.
- Tangent: Lord Nelson requested that all saws should be warmed up before amputations, because he claimed the worst aspect of the amputation of his arm was that the saw was cold.
- Tangent: During Apartheid, rather than choosing a black person, the South African cricket team once picked a one-legged Norwegian.
- What did Cleve Crudgington do with champagne corks? He opened them with his invention, the champagne cork opener. (Forfeit: Rams them up his arse)
- Tangent: Krug, as in Krug champagne, means "Beer mug".
- Condensation nuclei make champagne bubbly. (Forfeit: Carbon dioxide)
- Luvvie alarm: Stephen talks about the Duke and Duchess of Westminster and his allergy to champagne.
- Torpenhow Hill is twice as interesting a Mount Fuji, because "Torpenhow Hill" means "Hill Hill Hill Hill", whilst "Mount Fuji" is just "Hill Hill". They are tautological place names. Other examples include the River Tyne (River River) Paraguay River (River River River) and Sahara Desert (Desert Desert). "Boutros Boutros-Ghali" means "Peter Peter-Expensive". Correction: The hill in question is just "Torpenhow", not "Torpenhow Hill". Therefore, it is "Hill Hill Hill". Also it is the "Yama" part of "Fujiyama" which means "mountain".
- Scottish inventions and discoveries include adhesive stamps, the Australian national anthem, the Bank of England, bicycle pedals, the breach-loading rifle, Bovril, the cell nucleus, chloroform, the cloud chamber, cornflour, a cure for malaria, the decimal point, the Encyclopædia Britannica, fountain pens, genetic fingerprinting, hypnosis, Hypodermic syringes, insulin, the kaleidoscope, the lawnmower, lime cordial, logarithms, lorries, marmalade, matches, motor insurance, paraffin, piano pedals, radar, the reflecting telescope, savings banks, the screw propeller, the speedometer, the steam hammer, raincoats, tarmac, teleprinters, tubular steel, typhoid vaccines, ultrasound scanners, the United States Navy, Universal Standard Time, vacuum flasks, wave powered electricity generation and wire rope. The panel also mentions rubber tyres. Alexander Graham Bell (who did not invent the telephone, see Series A) helped invent a hydrofoil that travelled at 70mph in 1919 and a metal detector. It was used to try and find the bullet that hit President Garfield, but it was confused by the bed springs and thus he died. (Forfeit: Television; Haggis) Correction: Matches were not invented in Scotland. They were invented in China. The first European country to make matches was France. The first friction match was invented in Stockton-on-Tees, England. Also, Scotland did not invent the US Navy, but a Scot, one of the important early figures, John Paul Jones, was Scottish.
- Tangent: Things not invented by the Scots include kilts (Irish), Hogmanay (French) and whiskey (Italian and Chinese). Correction: What is claimed to be the Irish kilt is more like a kind of tunic. In terms of a "Man skirt", the kilt IS a Scottish invention.
- The word cat comes from the Latin word for dog - "Catulus".
- There are 33 vowel sounds in the English language.
General Ignorance
- The longest animal in the world is the bootlace worm. It is the simplest organism to have a separate mouth and anus. (Forfeit: Blue whale; Giant squid; Lion's mane jellyfish) Correction from Series A - Episode 3.
- Tangent: Charles Darwin gathered all the worms in his garden and got his son to play a bassoon at them to see how they reacted.
- Berries include bananas, tomatoes, oranges, lemons, grapefruits, watermelons, kiwifruits, cucumbers, grapes, passion fruits, papaya, the pomegranate, gooseberries and blueberries. (Forfeit: Blackberry; Strawberry; Raspberry)
- The second actor to play James Bond was Bob Holness. (Forfeit: Sean Connery; David Niven)
- According to Buddha, "A person should wander lonely as a rhinoceros." (Forfeit: Cloud)
- Tangent: John's brother was almost killed by a circus crocodile in Londonderry.
Deleted scenes
- Tangent: A friend of Mark's was went to California, where he said that when people go to vineyards, they have to give comments on the samples of wine they drink. He wanted to say, "Shit, but free".
- Celts were invented on top of Primrose Hill, at midnight, 27th September, 1717. The whole idea of Celtic practices, such as worshiping midsummers day at Stonehenge, is a myth, invented by forger and opium addict Iolo Morganwg (real name, Edward Williams).
- Tangent: The panel try to annoy Stephen by pretending they believe in astrology, something which he is strictly against.
Scores
- Mark Steel: 2 points
- John Sessions: -16 points
- Clive Anderson: -28 points
- Alan Davies: -84 points
Notes
For corrections, see the QI Qibble Blog here, here and here.
Broadcast details
Date

Friday 25th November 2005

Time

10:30pm

Channel

Length

30 minutes
Cast & crew
Supporters and subscribers get more
Additional content and tools are available across the site for Supporters and BCG Pro subscribers. On this page you can:
Broadcast details of 47 further repeats of this episode
This episode's inital overnight ratings
Already a donor or Pro user? Sign in