Series C, Episode 9 - Creatures
Further details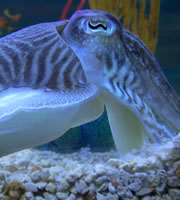 Extra Tasks
- An extra difficult question is provided with 200 points for anyone who gets it.
- A "spot the cuttlefish competition" - There is a cuttlefish or part of a cuttlefish hidden in one of the questions.
Topics
- The panel's buzzers contain animal noises (Bill - donkey; Andy - gorilla; Helen - chicken; Alan - mosquito). Out of those, the chicken has the most chromosomes with 78, arranged as 39 pairs. (Forfeit: Gorilla)
- Tangent: The number of chromosomes has no relation to genetic make-up of an animal. It is known as the "C-value paradox".
- Tangent: The Adder's tongue fern has the most chromosomes of any living thing, with 1,320.
- Tangent: All creatures have an even number of chromosomes. Correction: Some creatures, mainly hybrids such as mules, ligers, zorses and wholphins, have an odd number of chromosomes (e.g. mules have 63 because horses have 64 and donkeys have 62).
- When a pair of pygmy chimpanzees or bonobos sees a box, they have sex with each other. It happens no matter what the object is. They are the happiest of all the apes. Male bonobos also practice penis-fencing.
- Swimming through treacle is very similar to swimming through water in terms of speed. It is harder to use your arms because you are pulling. However, you get a large spring forward when using your legs.
- The material used to write on blackboards is called "Gypsum". Chalk, also known as calcium carbonate, is found in limestone, marble, coral, the skeleton of humans and fish, the lenses of human eyes, and indigestion pills. (Forfeit: Chalk) Correction: The lenses of fish eyes, not human eyes, are made out of chalk.
- Bonus question: "C6H12O6(S) + 6O2(g) -> 6CO2(g) + 6H2O(g)" is the chemical equation for the oxidisation of glucose - in other words, "an explosion in a custard factory". (Answered correctly by Helen) Correction: The formula is actually just of the resperation of custard, not of an explosion in a custard factory.
- The French for "Custard" is "Crème Anglaise", because they do not believe the word exists.
- Apart from being able to sing, the New Guinea Singing Dog is the only dog that can climb trees.
- Octopuses pretend to be coconuts. (Forfeit: Cuttlefish)
- Tangent: The correct plural for "Octopus" is "Octopuses" not "Octopi". An octopus the size of volleyball can fit into a soft drink can.
- Marie Curie, discoverer of uranium and with her husband Pierre also discovered radium, was the first person to win two Nobel Prizes, one in physics and one in chemistry. Marie and her daughter Irène Joliot-Curie (the second woman to ever win a Nobel Prize) died of leukaemia, because they did not know of the dangerous properties of uranium. Pierre was killed by a runaway horse.
- Cuttlefish prize: It was in a photo of Marie Curie shown whilst the question was asked. The sepia tone was created using a pigment from cuttlefish. "Sepia" is Italian for "Cuttlefish". The panel fail to spot it. Correction: The sepia used in photographs may not have come from cuttlefish.
General Ignorance
- The pie chart was invented by Florence Nightingale. Correction: The pie chart was actually invented by William Playfair.
- Cuttlefish prize: A sepia photo of Florence Nightingale appears. Alan spots the sepia and claims the bonus points.
- Most tigers are kept in private hands in the USA. (Forfeit: Asia; Zoos)
- Silly, Billy, Chilly, Pussy, Pissy, Corny, Punchy, Misery, Messy and Prat are all places in France. (Forfeit: The Ten Dwarfs - given by the audience)
- Tangent: Bill once visited a French town called "Bitche".
Deleted scenes
- Chimpanzees are thought to be the closest thing to the common acestor of both humans and apes. Chimpanzees live in trees.
- Most anicent humans from thousands of years ago lived out in the open or in simple dwellings. More people live in caves today than did thousands of years ago. There are 40,000,000 people living in caves in China alone. (Forfeit: Caves)
- "Red-headed" people need 20% more anaesthetic than average in order to be put under for an operation. No-one knows why.
Scores
- Helen Atkinson-Wood: 200 points (Current record)
- Andy Hamilton: 22 points
- Alan Davies: 15 points
- Bill Bailey: -20 points
Notes
For more information on the chromosomes correction, see the QI Qibble Blog. For others, see the Series C DVD.
Broadcast details
Date

Friday 18th November 2005

Time

10:30pm

Channel

Length

30 minutes
Cast & crew
Supporters and subscribers get more
Additional content and tools are available across the site for Supporters and BCG Pro subscribers. On this page you can:
Broadcast details of 42 further repeats of this episode
This episode's inital overnight ratings
Already a donor or Pro user? Sign in