Series D, Episode 10 - Divination
Further details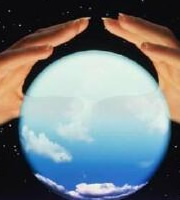 Extra Tasks
- Each member of the panel tries to predict their score via some form of divination. If anyone gets the own score exactly right, they will score 666 bonus points. No-one manages to predict their own score, but Johnny correctly predicts Graeme's. The methods used were:
- Johnny: Coscinomancy (using sieves)
- Graeme: Tyromancy (using cheese, or in this case Babybels).
- Phill: Tasseomancy (using tea)
- Alan: Pygomancy (using arses)
Alan disappears before the start of the first round (see episode notes).
Topics
- Stephen interprets the panels' dreams, coming to the conclusion that they are all gay.
- Tangent: Other methods of predicting the future include margaritomancy (pearls), spatulamancy (shoulder blades from sheep) and hippomancy (the behaviour of horses.) "Ornithomancy" is studying the flight patterns of birds.
- Tangent: Horses are about as clever as tropical fish, in terms of brainpower.
- Clever Hans was a horse who was able to perform mathematical equations by reading people's body language.
- Tangent: Derren Brown's trick for keeping the seat on the train next to you free is to smile at the passenger coming towards you and pat the seat.
- If you see a dead donkey, you should jump over it three times for good luck. The word 'Donkey' came into English in the late 18th century, but it pronounced to rhyme with 'Monkey'. Before, the word was 'Ass'. A donkey is the cross between a male donkey and a female horse. The cross between a female donkey and a male horse is a 'Hinny', which is an even rarer animal.
- Tangent: Because they are hybrids, if all the mules in the world were killed, there would be another 10,000 next year. 99.99% of female mules are sterile, whilst the males are invariably sterile but do not know they are. They have to be gelded to make sure they do not keep having sex all the time.
- Tangent: Donkey milk cannot be used to make cheese. Cleopatra bathed in asses' milk and Nero's wife Poppaea had 300 donkeys milked to fill her bath.
- There is no accurate demonym for someone who comes from the United States. A 'demonym' is your people name. For example, "Briton", "Englishmen", "German" etc.
- The Chinese for American is "Meiguoren", which translates as "Lovely country person". A Briton is a "Yingguoren", which is "Hero country person" and a Frenchman is a "Faguoren", or "Law country person".
- Some people say that Robert Charleston sold his soul for the Crossroad Blues, later dying of strychnine poison in his whiskey.
- Part of Deeper Blue, the first computer to beat a chess grandmaster (Garry Kasparov) is now working for United Airlines as a reservations clerk. The rest is in a museum. The name is a portmanteau of Deep Thought (the computer in The Hitchhiker's Guide to the Galaxy which calculated the ultimate answer to life, the universe and everything) and the Big Blue (IBM's nickname).
- Tangent: Kasparov accused IBM of cheating; after he planted a trap which he claimed could only be avoided by thinking creatively.
- Tangent: Vasily Smyslov, another grand master, used to pretend to screw his pieces into the board. The practice is known today as the "Smyslov screw".
General Ignorance
- The number of the beast is 616. (Forfeit: 666)
- Tangent: A Moscow bus company changed one of its routes from 666 to 616. The A666 is between Pendlebury to Langho, both in Lancashire.
- Tangent: The numbers on a roulette wheel add up to 666. The retail price of the beast is £665.99. 25.80698 is the root of all evil (The square root of 666).
- Bonus question for 66.6 points: The fear of 666 is "Hexakosioihexekontahexaphobia". The fear of 616 is "Hexakosioidekahexaphobia". (No-one gets the bonus)
- The man responsible for causing the most damage to the environment is Thomas Midgeley Jr. He put lead in petrol and invented CFCs. (Forfeit: George Bush; Stalin; Genghis Khan; Mao Zedong; Margaret Beckett)
- Tangent: Midgeley contracted polio at 51. He invented a harness to get himself out of bed. One day, it swung around a little oddly and he strangled himself to death, aged 55.
- The religion known for causing harm by sticking pins into dolls is European Witchcraft. (Forfeit: Voodoo)
- Tangent: In West Africa Vodun, dolls known as "Bocios" have small pegs stuck into them to channel healing powers.
- A "Desire line" is a name given by planners to paths made by people who wander. People who wander are known as "Meanderthals".
Scores
- Graeme Garden: 7 points
- Phill Jupitus: 6 points
- Johnny Vaughan: -19 points
- Alan Davies: -70 points
Notes
Regular Alan Davies only appears at the beginning of this episode, he disappears via his buzzer (the sound of the TARDIS). Davies couldn't make the recording as he was attending the UEFA Champions League Final between Arsenal and Barcelona, which Arsenal lost. Alan still however played 'from beyond', by giving answers via a pre-recorded voice-over.
Broadcast details
Date

Friday 24th November 2006

Time

10:30pm

Channel

Length

30 minutes
Cast & crew
Supporters and subscribers get more
Additional content and tools are available across the site for Supporters and BCG Pro subscribers. On this page you can:
Broadcast details of 44 further repeats of this episode
This episode's inital overnight ratings
Already a donor or Pro user? Sign in