Series D, Episode 12 - Domesticity
Further details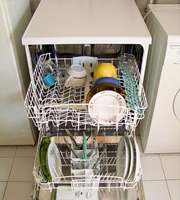 Topics
- Dry cleaning is not dry, because it uses chemical solvents such as perc. It is called 'dry cleaning' because no water is used.
- Tangent: 'dry cleaning' is the name given to methods that spies use to detect whether or not they are being followed.
- Ray Davis Jr. (not to be confused with Ray Davies from The Kinks) used 100,000 gallons of dry cleaning fluid in 1964 in order to help his research in neutrinos, particles emitted from the Sun which have no mass and can pass through light-year's thickness of lead in an instant, without leaving a trace. The liquid leftover is still in Leadville, South Dakota, because it is hazardous waste. Davis is in the Guinness Book of Records for being the oldest ever Nobel Prize winner, aged 88. Correction: In 1998, it was shown that neutrinos do have mass, albeit a very, very small mass.
- Tangent: Neutrinos were invented to make the mathematics in modern physics work.
- The first vacuum cleaner was horse-drawn. People could not afford an individual one, so it was hiring service. See-through tubes were used so people could watch the dirt being sucked inside the cleaner and be amazed at the sight of it.
- Tangent: Jo tries to guess one of her own quotes: "How do you know it's time to wash the dishes and clean your house? Look inside your pants. If you find a penis in there, it's not time."
- The guests are asked to complete the following sentence using the correct adverb; "The first practical dishwasher was invented to clean dishes more... safely." It was invented by Josephine Cochrane, who wanted to find a way to clean dishes without them being chipped. It cost $250 to make, a lot of money in the 1880s. However, it could clean and dry 200 dishes in 2 minutes and won first prize at the 1893 World's Fair in Chicago. (Forfeit: Quickly; Cleanly - double forfeit).
- Tangent: Cochrane's father was John "Crazy" Finch, inventor of the steamboat.
- Tangent: The 1893 World's Fair also had the world's first Ferris wheel, invented by George Ferris.
- Tangent: In Britain, the odds of being killed in an accident in your home are the same as those of being killed in a car crash. In 2003, a Scottish woman died in freak dishwasher accident, by tripping up and falling on an upturned knife sticking out of the dishwasher. Stephen cut his palm in a similar accident.
- Up to the year 1800, the second greatest cause of death for women was cooking, mainly because their dresses would catch fire. Childbirth was the greatest cause of death. (Forfeit: Domestic violence)
- Some hand household tips:
- To create the impression that you have cleaned your house when you have not, spray furniture polish behind a radiator.
- Silk and spaghetti both stick to walls. You can use it to test whether the cloth you have been given is silk and not some other material.
- Rhubarb and brown sauce can be used to clean copper and silver.
- Tangent: Phill mocks Stephen for his ownership of a copper kettle and his adverts for Twinings.
- The cheapest way to remove a blood stain from your clothes is to suck it out with your own saliva.
- The bottom door hinge is placed higher than normal because of the effect of foreshortening.
- Tangent: When Stephen and Hugh Laurie shared a house, they had some plastering done. Their plasterers were Charlie Higson and Paul Whitehouse.
General Ignorance
- Pea soup and baked bean juice are drinks made from beans. (Forfeit: Coffee - made from seeds.)
- Tangent: Stephen knew about a man who was nicknamed "Heinz" because whilst he was at school, he was discovered masterbating with baked beans over his penis.
- "Have you ever slid down a banister?" No - Banisters are the supports. The handrail is called the "Balustrade". (Forfeit: Yes)
- William Wordsworth did not smell anything, because he had no sense of smell. (Forfeit: Daffodils) Note: The correct answer was worth 200 points, but no-one got it right.
Scores
- Jessica Stevenson: -3 points
- Phill Jupitus: -4 points
- Jo Brand: -18 points
- Alan Davies: -64 points
Notes
For details of the correction, see the QI Qibble Blog
Broadcast details
Date

Friday 8th December 2006

Time

10:30pm

Channel

Length

30 minutes
Cast & crew
Supporters and subscribers get more
Additional content and tools are available across the site for Supporters and BCG Pro subscribers. On this page you can:
Broadcast details of 44 further repeats of this episode
This episode's inital overnight ratings
Already a donor or Pro user? Sign in