Series D, Episode 9 - Doves
Further details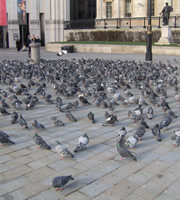 Theme
- This is one of two "General" shows in Series D, covering a wide range of different topics beginning with "D". The other is "Dictionaries".
Topics
- Pigeons are the bravest species of animal. They have won more Dickin medals (the animal version of the Victoria Cross) than any other creature, winning 32 out of 60 since their creation in 1943.
- Tangent: A cat aboard HMS Amethyst won the Dickin medal during the Yangtze incident in 1949, for eating all the rats on ship.
- Tangent: London pigeons are technically doves. Their actual name is the "White rock dove".
- A "Kamikaze" pigeon unit was designed to destroy ships. Pigeons were trained to peck at ships. Every time they did so the pigeon was given grain. The pigeon would then be put into a missile with a glass target. It would have a relay signal that would get bigger the closer the pigeon got to the ship. The weapon was not used in combat, although a new idea was developed using an orange dot instead of a boat in order to help people stranded at sea.
- Tangent: The passenger pigeon was hunted to extinction by American sportsmen. They used to be in flocks that were 300 miles long by 1 mile wide. In 1896, the sportsmen killed the final flock, knowing it was the last flock, which consisted of 250,000 pigeons. The last passenger pigeon, called "Martha", died in Cincinnati Zoo in 1913.
- Tangent: The Italian composer Puccini had a specially designed gun that could take down 50 snipe in one go.
- Tangent: Picasso was keen on pigeons. His father painted them and never painted again when he saw how good his son was. Picasso also collected fan tail pigeons and named his daughter "Paloma", which is Spanish for "Pigeon".
- The function of the most influential piece of modern art, as voted for by the Turner Prize committee, is to piss in it, because it is a urinal. The piece is called "Fountain" by Marcel Duchamp. Duchamp signed it "R. Mutt", the "R" standing for "Richard" which is French slang for "Moneybags". People have urinated in it as an expression of support and as an expression of opposition of it. One man was fined $6,500 for doing so. Fountain is valued at $3.6million. Duchamp was a member of the Dada movement.
- "What did the dik-dik do that the dodo didn't?" - Hide. It is probably one of the reasons that the dodo became extinct.
- Tangent: The dodo was related to the pigeon. It remained forgotten until 1860 when they appeared in Alice in Wonderland.
- According to Moby Dick, the most useful purpose for a sperm whale's penis is to turn the skin of it into an apron. A sperm whale's penis is 9 feet long and 1 foot in diameter. Like badgers, they have a bone in their penis.
- Tangent: When Maria Callas first went aboard Onassis' yacht, she discovered that the bar stools were made out of sperm whale's foreskins.
- Swift Nick Nevison, a gentlemen highwayman who never hurt his victims, rode from London to York in 15 hours. He managed to avoid arrest by playing bowls with the Mayor of York, betting him on the outcome of the match and was able to use him as an alibi. (Forfeit: Dick Turpin)
- Tangent: Dick Turpin was arrested whilst he was living in York under the name of John Palmer. He shot a farmer's cockerel and wanted to use his brother-in-law as a character reference, so sent him a letter. However, he turned the letter away, because back then you had to pay to receive the letter, and he had no idea who "John Palmer" was. It was sent to the postmaster, who happened to be the man who taught Turpin to read and write. He recognised his handwriting and grassed him up. To make things worse, the hangman was an ex-partner of Turpin's who became a hangman in exchange for a pardon.
- Tangent: According to Timothy Spall's film 'Pierrepoint', Albert Pierrepoint took just seven seconds to kill the prisoner from leaving the cell.
- Tangent: In some parts of America, the life expectancy is lower than that on Death Row.
- Tangent: A cameraman friend of Stephen's was filming in Los Angeles from a helicopter that had a reinforced bottom to protect it from bullets because people kept firing at them.
General Ignorance
- The crimes committed by Burke and Hare were murders. (Forfeit: Body snatching)
- Tangent: Most medical students today no longer dissect a human body in their studies.
- Tangent: A group of medical students once took a penis from a corpse. One man stuck it outside his trousers. When a woman saw it, he cut it off. The woman fainted.
- Tangent: During his drinking days, Barry Humphries used to get a jar of sandwich spread and a spoon and pretended to vomit into a bag. He would then secretly fill the bag with sandwich spread and eat it, pretending that he was eating his own vomit with his spoon.
- The kind of hair that an underground fluffer deals with is that which has blown onto railway lines in the London Underground. They clean the rails.
- Tangent: Fluffers are no longer used in the porn industry because Viagra has put them out of business.
- "E pluribus unum" is the motto of S.L. Benfica. It means, "Out of many, one". Benfica's most famous player was Eusebio, whose statue is outside the ground. He was born in Mozambique.
- Tangent: The motto of the United States is "In God We Trust". In a celebrity episode of 'Who Wants To Be A Millionaire?', Laurence Llewelyn-Bowen was asked for £1 million which motto of the United States is translated from E pluribus unum. He answered "In God We Trust", which is the motto, but not translated from the Latin and so lost £464,400. Because of the confusion, he was invited back on the show, and walked away with £500,000.
- The earliest use of "E pluribus unum" comes from a recipe for a salad dressing. Note: This was a bonus question for 50 points. However, Stephen gave away the answer before giving the question. He was told to give the question anyway, which Alan answered correctly, thus got the bonus.
Scores
- Alan Davies: 54 points (Third victory)
- John Sessions: -4 points
- Andy Hamilton: -8 points
- David Mitchell: -9 points
Broadcast details
Date

Friday 17th November 2006

Time

10:30pm

Channel

Length

30 minutes
Cast & crew
Supporters and subscribers get more
Additional content and tools are available across the site for Supporters and BCG Pro subscribers. On this page you can:
Broadcast details of 42 further repeats of this episode
This episode's inital overnight ratings
Already a donor or Pro user? Sign in