Series D, Episode 4 - Dictionaries
Further details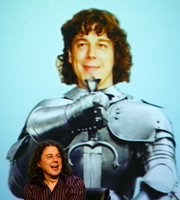 Theme
- This is one of two "General" shows in Series D, covering a wide range of different topics beginning with "D". The other is "Doves".
Topics
- People who write dictionaries like to start with the letter "M". (Forfeit: A)
- The Long Years of Obscurity is a three volume book about the history of Didcot.
- Tangent: Alan once did a concert with Phil Collins who was performing a song called "Where's My Hat?". Collins was wearing his hat throughout.
- Tangent: According to a poll by "Country Life", Didcot Power Station is third worst eyesore in the country. Wind farms were number one.
- Tangent: Didcot has the second oldest tree in the country, which is over 1,600 years old.
- The Bubi people of Bioko cannot talk in the dark because their talking is mostly gesture. They cannot see what they are saying.
- Tangent: 'Lord Elgin and Duncan' once went to a dinner after dropping the latter half of his name. He saw his place at the table listed as "Lord Elgin". The person sitting next to him was "Duncan".
- Tangent: The panel talk about colonial women, which leads to talking about Diana Mosley and her fondness for Adolf Hitler.
- Prince Charles owns Dartmoor Prison, as he occupies the Duchy of Cornwall.
- Tangent: Stephen talks about his time in prison. The word "Snout" is no longer used to mean "Cigarettes". The word is now "Burn". "Twos up on your burn" is when an inmate claims the fag-end. Once enough are collected, another cigarette can be made.
- If the Queen was to knight Alan, or anyone else, she would say nothing. (Forfeit: "Arise, Sir Alan")
- Tangent: When a member of the clergy is knighted, no sword is used.
- Tangent: "Degradation" is when a knighthood is taken away. The last public degradation was that of Sir Francis Mitchell in 1621.
- Raindrops are spherical in shape. Correction: While smaller raindrops do remain spherical as they fall, larger ones are distorted by aerodynamic drag, being flatter at the bottom and rounder at the top. Sometimes they break up into smaller droplets. (Forfeit: Pear-shaped)
- The world's biggest drip is a stalactite in Gruta Rei do Mato, Brazil.
- Tangent: One way to member the difference between a "Stalagmite" and a "Stalactite" is that "Stalagmite" are in the ground, because it has a "G" in it. Another way is that, "Tights hang down, like Stalactites." The thickness of tights is measured in denier.
- The world's biggest crashing bore is found in the tidal bore in the Qiantang River, China.
- The biggest floater under the sun is Saturn. Saturn's density is less than water, so it could float.
General Ignorance
- There are fewer plants than you would think. Around every plant has been counted four times.
- There were several sides during the Battle of Culloden. There were more Scots in the army that fought against Bonnie Prince Charlie than in the force fighting for him.
- Tangent: Scottish history lessons tend to mention nothing about English history, except the Battle of Bannockburn, where the Scots defeated the English.
- Tangent: The English soldiers were called "Tommy lobsters". It was the first battle in which the army was trained to use bayonets.
- Dolphins do not drink. They get all their water from their food. As a result, they cannot tell the difference between hunger and thrust. Correction: While dolphins cannot drink seawater, they do drink milk when they are young like all other mammals.
Scores
- Ronni Ancona: 13 points.
- Rory Bremner, Phill Jupitus and Alan Davies: -7 points.
Notes
For more information on the corrections, see the QI Qibble Blog here and here.
Broadcast details
Date

Friday 13th October 2006

Time

10:30pm

Channel

Length

30 minutes
Cast & crew
Supporters and subscribers get more
Additional content and tools are available across the site for Supporters and BCG Pro subscribers. On this page you can:
Broadcast details of 52 further repeats of this episode
This episode's inital overnight ratings
Already a donor or Pro user? Sign in