Series D, Episode 6 - Drinks
Further details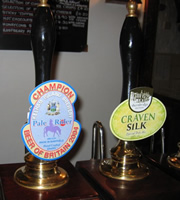 Theme
- Stephen has a drinks rack behind him whilst the panellists all have their own drinks. Alan has a cocktail whilst the others have pints of beer.
Topics
- If a bird knocks over your dominoes, it is best not to shoot it. In 2005, a house sparrow knocked over 23,000 dominoes that where in place for a world record domino toppling event. A man shot the bird and was fined €200 because the house sparrow is an endangered species. The sparrow was stuffed and put on display in a museum in 2006.
- You are not allowed to drink during a game of darts. This rule was put in force because of a Not the Nine O'Clock News sketch by Laurie Rowley which showed darts players drinking heavily, which reflected negatively on the game. Another rule in darts is that you are not allowed to wear a hat, unless you are a Sikh.
- Tangent: The unusual quotations of darts commentator of Sid Waddell include:
- "There's only one word for that - 'Magic darts'."
- "That's the greatest comeback since Lazarus."
- "When Alexander of Macedon was 33, he cried salt tears because there were no more worlds to conquer. Eric Bristow is only 27."
- "He's as happy as a penguin in a microwave."
- The connection between Oscar Wilde, Ernest Hemingway, Picasso, Van Gogh, Toulouse-Lautrec, Degas, Manet, Strindberg, Baudelaire, Rimbaud, Verlaine and Kylie Minogue is Absinthe.
- Tangent: Absinthe was banned in Belgium (1905), Switzerland (1912) and France (1915) due to wormwood being poisonous. It was re-legalised in 1926 after they removed the wormwood. Britain has never banned it because it was never popular.
- The Great Binge is a period that social historians give to the period 1870-1914, due to the wide availability of drugs such as heroin. For example, Harrods sold a kit to be sent to soldiers, which contains morphine, cocaine, syringes and needles. Heroin is a band name.
- The Vomit Comet is used to train astronauts.
- Tangent: Stephen and Phill talk about the difference between mass and weight. The main difference is that weight exists due to gravity.
- The Great Stink occurred in 1858. Parliament was cancelled as the smell of faeces from the Thames was so bad. The problem was solved by Joseph Bazalgette whose great-great-grandson now runs Endemol and to quote Stephen: "Is now pouring shit back into our homes." (Forfeit: He who smelt it, dealt it)
- The great drink of Burnley, Lancashire is Bénédictine. Burnley drinks more of it than any other place in the world. They got the taste of it when soldiers were based in France during the Second World War.
- DORA (The Defence of the Realm Act) banned invisible ink and binoculars. It also introduced the licensing hours and British Summer Time.
- Tangent: During WWII, Veronica Lake was forced to have her hair cut. She previously had her hair combed over one eye, a style many women copied. However, when the women went to work in munitions factories, their hair kept getting caught in the machinery.
General Ignorance
- A 'vomitorium' is a passage situated below a tier of seats in an amphitheatre.
- The single largest man-made structure on the planet is the Fresh Kills Landfill in Staten Island, New York. (Forfeit: The Great Wall of China)
- You should not drink saltwater if you are dehydrated. (Forfeit: Alcohol)
- Alcohol does not kill your brain cells.
Scores
- Alan Davies: 10 points (Second victory)
- Jimmy Carr: 2 points
- John Sessions: -3 points
- Phill Jupitus: -15 points
Broadcast details
Date

Friday 27th October 2006

Time

10:30pm

Channel

Length

30 minutes
Cast & crew
Supporters and subscribers get more
Additional content and tools are available across the site for Supporters and BCG Pro subscribers. On this page you can:
Broadcast details of 45 further repeats of this episode
This episode's inital overnight ratings
Already a donor or Pro user? Sign in