Series D - Descendants
Further details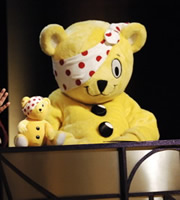 Theme
- The set is covered with stuffed models of Pudsey Bear, the Children in Need mascot. Being American, Rich Hall was not aware that Pudsey is supposed to have one eye covered so he took the blindfold off the Pudsey in front of him and tied the hands of the model behind its back.
- Pudsey Bear started the show sitting in Alan's seat and tested Alan's buzzer at the start of the show. However, Alan soon came on the set and threw Pudsey out.
Topics
- Babies have more bones than adults (94 more), which later fuse together. They also do not have kneecaps because they are made out of cartilage.
- The body part with the most bones is the foot, with 52.
- The paradoxical frog grunts like a pig and has children three times bigger than the adult.
- Tangent: Winston Churchill said, "Dogs look up at you, cats look down on you, but a pig looks you in the eye and treats you as an equal."
- Barbie could have become US President if she was eligible. She is also a trained scientist and has larger breasts than you might imagine. Her maiden name is "Roberts" (named after Barbara Millicent Roberts), she has over a billion pairs of shoes and is only 11 inches tall. (Forfeit: Margaret Thatcher)
- Tangent: If Barbie was 5'6", her feet would be size three, her breasts would be 39 inches and she would fall flat on her face. She also lacks the 17-22% body fat that would allow her to menstruate. She got a naval in 2000. Her first words were in 1992. Amongst them were, "Will we ever have enough clothes", "I like shopping" and, "Math is tough."
- Spiderman, Superman and Wonder Woman have all helped to fight real crime. A Spiderman comic inspired a judge to invent the electronic tagging device. A radio episode of Superman where he fought the Ku Klux Klan caused the application rate for the organisation to fall to zero. The creator of Wonder Woman invented the lie detector.
- Tangent: William Moulton Marston, the co-creator of Wonder Woman was in a polyamorous relationship.
- Tangent: Children have invented the calculator, earmuffs, the trampoline and Flag of Alaska.
- Roald Dahl co-invented the Wade-Dahl-Till valve, used by people who suffer from water on the brain.
- The Oompa-Loompas were originally black, because they were from Africa. (Forfeit: Orange)
- Tangent: Alan recalls a Sherlock Holmes film in which people were being murdered near a circus. An hour into the film, Holmes turns to Watson and says, "I've got one word to say to you Watson - Pygmies".
- Tangent: Jonathan saw a French TV show where a tiny elephant did tricks. It later turned out to be a dog in a costume.
- In one episode of The Clangers called "Chicken", one of actors says (via swanee whistle): "Oh sod it, the bloody thing's stuck again."
- Tangent: The Clangers were invented by Oliver Postgate, who also created Noggin the Nog, Pogles' Wood and Bagpuss. He and his partner Peter Firmin created each episode in a barn, taking a month to make a single episode.
- Tangent: The Clangers highest ever ratings were during an appearance in an episode of Doctor Who called "The Sea Devils". They got 10 million viewers.
- Bill and Ben, the Flowerpot Men, speak in a language called "Oddle Poddle". (Forfeit: Flobbadob) Correction: This is a correct fact previously mentioned in Series B. Fry reads out a letter from Silas Hawkins, son of voice actor Peter Hawkins that reads: "The fart-in-the-bath story was trotted out last year in an episode of Stephen Fry's otherwise admirable quiz show QI. It (the story) first appeared some twenty years ago in a newspaper article, to which my father immediately wrote a rebuttal. It was obviously ferreted out by some BBC researcher for QI. It may be quite interesting, but in this case, it simply isn't true."
General Ignorance
- The most listened to tune in the world is The Gran Vals by Francisco Tárrega, better known as 'The Nokia Tune'. (Forfeit: Crazy Frog)
- Tangent: Nokia produces 6.5 million mobile phones a second.
- Ferns are poisonous, carcinogenic, the second oldest plant on Earth (after moss) and pollinate by flinging their seeds.
- Tangent: Stephen's lack of knowledge of Geordie slang.
- Terry Wogan is descended from the Welsh. (Forfeit: Ireland)
- Tangent: Wogan holds the world record for the longest recorded golf putt on television, measuring 33 yards at Gleneagles.
Correction: In 2012 the record was broken by American swimmer Michael Phelps with a 53 yard putt.
- 0% of the money donated to Children in Need goes to administration costs.
- Tangent: The first Children in Need in 1980 raised £1 million.
Scores (given in millions)
- Jonathan Ross: 3,000,000 points (3)
- Rich Hall: 2,000,000 points (2)
- Phill Jupitus: 1,000,000 points (1)
- Alan Davies: -29,000,000 points (-29)
Broadcast details
Date

Friday 10th November 2006

Time

10:30pm

Channel

Length

30 minutes
Cast & crew
Supporters and subscribers get more
Additional content and tools are available across the site for Supporters and BCG Pro subscribers. On this page you can:
Broadcast details of 11 further repeats of this episode
This episode's inital overnight ratings
Already a donor or Pro user? Sign in