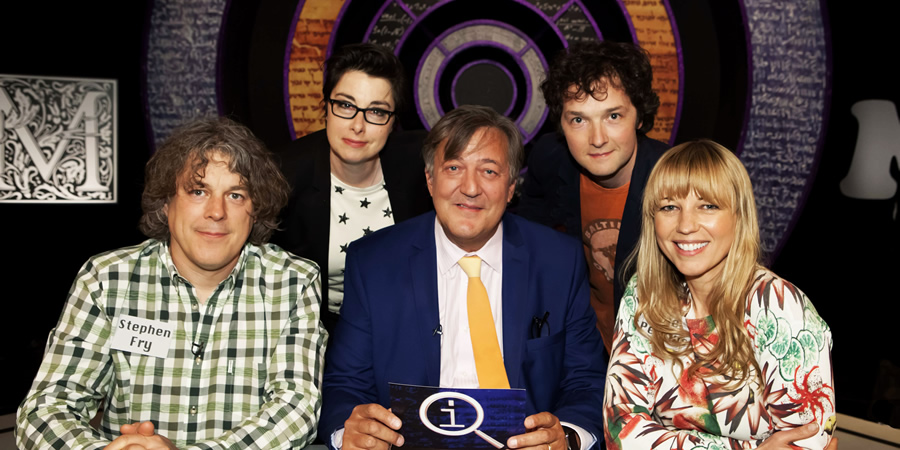 Series M, Episode 16 - Misconceptions
Further details
Themes
- The panellists all wear name badges, but not their own names. Chris's badge says: "Sara Cox", Sara's badge says: "Sue Perkins", Sue's badge says: "Chris Addison" and Alan's badge says: "Stephen Fry". Unlike every other episode, all the buzzers sound like normal buzzers - except Alan's who is penalised for having a buzzer that sounds like a buzzard. (Forfeit: Buzzard)
- Because all of the questions are misconceptions and rather General Ignorance-like, the final around is a quick fire General Knowledge around about things beginning with M.
Topics
- XL: The panel are given a map projection and are asked how many American states beginning with "M" they would cross in a flight between Madrid to Montana. The answer is none (excluding Montana itself). The map, known as the Mercator projection, inaccurately portrays the curvature of the Earth, so it shows that the trip from Madrid to New York is shorter than the trip to Madrid to Montana. The panel demonstrate the inaccuracy the getting out some globes and a piece of string, showing the string length for the New York trip is shorter. The Mercator projection was the first time the world was projected in such a way that sailors could navigate using straight lines from the compass, but you had to compromise the reality of the continent. Thus everything near the equator is much squashed on the map. Some people think that this was an imperialist move to make Europe look bigger, but there is no evidence for this. It was just to make money and promote commerce.
- XL Tangent: On his globe, Alan decides to colour Scotland yellow, the colour of the SNP.
- The first American airmail arrived at its destination by train. An Indiana to New York service was meant to be sent by hot air balloon, but on the day of launch there was no wind. After five hours the balloon had travelled just 30 miles, so the balloon descended and the post was sent by train instead. The service was created by piano-maker turned ballooning pioneer Prof. John Wise in 1859. America's first regular airmail service started in 1918 as a way of training pilots, but the assistant postmaster insisted that the mail had to be delivered whatever the weather. Out of 40 trainee pilots over half were killed. The first airplane-powered glider mail service was founded by novelist Barbara Cartland. (Forfeit: Balloon; Pigeon)
- XL Tangent: The world's first official airmail delivery took place in 1911 in India. It travelled five miles by plane.
- XL Tangent: P.G. Wodehouse had such a belief in the goodness of all people that when he was in London he would type out letters, type out the address on the envelope, stamp it, and throw the letter out of the window, believing that passers-by would just pick up any letter they spotted lying around and post it. Wodehouse claimed that he never had a letter go astray.
- The most effective way of doing a massive data dump is to send the data in the post. For example, huge data sets sent from Hubble have to be sent to different scientists to interpret, and each transfer takes less than 24 hours to send. To send the same 120 terabyte data set via the internet, it would take 111 days. A mail service like FedEx or UPS could deliver the data 64 times fast than the internet. Based on the weight of packages and memory cards which ship every day, they could transport 2,222 terabytes per second. The entire internet in 2016 is expected to be just 34.5 terabytes per second. Moore's Law dictates that computer memory doubles every two years. (Forfeit: Dropbox)
- Tangent: Stephen demonstrates Moore's Law by showing the panel some exhibits from the National Museum of Computing in Bletchley. In 1963 the Univac 1004, a core store memory module about the size of a brick stored just one kilobyte, in comparison to a modern micro SD chip that stores 128 gigabytes. The Univac 1004 would have to weigh 140,229 metric tonnes to store the same amount of data as the SD chip, which is about the same weight as nearly 6.5 Ark Royals. In comparison, the Elliott 803 core store memory module, which is about the size of a car battery and also dates to the early 1960s, weighs 7kg and stores 20 kilobytes. The Bryant Model-2 Series hard disk platter, a gigantic computer disk made out of a magnesium alloy, carried eight megabytes and the drive took 15 minutes to warm up.
- XL: Stephen might be able to replace Alan with a machine in 15 years. However, people have been saying that machines will replace humans in certain jobs in 15 years since 1950. There are some cases in which machines have replaced humans, such as self-service check-outs, while a pilot is in control of a plane for just 3 minutes while a computer does the rest. Carl Frey and Michael Osborne from Oxford University have suggested that jobs most likely to be replaced by robots include taxi drivers and security guards, while there is a 50% chance of computer programming jobs will be outsourced to machines, and a 60% chance of cameramen being replaced by machines. However, there is only a 10% of TV announcers being replaced.
- XL Tangent: Sara thinks that rather than getting self-service tills, they should have put robots behind normal tills. Chris had a friend who was so angry at a self-service machine that he punched it. Sue once mooned at one.
- XL Tangent: Comedians are unlikely to be replaced by machines given recent attempts from them to make jokes. Examples include: "What do you call a washing machine with a September? An autumn-matic washing machine", and: "What kind of preschool has a wine? A playgrape."
- The real cost of parachute jumping is on the NHS. A 1999 Perth Royal Infirmary Study examined five years of charity parachute jumps and found they resulted in the injuries to 174 people, which costs the NHS over £600,000. The average amount of money raised per person was £30. Every pound of money raised cost the NHS roughly £13.75. To make things worse, around 70% of the charity jumps are to raise money for NHS-related causes. One problem is that first-time jumpers often panic and forget what to do as the ground rushes towards them; therefore you need longer training to prepare your mind for the jump as well as the correct way to land and roll. During World War II, Commando parachutists were unlikely to survive more than three jumps.
- Tangent: In 1945 a dog called Rob was reported to have made 20 parachute jumps in Africa and Italy, for which he was, rewarded the Dicken Medal, the animal version of the Victoria Cross. However, in 2006 it was revealed that this was a hoax. Rob's original Shropshire owners wanted Rob back, but the regiment liked Rob so much they made up the story about all of his parachute jumps to persuade the couple not to take Rob away from them. Rob was therefore just a mascot.
- Tangent: After WWII the Americans used surplus parachutes to help repopulate beavers into the while. Beavers were put in boxes and dropped via parachute into the wilderness. The original plan was to just drop the beavers down in wooden boxes which they would gnaw their way out of, but they thought that this was unsafe. Riding beavers on the backs of mules also didn't work because the beavers got too hot.
- XL: In 1834 someone translated some ancient Swedish ruins. However, we now know that they didn't say anything as they are not runes, but just cracks in the stone. The "ruins" of Runemo dated back to the 12th century were believed to be a secret message that no-one could solve. Then in 1833 a scholar named Finnur Magnusson said that the ruins were written in Icelandic and should be read backwards. Then in around 2000 it was discovered they were just cracks. Magnusson thought the ruins were a poem which read: "Elves, Gods of fidelity! Olè hate. Odin and Frey, And the Aser race, Destroy (destroy), Our enemies, Grant to Harald, A great victory!" Magnusson wrote a 700 pages book about the poem he "found".
- XL Tangent: Sara was told by a friend on the way back from the pub that you never see a lorry with Ikea advertising on it, because people buy so much stuff from Ikea that if you were to see all of the lorries fully advertised people would think that they would be monopolising the industry and taking everything over. Sue says that "Eddie Stobart" is Swedish for "Ikea". Eddie Stobart lorries have the name of the driver's lady-love on the front of them, leading Chris to hope that one day a man's name will on the front of one because the driver is gay.
- When taking a penalty in a football, for the best chance of success you should aim straight down the middle, because the goalkeeper nearly always jumps either left or right. Footballers know this, but no-one ever does it because if they did aim at the keeper and the keeper didn't move, they would be loathed. Goalkeepers tend to go left 57% of the time, right 41% of the time, and stay in the middle just 2% of the time. Three countries in the world have a 0% success rate at penalty shoot-outs, which are Gabon, Romania and Chile, each of them having played and lost two each. The worst country in the world to have played more than two penalty shoot-outs is England, having won just one out of eight, giving them a 12.5% success rate. In comparison, the Germans have won 83% of penalty shoot-outs. (Forfeit: Top corner) Correction: After this episode was recorded, but before transmission, Chile did win a penalty shoot-out, beating Argentina in the grand final of the 2015 Copa America 4-1. Also, Germany won another penalty shoot-out in Euro 2016 against Italy, while England did win a penalty shoot-out in the 2018 World Cup, meaning England's success rate is now 22.2%.
- The panel are asked to do an impression of the world's first mime, which is harder than it sounds because the first mimes spoke. "Mime" comes from the Greek word "Mimesis", which means "imitation". Mimes were actors who spoke and moved. The first mime was Sophron, and his most famous fan was Plato. In Rome, female mimes played female roles, performers did not wear masks or formal acting shoes, and the object was to get laughs, no matter how obscene. They all had a character called the "stupidus", which was a fool. Some acts featured adultery live on stage. Live executions with actors were replaced by condemned criminals. The church later excommunicated all mimes in the 5th century. (Forfeit: "____")
- XL Tangent: Marcel Marceau's, "Walking in the Wind" sketch was inspired by Michael Jackson's moonwalk.
- If you want something the magic word is: "because". For example, if you queue-barge a queue of people who were busy photocopying and are polite, about 60% of people will let you cut in, but if you say it is because you have something urgent to photocopy then you will have 95% success in queue-barging. (Forfeit: Please)
- Magic Trick: Stephen gets out a rack full of cards with letters on them, spelling the word "MAGICAL". He takes the cards out, shuffles the deck, and puts the cards face down on the desk. He then turns the rack around so it shows numbers for each card slot. Stephen then picks up each card, one-at-a-time, and the panel tell Stephen which slot to put the card in. After putting in all the cards, he turns the rack around showing that the cards now spell out the magical word "BECAUSE".
M-themed General Knowledge
- The capital of Mexico is Mexico City.
- The deepest part of the ocean is the Mariana Trench.
- If something is genuine, it's the real McKay. The Real McKay is 42 years older than the Real McCoy. It comes from the G. McKay whisky distillery. (Forfeit: McCoy)
- The city that is found on the Moscow River is Moscow.
- The name of Cameron Mackintosh's Abba-themed London musical is Abbacadabra. It was staged at the Lyric, Hammersmith in 1983. Mamma Mia! was produced by Judy Craymer. (Forfeit: Mamma Mia!)
- Miss Marple was created by Agatha Christie.
- The gambling capital of the world is Macau. It is seven times bigger than Las Vegas. (Forfeit: Las Vegas)
- XL: The planet which is closest to the sun is Mercury.
- XL: Mayflies can live up to four years. They are only in their winged state for a day, but live before that as larva and caterpillars.
- The panel are asked to draw a picture of a juvenile fruit fly brain. It actually looks like a cock and balls.
Scores
- Chris Addison: 0 points
- Sue Perkins: -6 points
- Sara Cox: -13 points
- Alan Davies: -54 points
Broadcast details
Date

Friday 19th February 2016

Time

10pm

Channel

Length

30 minutes
Cast & crew
Supporters and subscribers get more
Additional content and tools are available across the site for Supporters and BCG Pro subscribers. On this page you can:
See 7 press clippings related to this episode
Broadcast details of 32 further repeats of this episode
This episode's inital overnight ratings
Already a donor or Pro user? Sign in