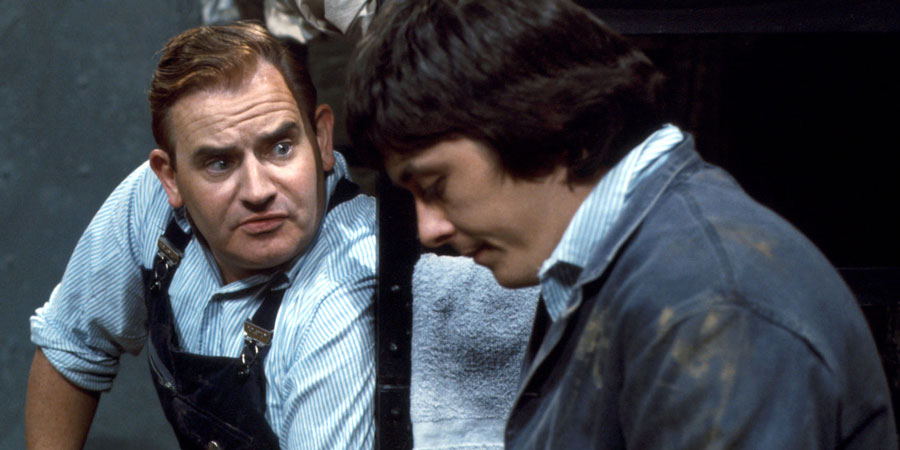 Some other comedies also have this name.
Genre

Sitcom

Broadcast

Channels

Episodes

Starring

Ronnie Barker, Richard Beckinsale, Fulton Mackay, Brian Wilde, Michael Barrington, Brian Glover, Christopher Biggins, Ronald Lacey and others

Writers

Director

Producer
Set in Slade Prison, Porridge documents the life of Norman Stanley Fletcher, an habitual criminal.
Fletcher is a smart, witty, cunning and loveable character. He shares his cell with young Lennie Godber, a first time inmate upon whom he imparts his considerable wisdom and knowledge of the penal system and how to cope. The pair must contend with troublesome fellow cons, harsh wardens, unwitting mishaps and the regular stresses of prison life, keeping their heads above water without getting on the wrong side of their jailers.
Fletch's wing is headed by the strict Scottish screw Mr Mackay, assisted by the far more easy-going - and somewhat exploitable - Mr Barrowclough.
Part of

Production company

Also known as

Seven Of One: Prisoner And Escort (Pilot)

Soundtrack

Theme tune composed by Max Harris. Introductory sentencing performed by Ronnie Barker.

Laugh track

Live audience
Broadcast details
First broadcast

Sunday 1st April 1973 on BBC Two at 8:15pm

Last new broadcast

Friday 25th March 1977 on BBC One at 8:30pm

Upcoming repeats

Series 3 Episode 4: Tuesday at 8:30pm on BBC4
Series 2 Episode 3: Wednesday 29th September at 9am on Gold
Series 2 Episode 3: Wednesday 29th September at 3:20pm on Gold
Series 2 Episode 3: Wednesday 29th September at 6pm on Gold
Series 2 Episode 4: Thursday 30th September at 9:15am on Gold
Series 2 Episode 4: Thursday 30th September at 3:20pm on Gold
Series 2 Episode 4: Thursday 30th September at 6pm on Gold
Series 2 Episode 5: Friday 1st October at 8:40am on Gold
Series 2 Episode 5: Friday 1st October at 3:20pm on Gold
Series 2 Episode 5: Friday 1st October at 6pm on GoldShow all repeats
Series 2 Episode 6: Monday 4th October at 8:45am on Gold
Series 2 Episode 6: Monday 4th October at 1:25pm on Gold
Series 2 Episode 6: Monday 4th October at 6pm on Gold
Series 3 Episode 1: Tuesday 5th October at 9:20am on Gold
Series 3 Episode 1: Tuesday 5th October at 2pm on Gold
Series 3 Episode 1: Tuesday 5th October at 6pm on Gold
Series 3 Episode 2: Wednesday 6th October at 9:20am on Gold
Series 3 Episode 2: Wednesday 6th October at 2pm on Gold
Series 3 Episode 2: Wednesday 6th October at 6pm on Gold
Series 3 Episode 3: Thursday 7th October at 9:20am on Gold
Series 3 Episode 3: Thursday 7th October at 2pm on Gold
Series 3 Episode 3: Thursday 7th October at 6pm on Gold
Series 3 Episode 4: Friday 8th October at 9:20am on Gold
Series 3 Episode 4: Friday 8th October at 2pm on Gold
Series 3 Episode 4: Friday 8th October at 6pm on Gold
Website links
Supporters and subscribers get more
Additional content and tools are available across the site for Supporters and BCG Pro subscribers. On this page you can:
View location details
See ratings for 18 episodes
Already a donor or Pro user? Sign in