Series E - Entertainment
Further details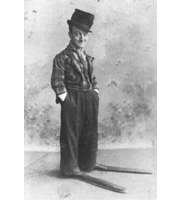 Theme
- Pudsey Bear sits in Alan's seat. He manages to spot an "Elephant in the Room" - Alan wearing an elephant head costume. Alan beats Pudsey away using his trunk. Alan's elephant card depict Elmer the Patchwork Elephant as opposed to the normal grey elephant.
Topics
- The panel have to identify the owner of an unusual pair of shoes, which are very long and flat. They belonged to 'Little Tich', a man so popular in his time that his name is now used to describe short people. Born Harry Relph, he stopped growing at the age of 10, had 12 fingers, 12 toes and webbed hands. He was an influence on Charlie Chaplin and Buster Keaton.
- Roland the Farter was a flatulist to Henry II, farting for the King on Christmas Day. The King gave him 30 acres of land as payment.
- Tangent: Le Pétomane and Mr. Methane are other famous flatulists. Le Pétomane was the biggest star of his day, earning 20,000 francs a week. He could smoke and breathe through his bottom. He gave himself an enema every morning so his farts would not smell.
- Tangent: Turold and Taillefer are jesters that appear on the Bayeux Tapestry. Taillefer juggled his sword to entertain the Normans - he cut off an Englishman's head when a sword came down. One scene on the Bayeux Tapestry says, "William comforted his troops" and shows William sticking a spear up a soldier's backside. However, "Comforted" meant "Encourage" at the time.
- The only athlete to get a personal mention at the Olympic Games closing ceremony was Eddie "The Eagle" Edwards in 1988. However, the "Eddie the Eagle rule" now bans amateurs from taking part; saying competitors have to be in the top 30% in their field.
- Tangent: Another famous amateur is Eric "The Eel" Moussambani from Equatorial Guinea. He was a swimmer in the 2000 Summer Olympics who had never seen an Olympic sized swimming pool until the games.
- Heffalump in the Room: A picture of a ballet and some music is played. They have to guess what is wrong with the picture. The answer being that none of the dancers are elephants. The circus polka was a ballet designed to be performed by elephants in Madison Square Gardens, New York City.
- Tangent: Ballet dancers suffer several hardships, such as not knowing which part they are going to play until the night of the performance, and damage to their bodies.
- Questions on e-commerce. The panel are given a website with an embarrassing name and have to guess what the site offers.
- Jo: whorepresents.com ("Who represents": A site for finding agents for celebrities).
- Bill: expertsexchange.com ("Experts exchange": A networking site where experts exchange information).
- Jeremy: therapistfinder.com ("Therapist finder": A Californian site to help people find therapists).
- Alan: penisland.net ("Pen island": An online shop selling pens).
- Tangent: Other embarrassing websites include "Speed of Art" which is "speedofart" and "Powergen Italia" which is "powergenitalia".
General Ignorance
- If you shaved a lion and tiger until they had no fur left, you can tell the difference between the two because tigers have strips on their skin.
- Tangent: Bill went to a zoo in Brazil where he was told to approach a jaguar from the front. He kept getting closer until the zookeeper told him he made a mistake, and you should NEVER approach a jaguar from the front.
- The largest squid in the world is the colossal squid. Believed to be the biggest invertebrate in the world, its eyes are 1 foot in diameter.
- If you found you goldfish floating on its side, it is suffering from swim bladder disorder from being fed too much. To make it better, do not feed it for a few days. (Forfeit: It's dead)
- Tangent: Jeremy bought his father some ghost koi for his goldfish pond, which killed all the other fish in the pond.
- Tangent: Bill claims the best way to get herons away from your ponds is to use an inflatable crocodile.
Vodcast/Quickie
(Presenter: Pudsey Bear holding a sign reading, "Hello & welcome to the QI vodcast.")
- Tangent: Liam Neeson and his supposedly large penis.
Scores
- Jeremy Clarkson: 4 points
- Jo Brand: 2 points
- Alan Davies and Bill Bailey: -6 points
Broadcast details
Date

Friday 9th November 2007

Time

10:30pm

Channel

Length

30 minutes
Cast & crew
Supporters and subscribers get more
Additional content and tools are available across the site for Supporters and BCG Pro subscribers. On this page you can:
Broadcast details of 48 further repeats of this episode
This episode's inital overnight ratings
Already a donor or Pro user? Sign in