Series E, Episode 2 - Electricity
Further details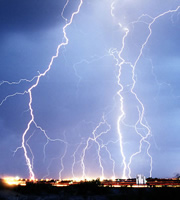 Topics
- Question: "The atmosphere is..." (Alan gets a forfeit for saying 'Electric')
- If you are caught naked in the rain, you would have a good excuse to crouch in a ball with your bottom in the air because it is a good stance to adopt in order to avoid being struck by lightning. Cars are however the best places because they act like Faraday cages. You should not stand under a tree because when they are struck they explode, so splinters fly all over the place.
- Tangent: Men are six times more like to be struck by lightning than women. Wire in bras heats up when struck by lightning, so if a woman is wearing a bra with wire, her breasts will explode.
- Tangent: Lightning strikes the Earth around 17 million times a day.
- Three to six people in the UK are killed by lightning strikes each year. 400 are killed by it in the USA. Park ranger Roy Sullivan was struck 7 times in his life, although he later died by shooting himself.
- Horses used to catch electric eels by driving them into the water. The eels would then discharge their electricity until they were safe to catch. Electric eels are not actually eels, but a type of knifefish.
- Tangent: There are 69 species of electric fish. The largest electric fish is the torpedo fish. The under water missile is named after it. The word "Torpedo" comes from Latin "Torpere" meaning "To numb".
- Elephant in the Room: In 1903, Thomas Edison made a film called Electrocuting an Elephant, in which he used an alternating current to kill an elephant called Topsy. He used the film as a propaganda film to destroy the reputation of alternating current, owned by Westinghouse, believing his direct current was safer. He tried to encourage people to call being electrocuted, "Westinghoused".
- Tangent: Topsy killed three people in her lifetime. Her first victim tried to give her a lit cigarette to eat.
- Tangent: Due to poaching, elephants are now evolving with shorter tusks and some with no tusks at all.
- Electrons move along electric wires at a speed of 0.03mph. They travel in wave movements. The correct term for electrons is 'probability density functions'. (Forfeit: They don't; Very fast)
- A gherkin can act as a light bulb if you wire it up to a lasagne. Lasagne acts as an electrolyte which can provide the power, although you need a lasagne the size of (rather appropriately) the floor plan of the Gherkin Building in London in order to provide enough power to charge a gherkin.
General Ignorance
- In navel terms, the difference between a ship and a boat is that a ship stays above the surface of the water and a boat goes below the surface. Therefore, the only boats in the navy are submarines (except very small boats such as lifeboats). (Forfeit: Ships are bigger)
- Tangent: In German, "Jumphaus" is a "Brothel" and a "Mobile phone" is a "Handy."
- The animal that generates the most methane is the termite. (Forfeit: Cows)
- Tangent: Cows do not fart methane, they burp it.
- Tangent: Soldier termites act as suicide bombers, releasing a sticky secretion to protect the nest from ants.
- Thousands of Americans ring 911 on Christmas Day because it is the only telephone number you can ring on any mobile phone. If you get one as a present, chances are you are not connected to a network. All phones, whether they have a sim card or not, have to be able to call 911 by law. Therefore, the only way people can test their new present is to phone 911. (Forfeit: They've eaten too much)
- A Russian family would never call their son "Power station" or "Industrialisation" because they are girl's names. Examples of boy's names include "Combine harvester" and "23rd February".
Vodcast/Quickie
(Presenter: Stephen Fry)
- If you were to give 200 monks an electric shock, they would all get shocked at the same time. This was proven to work when they all swore at the same time.
- Tangent: Alan once touched the end of a plug that had snapped off an appliance while still plugged in. He fell over from the electric shock.
Scores
- Jo Brand: 10 points
- Rich Hall: 1 point
- Sean Lock: -12 points
- Alan Davies: -21 points
Notes
This is the first time the same panel from a previous episode have appeared - see Series C, Episode 5.
Broadcast details
Date

Friday 21st September 2007

Time

10:30pm

Channel

Length

30 minutes
Cast & crew
Supporters and subscribers get more
Additional content and tools are available across the site for Supporters and BCG Pro subscribers. On this page you can:
Broadcast details of 51 further repeats of this episode
This episode's inital overnight ratings
Already a donor or Pro user? Sign in