Series E, Episode 7 - Espionage
Further details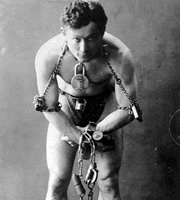 Theme
- Stephen and the panel are all dressed in trench coats, hats, sunglasses, and false moustaches (where appropriate). Jo also has a magnifying glass, Clive a pair of binoculars, Vic a hearing horn and Alan a periscope.
Topics
- You can beat a lie detector by having exciting thoughts, clinching your anal sphincter without clinching your buttocks, or relaxing completely when being asked control questions such as your name and address. You cannot use lie detectors in UK and USA courts. The FBI claim they are just as useful as astrology and tea leaves.
- Tangent: The lie detector was invented by Wonder Woman creator William Moulton Marston.
- According to Heinrich Müller, head of the Gestapo, the best way to trick a female spy into revealing herself is to get the woman pregnant. When giving birth, they cannot help but swear in their own language.

- Tangent: Müller was one of the few Nazis who escaped completely without trace. He was last seen hiding in the Führerbunker. He escaped and was never seen again.
- Elephant in the Room: Harry Houdini hid an elephant behind a mirror as part of a stage illusion. He used to debunk psychics, but this cost him his friendship with Sir Arthur Conan Doyle. Some people believe he did not die of a punch to the stomach, but of appendicitis aggravated by the punch. Although some believe that he was murdered by spiritualists.
- Tangent: As a trick, Conan Doyle sent a letter to five friends that read, "We are discovered. Flee immediately." One of his friends disappeared and Doyle never saw him again.
- Tangent: Houdini could pick up pins with his eyelashes.
- You can tell you have run out of invisible ink by covering paper with lemon juice or milk, then heating it up to see what was written. Sir Mansfield Smith-Cumming, better known as "C", founder of MI6, discovered that semen could be used as invisible ink.
- Tangent: Several paintings by Marcel Duchamp contain semen in them because he mixed his semen with his paint whenever he thought of the woman he had an affair with.
- Tangent: A bank robber from Pittsburgh in 1995 thought that by covering his face with lemon juice, he would become invisible to cameras. He was caught by the police.
- Toilet paper helped win the Cold War because the Russians had a shortage of it. Instead, the Russians used official documents that they put into bins rather than sewers. As part of Operation Tamarisk, spies searched the bins to collect the documents. The spies also searched hospital bins, and complained about having to go through amputated limbs. When the complained, their masters asked them to bring back the limbs as well so that they could tell what sort of shrapnel was being used by the Russians. Operation Tamarisk was very successful according to one book. Without it, we might still have Communist Russia.
- You can use gummy bears to rob a bank by melting them down, making a mould for a fake finger to leave false fingerprints.
- Tangent: An enzyme found in pineapples called "Bromelain" destroys fingerprints. It was used as a plotline in an episode of Hawaii Five-O. This enzyme can also get rid of mouth ulcers.
- The best thing to do in a falling lift is to cushion the fall by lying on top of a fat person. It is very unlikely for a lift to fall, because multiple wires support every lift and they are fitted with emergency brakes. Lift shafts also have springs at the bottom. (Forfeit: Jump)
- Tangent: In 1945, a B-52 bomber flew into the Empire State Building. Propellers severed all the wires on an elevator but the brakes worked and so the passengers inside were saved.
General Ignorance
- You are more likely to see a tornado in the United Kingdom than any other country. (Forfeit: America)
- Tangent: On 21 November 1981, 104 tornados hit Britain in a single day.
- There is nothing you cannot do twenty minutes after lunch. (Forfeit: Swim)
Vodcast/Quickie
(Presenter: Stephen and every member of the panel)
- The Jury of Matrons decided if a woman was pregnant or trying to escape hanging by "Pleading the belly".
- The Nazis were worried that people would not like them if they went forward with the plan to destroy the British economy by flooding it with counterfeit money made in concentration camps, so they backed out of it.
- Tangent: Adolf Hitler was put on a vegetarian diet to help his flatulence problems, but he was not a vegetarian.
- Tangent: The Nazis were against fox hunting because they thought it was cruel and immoral.
Scores
- Clive Anderson and Vic Reeves: 5 points
- Jo Brand: 4 points
- Alan Davies: -8 points
Broadcast details
Date

Friday 26th October 2007

Time

10:30pm

Channel

Length

30 minutes
Cast & crew
Supporters and subscribers get more
Additional content and tools are available across the site for Supporters and BCG Pro subscribers. On this page you can:
Broadcast details of 52 further repeats of this episode
This episode's inital overnight ratings
Already a donor or Pro user? Sign in