Series E, Episode 6 - Everything, Etc.
Further details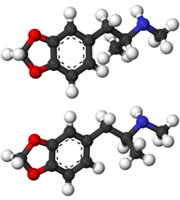 Theme
- This is the "General" show in Series E, covering a wide range of different topics beginning with "E".
Topics
- The panel have to identify a picture of methylenedioxymethamphetamine, or MDMA for short, better known as ecstasy or "E". It was designed by the Germans to heal wounds during WWI.
- Tangent: "Suicide Tuesday" is the "downer" you get after taking ecstasy over the weekend.
- You can use chickens to help look after a nuclear bomb. In the 1950s, the British planed to put nuclear bombs around Germany in case the Soviet Union tried to invade. The body heat of the chickens could keep the bombs warm and prevent them from not working.
- Tangent: Jeremy and Vic both keep chickens as pets.
- Tangent: Jeremy tried hunting foxes using Russian night-vision goggles and a gun. He stayed up at night drinking some Merlot. However, he got confused with all his items and accidentally shot his wife's Scotts of Stow steamer chair.
- Fainting goats can protect a flock of sheep by fainting. They are eaten by wolves, allowing the rest of the herd to flee. Older fainting goats faint against walls to prevent themselves being eaten.
- 'Jumping French Lumberjacks of Maine' is very rare disorder in which people react to certain stimuli. One is that they instantly obey any order given to them suddenly. The other is the need to constantly repeat foreign phrases. It was first discovered in French lumberjacks, working in Maine. Gilles de la Tourette was so interested in this condition that he went into
the whole field and eventually discovered Tourette's Syndrome.
- Tangent: In Oregon, lumberjacks prefer to call themselves "Treefellers" because "Lumberjacks" is a Canadian term.
- Tangent: Clarkson's syndrome involves leaking capillaries.
- Elephant in the Room: From 1884 onwards, the first thing that greeted immigrants to New York was a gigantic hotel and brothel shaped like an elephant on Coney Island. (Forfeit: The Statue of Liberty)
- The multiple choice exam was invented by (A): The Ancient Greeks, (B): The American Army, (C): The Blue Whale, or (D): "Can I have a 50/50 please, Steve?". The 50/50 was asked, leaving A and B. The American Army invented the exam during WWI so that it could process recruits quicker.
- Tangent: Men are better than women in multiple choice exams.
- Tangent: The Chinese have multiple choice exams in their driving tests.
General Ignorance
- House dust is mostly made up of dirt and grit, although it actually varies from place-to-place, by season and if you have pets. (Forfeit: Human skin; Dust mites)
- In the middle of a pearl you will find the sarcophagus of a nematode worm or a similar organic creature. (Forfeit: Grit; Sand)
- Tangent: No edible oysters produce pearls.
- Tangent: The largest pearl ever found was in a giant clam.
- A glass bottom would not keep you out of the navy. There is a myth involving a glass bottom of a tankard, but it is false. (Forfeit: Taking the King's shilling)
- It does not matter what colour you wear in a hot climate. (Forfeit: Black; White)
Vodcast/Quickie
(Presenter: Stephen and every member of the panel)
- Tangent: In his fox hunting/night-vision goggle story, Jeremy accidentally claims that a fox ate his children's guinea pigs.
- Tangent: Stephen saw a documentary about a place similar to Ibiza, in which a nightclub had a slightly dome-shaped floor. The ceiling had a shower system that could wash the fluids on the floor away into gutters on the side of the floor and into the drains.
- Tangent: According to a survey of 15,000 hoteliers, the British are the fifth-worst tourists in the world. The worst are the French. 75% of French tourists holiday in France. The best tourists are the Americans.
- Tangent: The Himalayas will eventually cause the destruction of Greece. Jeremy was once put in a Greek prison, but managed to escape.
Scores
- Vic Reeves: -6 points
- Alan Davies: -24 points
- Clive Anderson: -25 points
- Jeremy Clarkson: -30 points
Broadcast details
Date

Friday 19th October 2007

Time

10:30pm

Channel

Length

30 minutes
Cast & crew
Supporters and subscribers get more
Additional content and tools are available across the site for Supporters and BCG Pro subscribers. On this page you can:
Broadcast details of 48 further repeats of this episode
This episode's inital overnight ratings
Already a donor or Pro user? Sign in