Series E - Empire
Further details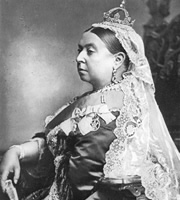 Theme
- Everyone is dressed up in period costumes. Stephen is Oscar Wilde, Jo is Queen Victoria, Sean is the Duke of Wellington, Bill is an Edwardian croquet player and Alan is an Indian officer.
Topics
- Queen Victoria probably thought very unfavourably of Mr. Bean, because he tried to assassinate her early in her reign. John Bean tried to shoot her using a gun stuffed with wads of tobacco. (Forfeit: We are not amused)
- Tangent: Mr Bean is very popular in Germany, as was evidenced by Alan's trip on a Lufthansa plane to Germany during which all the German passengers were watching Mr Bean. Bill mentions an Australian who commented that Mr Bean "would not survive in the bush".
- Tangent: Another assassination attempt was foiled by a "P.C. Trounce". One attempt was made by John Francis, who was described by Prince Albert as a "thorough scamp." The maximum penalty for assassinating the Queen was seven years.
- Tangent: The line, "We are not amused" comes from The Notebooks of a Spinster Lady. However, Queen Victoria had a childish sense of humour.
- Victoria's secret was her haemophilia. Due to her, almost every royal family in Europe was affected with the illness. One of her sons, Prince Leopold, died of haemophilia. One of Victoria's daughters, Princess Alice, married into the Russian royal family. Her daughter, Princess Alexandria, had a son who was also a haemophiliac. It is possible that the illness helped kick-start the Russian Revolution, because in the process of finding him treatment, Rasputin became involved with the Royal Family. Some people believe that the chances of Victoria being a haemophiliac are so remote, that she must have been an illegitimate daughter of a haemophiliac.
- Tangent: Rasputin was poisoned, shot and drowned when he was assassinated, but he just would not die.
- A question about erotica: It is forbidden to laugh or be aroused by the exhibits in the Secret Museum of Pornography in Naples. It is meant to be solely for education purposes. Most of the exhibits come from Pompeii, which was full of graffiti, erotic art and statues. These days, you need a special permit and a guide must accompany you on the visit.
- Tangent: There is a formula to calculate the beauty of the buttocks.
- It was easier to put you boots on in the dark between 1600 and 1800 because there were no left and right shoes or boots. All boots were designed to go on either foot, because it was too hard to design left and right heeled footwear at the time.
- Tangent: There is a penis museum in Reykjavík.
- Elephant in the Room: The panel are shown a picture of four boots, which are normally worn by captive elephants to protect their feet.
General Ignorance
- Victorians put covers on piano legs to protect them from being damaged, although most of the time they did not bother. The English thought that the Americans were prudish. For example, the Americans changed the word "Titbit" to "Tidbit". (Forfeit: They thought they were rude)
- The Victorians never seemed to consider criminalising female homosexuality. Queen Victoria would have had no say in the matter because she had almost no power. The law in question, the Labouchere Amendment, was created in 1885. One of the first people to break it was Oscar Wilde. The judge sentenced him to two years hard labour, although he wished he could punish him even more saying that, "this is the worst case I have ever tried." A week earlier, the same judge tried a case of child murder. (Forfeit: Because Queen Victoria didn't believe it existed)
- Winterval was created as a promotional campaign by Birmingham City Council in 1996. There is an urban myth that it was invented to stop other cultures being offended by Christmas. (Forfeit: Political correctness gone mad)
- The best way to stop your children from looking at their gifts before Christmas Day is to have them arrested. In Rock Hill, South Carolina, in 2006, a mother had the police arrest her own son for looking at one of his gifts (a Nintendo Game Boy Advance). The son was 12. The mother was 27. The son's great-grandmother was 63. The boy was released the same day, but the police reported that he showed no remorse.
Vodcast/Quickie
(Presenter: Stephen, the panel and the rest of the QI production team, interacting with the audience in a pantomime style.)
- Tangent: Sean and Bill argue about their hats and their hair loss.
- George Orwell wrote about socialism in The Road to Wigan Pier in 1936 that, "Socialism draws towards it with magnetic force every fruit juice drinker, nudist, sandal wearer, sex maniac, Quaker, nature-cure quack, pacifist and feminist in England." He also talks about "vegetarians with wilting beards", "outer suburban creeping Jesus' eager to begin yoga exercises," and "that dreary tribe of high-minded women and sandal wearers and bearded fruit juice drinkers who come flocking toward the smell of progress like bluebottles to a dead cat."
- A woman was thrown out of a hotel in Ockham, Surrey for wearing cycling bloomers. The Cyclists' Touring Club took the case to court to try and get it overturned, but they failed.
- Tangent: Bill was thrown out of the Trocadéro Centre and Stephen was thrown out of Salt Lake City. Both were thrown out for being sarcastic. Alan talks about an aunt whom he believes is a lesbian.
- The HMS Victoria sank outside Beirut, Lebanon.
- Tangent: Lebanon has tried to increase tourism to the area, although the 2007 Lebanon conflict has caused problems. It also caused problems during the recording because the conflict was still going on, so they had to pretend it was over.
Scores
- Alan Davies: 10 points (Sixth victory)
- Bill Bailey: 8 points
- Sean Lock: -8 points
- Jo Brand: -33 points
Notes
This is the second time the same panel from a previous episode has appeared - see Series B, Episode 1.
Broadcast details
Date

Friday 7th December 2007

Time

10:30pm

Channel

Length

30 minutes
Cast & crew
Supporters and subscribers get more
Additional content and tools are available across the site for Supporters and BCG Pro subscribers. On this page you can:
Broadcast details of 50 further repeats of this episode
This episode's inital overnight ratings
Already a donor or Pro user? Sign in