Series E, Episode 3 - Eating
Further details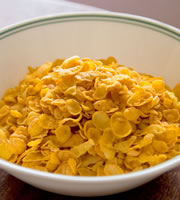 Topics
- In the Rhubarb Triangle, rhubarb grows so quickly that you can hear it grow. The triangle is made up of the cities Leeds, Bradford and Wakefield. The rhubarb is placed in 'forcing rooms', which are completely dark. As there is no sunlight, they do not make leaves and just grow.
- Tangent: Rhubarb leaves are poisonous. Rhubarb acts as a mild laxative. Britain used to get rhubarb exports from China. However, when the Opium War was declared between the two nations, the exports stopped. One man, Lin Zexu threatened that if the British did not stop Opium imports into China, they would cut of rhubarb supplies to Britain, killing everybody by mass constipation. Queen Victoria never had the message translated.
- Corn flakes were invented by accident. However, their original and quite interesting function was that they were designed to prevent masturbation, a practice that John Harvey Kellogg hated.
- If you eat nothing but rabbit, you die of malnutrition. Rabbit meat has very little oil, so if you ate only rabbit, you would run out of other nutrients.
- Tangent: Eating a rabbit affected with myxomatosis has no affect on a human. Louis XVIII of France claimed that he could tell from which part for France the rabbit came from by smelling rabbit stew. In theory, two rabbits could produce 33 million rabbits in 3 years; however 90% of baby rabbits are killed by predators. Although rabbits were introduced to Britain in the 12th century by the Normans, they only became wild in the 19th century.
- Elephant on the Menu: Mongongo nuts can be found in elephant droppings.
General Ignorance
- Snails were the first animals to be herded for food, in 10,700 B.C. (Forfeit: Chickens)
- Tangent: Snails are hermaphrodites. They have a 'love dart' which has a greater chance of pregnancy but can also hurt the partner.
- Stomach ulcers are caused by a bacterium called Helicobacter Pylori. It was discovered by two Australian doctors. One of them, Barry Marshall, proved that this was the case by deliberately giving himself the bacteria and suffering from an ulcer, which could then be cured by antibiotics. He won the Nobel Prize for his discovery.
- The green vegetable which contains 10 times more iron than any other is thyme. (Forfeit: Spinach; Broccoli)
Vodcast/Quickie
(Presenter: Stephen Fry impersonating Johnny Vegas)
- Tangent: There is a type of Vietnamese coffee that is made by monkeys eating green coffee, then excreting and grinding the faeces.
- Tangent: A discussion on the philtrum, which is the groove between the nose and upper lip.
- If you ate E941, E948, E938, E290 and E939 you would carry on living because they are the main ingredients of air. They are nitrogen, oxygen, argon, carbon dioxide and helium respectively. (Forfeit: Sends you mad)
- A tyrannosaurus rex would taste of chicken, because chickens are descended from them.
- Tangent: Stephen tells a story about Peter Cook. Apparently Cook read an article about Elizabeth Taylor putting on weight, in which a spokesman said was because of her glands. Cook joked that Taylor's glands must have been ordering eclairs and "stuffing them down her f**king throat!"
Scores
- Alan Davies: -2 points (Fourth victory)
- Johnny Vegas: -3 points
- Jimmy Carr: -6 points
- Phill Jupitus: -21 points
Broadcast details
Date

Friday 28th September 2007

Time

10:30pm

Channel

Length

30 minutes
Cast & crew
Supporters and subscribers get more
Additional content and tools are available across the site for Supporters and BCG Pro subscribers. On this page you can:
Broadcast details of 53 further repeats of this episode
This episode's inital overnight ratings
Already a donor or Pro user? Sign in