Series E, Episode 8 - Eyes And Ears
Further details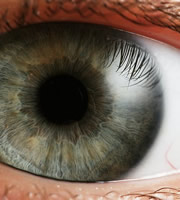 Topics
- The panel have to identify an ear spoon, used to remove earwax. Earwax tastes very bitter.
- Tangent: If you put earwax on top of a foaming pint of beer or stout, the head would disappear due to the oil in the earwax. If you squirt washing-up liquid into a pond which water boatmen are standing on, they will sink.
- Q-Tips or cotton buds were invented by Leo Gerstenzang after he noticed his wife using cotton wool on the end of toothpick to clean out their baby's ears. He called them "Baby Gays". Unilever produces 22.5 billion cotton buds a year.
- You can tell your child is yours by looking at the earlobes. Hanging and attached earlobes are inherited from the parents, like eye colour. Hanging lobes dominate attached lobes.
- The best way to date a cod is to kill it and examine the bones in its ear. You can tell the age by a day.
- Tangent: Alexandre Dumas claimed that cod were so plentiful that you could walk from France to America on cod.
- Elephant in the Room: Elephants have the biggest years of any animal in the world. They however do not improve hearing, but are designed for cooling. They are also used in aggressive displays.
- A bit of rough music would stop you beating your wife because it was a form of community justice practiced in the English countryside. Villagers would bang metal objects at the middle of the night, to drive the criminal out.
- Tangent: The question, "Have you stopped beating your wife?" always leads to an answer that condemns you.
- Nothing happens when an earwig gets into your ear. (Forfeit: It bores into your brain)
General Ignorance
- It is hard for a camel to pass through the eye of a needle for the simple reason that it is too big. Jesus was being literal when he said it. It was a common phrase at the time, although another expression similar to it at the time was "passing an elephant through the eye of a needle." Similar expressions appear in the Torah and the Koran. Rich people tried to invent get-out clauses when they read this. One example was the idea of a gate. Another was that it was a mistranslation from the Greek for "Rope". (Forfeit: It was a gateway into Jerusalem)
- Tangent: At the coronation of George IV, all the diamonds in the crown jewels were hired, because at the time they were too expensive to buy.
- Tangent: If you cut the whiskers off a cat, they can get their heads stuck in milk bottles.
- A four-eyed fish has two eyes divided in two parts. They look upwards all the time. (Forfeit: One)
- Statistically, you are very unlikely to die in a plane crash. The main problem in plane crashes is that, when people are under pressure, they revert to trying to open their seatbelts like they open in a car.
- Tangent: There is an urban legend that the brace position is used so that if you die, your dental records can be used to identify you.
- Most of the actors who played Captain Flint in film adaptations of Treasure Island were parrots, because he is the parrot belonging to Long John Silver.
- Tangent: The expression "Pieces of eight" comes from Spanish dollar being split into eight pieces. "Two bits" is American slang for a quarter.
- Tangent: Alan mentions his fondness for After Eights in the hope someone will send him some. He said it originates from an interview in which he said that he liked Quorn, and then got sent a box of it.
- Tangent: Robert Newton invented the stereotypical pirate voice in the first sound adaptation of Treasure Island. He is considered the "Patron Saint" of International Talk Like a Pirate Day. Tony Hancock first became famous as a Robert Newton impersonator.
Vodcast/Quickie
(Presenter: The Audience)
- Tangent: A conversation about Susie Dent deteriorating into whether or not she is a centaur.
- Tangent: David claimed that he ended up hearing 'too much' after having his ear syringed.
- Tangent: Biodegradable cricket boxes have been created to help the environment.
- Tangent: When Alan watched the 1999 Cornwall solar eclipse on Sky News in Oxford, the presenters had nothing prepared for it.
- 20% of humans have genes for the photic sneeze reflex, causing them to sneeze whenever they stare at the sun.
Scores
- Alan Davies: 13 points (Fifth victory)
- Phill Jupitus: 3 points
- Jimmy Carr: -10 points
- David Mitchell: -11 points
Broadcast details
Date

Friday 2nd November 2007

Time

10:30pm

Channel

Length

30 minutes
Cast & crew
Supporters and subscribers get more
Additional content and tools are available across the site for Supporters and BCG Pro subscribers. On this page you can:
Broadcast details of 46 further repeats of this episode
This episode's inital overnight ratings
Already a donor or Pro user? Sign in