Series E, Episode 5 - Europe
Further details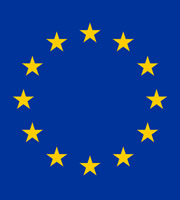 Theme
- Stephen is covered by miniature flags of European countries, as well as the flag of the European Union. The panel also have flag representing their own countries. Dara has the Republic of Ireland, Phill has Lithuania (his grandparents come from there), David has England and Alan has Wales (due to his surname). Alan and David soon swap their flags because Alan is not of Welsh descendancy and David's mother does not like to call herself English.
Topics
- Baarle-Hertog in Belgium and Barrle-Nassau in the Netherlands have 5,732 enclaves due to the First Masstricht Treaty. Many of these are split between the two countries. As a result, you can walk through one room in a house and end up in a different country. In the pubs, the Dutch half closes earlier, so everyone moves to the Belgian part and continues drinking. The Dutch section has a large sex shop on the Belgian border.
- Tangent: The Belgians are named after the Belgae tribe. Many from this tribe come from Winchester.
- Tangent: Another famous enclave is Suite 212 in Clardige's, which became an enclave for Yugoslavia so that the Crown Prince could be born on Yugoslavian soil.
- No females of any species are allowed on Mount Athos in Greece because the Virgin Mary forbid it. When the Queen and Prince Phillip visited it, the Queen had to stay on a boat 500 yards from the shore. However, hens are allowed because they use egg yokes for icon paintings.
- The German disease, the French disease, the Polish disease, the Portuguese disease and the English disease are the same disease - Syphilis. It was commonplace to name it after your enemy. Mercury was once used to cure it; however it turns the teeth green. Oscar Wilde suffered from it. During his trial, he covered his mouth with his hand so no-one would see his teeth, but this was thought as effeminate, so it counted against him. A later cure was to give the patient malaria. The discoverer of this won the Nobel Prize.
- Tangent: The Dutch swapped New York for the Spice Islands with the English because nutmeg was useful in preserving meat.
- Tangent: Edward VII used mercury to cure his constipation.
- "Call my Euro Bluff" - The panel each reads out a supposed EU regulation. The other try to guess if it is true or a "Bløff".
- "It is illegal to sell bananas if they're too curvy." - Bløff: You just have to say how big the banana is. The current EU standards are the same as the British.
- "Trawler men will have to wear hairnets whilst fishing." - Bløff: Made up by a British journalist in a bar in Brussels, who wanted to see if the press would just report this seemingly negative E.U. story without checking if it was true. Richard Littlejohn was one of the people who reported the story as fact.
- "From 1 January, 2008, circus tightrope walkers will have to wear hardhats." - Bløff: However, reported as fact in The Times, The Daily Telegraph and the Daily Mail.
- "Sausages must be renamed "Emulsified high-fat offal tubes"." - Bløff: This is a plotline in Yes Minister.
- No-one knows about the true origin of the Manneken Pis (small bronze fountain sculpture depicting a naked little boy urinating into the fountain's basin). One theory is that it was a boy who urinated on some explosives when Brussels was under siege and saved the city. Another is that it is Duke Godfrey, who urinated on some enemy troops whilst hiding in a tree. Since it was installed in 1388, it has been stolen seven times. The first time it was stolen in 1817, and the thief was given 20 years hard labour. When it was stolen in 1978, the person was just given a warning.
General Ignorance
- The highest mountain in Europe is Mount Elbrus. It is in the Caucasus. (Forfeit: Mount Blanc; Eiger; Mount Etna)
- Tangent: One-eight of the people who attempt to climb Mount Everest die.
- Tangent: In 1997, someone drove a Land Rover Defender to the top of Mount Elbrus.
- The first words of the German national anthem are "Einigkeit und Recht und Freiheit für das Deutsche Vaterland!" which means, "Unity and justice and freedom, for the German fatherland!" (Audience forfeit: Deutschland Über Alles)
- Elephant in the Room: The thing that is right under the panel's noses and sounds like a bell is "Dung". Their notepads are made out of elephant dung.
Vodcast/Quickie
(Presenter: Stephen Fry)
- The biggest thing in Europe that you can rent for $170,000 a night is Liechtenstein.
- Tangent: Prince Hans-Adam II of Liechtenstein said that if he was not given more power, he would sell Liechtenstein to Bill Gates. He was given the power he asked for, but he later said that he was just joking.
- Tangent: Stephen's hatred of Microsoft and Windows.
- George Mallory was found dead going down Mount Everest.
- Vampires carry their soil around with them.
- The Germans checked to see if neutral Belgians were not French spies by getting them to count. French and Belgian French pronounce "Seventy", "Eighty" and "Ninety" differently.
Scores
- Phill Jupitus: -5 points
- David Mitchell: -7 points
- Alan Davies: -26 points
- Dara O'Briain: -27 points
- The Audience: -100 points
Broadcast details
Date

Friday 12th October 2007

Time

10:30pm

Channel

Length

30 minutes
Cast & crew
Supporters and subscribers get more
Additional content and tools are available across the site for Supporters and BCG Pro subscribers. On this page you can:
Broadcast details of 53 further repeats of this episode
This episode's inital overnight ratings
Already a donor or Pro user? Sign in