Series E, Episode 4 - Exploration
Further details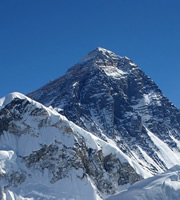 Theme
- Everyone is dressed in jungle exploration gear, with the set covered in jungle themed regalia.
Topics
- When the Pilgrim Fathers met the Native Americans, the first thing said by the natives was: "Can I have some beer?" in English. This was said by Samoset, who learned his English from fishermen and another Native American, Squanto.
- Tangent: Squanto travelled the Atlantic Ocean six times. He was kidnapped, sent to England, brought back to America, kidnapped again and sold to slavery in Spain. He then escaped to Newfoundland, but as it was too far to walk home he took another boat to England and then sailed back to New England. Squanto brokered a peace between the Natives and the Pilgrims that lasted for 50 years.
- Elephant in the Room: On one map of the Gold Coast (now Ghana), a British Army man drew an elephant on the map using contours.
- The quickest way to get to The Eiffel Tower from The Louvre without seeing any Frenchmen is to go via the sewers, which echo the streets above Paris perfectly.
- Tangent: There used to be an excursion in the sewers that lasted up until 1975. The Paris sewers are cleaned by a large ball pushed by a jet of water.
- The best place to put a ladder or a lift if you wanted to get into space would be on the equator because it the fastest part of Earth. Some people believe that such a lift would have saved the space programme a lot of money. Arthur C. Clarke was a fan of the idea.
- If a member of your space crew goes mad, you should bind their wrists and ankles with duct tape, tie them down with a bungee cord and inject tranquilisers into them.
- It is hard to have sex in space because the penis would be smaller due to lower blood pressure, and staying together in zero-gravity is hard. Also, semen would fly around and could get into parts of the machinery.
General Ignorance
- The first words spoken on the surface of the Moon were "contact light" by Buzz Aldrin.
- Tangent: Buzz Aldrin's original name was Edwin Eugene Aldrin Jr. but his sister called him "Buzz" because she could not pronounce "Brother", calling him "Buzzer". His mother's maiden name was "Moon".
- The moonwalk was invented by the African-American tap dancer Bill Bailey. (Forfeit: Michael Jackson)
- Tangent: Other famous Bill Baileys include Axl Rose and the last man to be hung in the United States.
- Tangent: The manakin bird is the only animal that can moonwalk. It is also the only bird that sings with its wings.
- The first person to put two feet on the top of Mount Everest was Bengal mathematician Radhanath Sikdar. He was the first person to identify Everest as the world's highest mountain. He measured it to be exactly 29,000 feet. However, he thought no-one would believe him, thinking he just rounded the number off, so he added two feet to the measurement to make it look as if he was incredibly precise. So 29,002 feet was the official measurement, although it is now known to be 29,028 feet. (Forfeit: Sherpa Tenzing; Edmund Hillary)
- Tangent: Mount Everest is named after George Everest, Surveyor General of India. However, he always pronounced his name "EVE-Rest".
Vodcast/Quickie
(Presenter: Stephen Fry, through a thicket of plants)
- Tangent: Stephen and the panel mess up the "Elephant in the Room" bonus.
- Whilst astronaut Lisa Novak did not go mad, she did try to murder a fellow astronaut. She drove to her indented victim wearing a nappy so she would not have to stop to go to the toilet.
- Tangent: Las Vegas sells more adult nappies than baby nappies because people do not want to stop their gambling. In one casino in Melbourne, the carpet had to be changed after a week of it being put down because people refused to go the lavatory, and were instead urinating onto the floor.
Scores
- Rich Hall: 8 points
- Bill Bailey: 3 points
- Alan Davies: -8 points
- Sean Lock: -16 points
Broadcast details
Date

Friday 5th October 2007

Time

10:30pm

Channel

Length

30 minutes
Cast & crew
Supporters and subscribers get more
Additional content and tools are available across the site for Supporters and BCG Pro subscribers. On this page you can:
Broadcast details of 48 further repeats of this episode
This episode's inital overnight ratings
Already a donor or Pro user? Sign in