Series H, Episode 9 - House And Home
Further details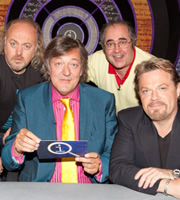 Topics
- The panel are shown a picture of a typical family with children, a car, a dog and a house. If they want to reduce their ecological footprint (the amount of land needed to replace consumed resources and deal with the resulting waste) as much as they can legally, the best thing they could do is get rid of the dog. Keeping a dog has the same environmental impact as owning two Toyota Land Cursers (including both the making and using of the car), or even more if it is a large dog like a German shepherd, because they eat so much meat. Meat needs more land to be used to make it than plant crops. It takes 43 square metres of land to generate 1kg of chicken, much more for other meats, but only 13 square metres for a 1kg of cereal. Other pets also do damage. For example, a cat has the same impact as a Volkswagen Golf and two hamsters have the same impact as a plasma screen TV. According to the UN, we are using 1.4 times more land than the planet can restore. If you want to reduce your ecological footprint even more, do not have children, as people use more land than animals. (Forfeit: Get rid of a car)
- Tangent: Alan's dogs got into a tin of Quality Street and tore off all the wrappers.
- In the USA the value of a house can be instantly reduced by a third if it is reported to be haunted. Of course there are no such things as ghosts, but even if it is just suspected, the value will be reduced.
- Tangent: Eddie makes the point that if ghosts exist how come we only see human ones and not the ghosts of animals.
- Tangent: Danny claims the most logical thing he has heard with regards to ghosts is the change in the magnetic field during things like lightning storms. People might also feel cold, dread, hallucinate and die in houses, perhaps from things like carbon monoxide poisoning from faulty boilers.
- Tangent: Stephen was the last ever "Pipe Smoker of the Year". When QI was about to start as a series Stephen was asked to do some press for it, and during those days he smoked. He could not find some cigarettes so he took a pipe and tobacco to the interview for The Independent. Two days after the interview he was asked by the paper to be the Pipe Smoker of the Year, and he accepted.
- When moving house on South America's fourth largest island it is custom to literally move the house from one place to another. On the Chilean island of Chiloé, they get a heard of cattle to drag the house which is put on logs. This is usually done to get rid of spirits and ghosts, who they believe do not move when the house does. The ceremony is called a "minga" and a feast called a "curanto" with dancing is held afterwards.
- XL: The panel are shown a house which has several levels of decreasing size and are asked who would live in a house like this. The answer is a spiteful person as it is a "spite house" which is designed to deliberately annoy people. The house was built in Gaylordsville, Connecticut in 1964 by a Polish immigrant who was annoyed by the state took away a young girl he had adopted. There is a plaque on it saying: "This is an eyesore in the idyllic countryside to remind the world the little girl. She was kidnapped away from freedom to the godless of Hitlerism." Other spite houses include the Alameda spite house in California, where a shallow house was built right up to the wall of another house to block out its light. It was built by Charles Froling who was angry when the city took away his land to build a road, so he built a house right next to that of a neighbour who supported the building of the road. In Boston there is the skinny house which was built when a plot of land was given to two brothers. One went away and the other built a huge house on the land leaving only a small strip for his brother. To annoy his brother, the one who was away built a skinny house on the remaining land. (Forfeit: Wedding cake maker)
- XL Tangent: There are also spite fences and spite walls. One woman in the West Country built a house right on the borderline of land that she owned, so that if she opened her window then the window would be in her neighbour's land, so the neighbour built a wall right next to the window so she could not open it.
- XL Tangent: China has "nail houses" where people keep their own land by building a house on it, which nails the land while the rest of the land around it is being developed.
- XL: When an amoeba splits up the house goes to the original amoeba. Amoebas build their own houses with spikes to protect them, which are about the size of a full stop. It is built using sand which the amoeba has absorbed. When the amoeba splits, the original takes the house and the new one takes some remaining sand to build a new house.
- XL Tangent: In 2003 a Manhattan doctor was so determined that his wife should not get the house that he blew up the house with himself in it. In another case, New York surgeon Richard Batista tried to get custody of a kidney that he donated to his ex-wife, or $1.5million. The court ruled that the kidney was a gift and thus could not be returned.
- XL Tangent: In the USA, when couples who own a dog split up there is a calling competition to see who keeps the dog. The dog beforehand stays with a third party and with a vet to make sure no cheating takes place. For example, people rub their hands in sausage meat to attract the dog.
- XL Tangent: In the last 10-12 years there have been virtual divorces involving websites such as Second Life. One case involving a Cornwall couple, David Pollard (whose avatar is Dave Barmy) and Amy Taylor (Laura Skye), met and got married on the website. Then they met in real life and got married in the real world, but then got divorced for real when Taylor discovered Pollard's avatar having an affair with another avatar. Pollard's avatar had previously resisted temptation from another avatar, who was actually a honey trap set up by a private detective hired by Taylor.
- XL Tangent: Another online case involving the RPG "MapleStory" a Japanese piano teacher was arrested in 2008 after murdering her virtual husband inside the game after his avatar divorced her avatar without telling her. She hacked into the game and deleted the avatar. She had spent a year training to battle monsters online. There was a chance she got have gone to a real jail for five years, because an avatar is a valuable commodity. People spend money on updating and improving them, especially in the Far East, so to steal from it is considered genuine theft.
- The kind of person who builds their house out of straw is very clever, because despite the story of the Three Little Pigs, straw is actually a very good material to build houses out of. It is more fire resistant than conventional building materials because it is so compacted it will not burn due to a lack of air; it is structurally sound and strong; resistant to earthquakes; inhospitable to insects; clean straw has no allergy issues; relatively cheap; has a below zero carbon rating; can be locally grown; works very well as insulation and sound proofing; biodegradable at the end of the building's life; is versatile and is easy to work with. The straw is not left exposed and is covered with clay or plaster. Straw was first used in 19th century Nebraska, although earlier settlers used tumbleweed. A Nebraska schoolhouse was once built with hay, but it was eaten by a heard of cows. (Forfeit: Pig)
- If the Queen is coming for tea you do not need to do anything with your lavatory seat (although it is best to clean it). There is an urban myth that if the Queen comes you need to get a new toilet seat, but there is no truth to this. There is also a myth that the Queen carried her own calfskin seat, but is also false. Prince Charles did have his own lavatory seat which he was given as a present and he carried around with him as a joke.
General Ignorance
- Slavery became a criminal offence in Britain on 6th April, 2010. The slave trade was ended in 1807. In 1834 it was illegal to keep a slave anywhere in the British Empire. However, it was not until 2010 when it was made illegal to own a slave in Britain as stated in Section 71 of the Coroners and Justice Act 2009. It was never criminalised before hand because it was not recognised as a state of being. There were other laws against kidnapping, abduction, false imprisonment, sexual trafficking, and other things associated with slavery, but it was not illegal for one person to own another. There are an estimated 27 million slaves in the world, which is more than there was when slavery was illegal.
- Tangent: In 1967 several old laws were removed, which included criminal offences against barratry (singer Dorothy Squires being one of the last people break this law), scolding, eavesdropping and challenging someone to a fight.
- The people who live in the smallest houses in Europe are those in the UK. On average the British have 76 square metres.
- - Tangent: The phrase "not enough room to swing a cat" is a literal phrase and has nothing to do with the cat-o-nine-tails which was invented 40 years after this phrase was made in 1695. Similarly, the phrase "the whole nine yards" is believed to come from World War Two where ammunition belts in American planes were nine yards long. It is not to do with American football where they measure the ground in ten yard sections.
- No bleaches claim to kill 100% of all household germs because there are some germs that are so small that it is almost impossible to know if they have been killed, so we do not know if they have killed 100%, although it is true that they kill 99.999%. (Forfeit: So they don't get sued)
Scores
- Bill Bailey: 3 points
- Eddie Izzard: -16 points
- Danny Baker: -17 points
- Alan Davies: -19 points
Broadcast details
Date

Friday 12th November 2010

Time

8:30pm

Channel

Length

30 minutes
Cast & crew
Supporters and subscribers get more
Additional content and tools are available across the site for Supporters and BCG Pro subscribers. On this page you can:
Broadcast details of 50 further repeats of this episode
This episode's inital overnight ratings
Already a donor or Pro user? Sign in