Series H - Hocus Pocus
Further details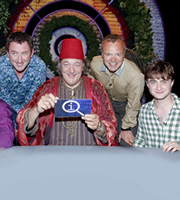 Theme
- Stephen wears a red cloak and a Tommy Cooper style fez. The other panellists wear black hooded cloaks.
Topics
- The oldest trick in the book is removing a goose's head and restoring it. It dates back to Ancient Egypt, where it was written by Dedi in the Westcar Papyrus, who also did the trick with other animals including a duck and an ox. The trick is still performed today, and is shown to the panel by the Vice President of the Magic Circle, Scott Penrose.
- XL Tangent: The Dedi trick was done for King Cheops around 2,600 BC. It is he after whom the Great Pyramid in Giza is named after. It was also the first trick that was done purely as a trick, rather than something that was supposed to depend on supernatural forces.
- Many things can go wrong if you tried to catch a bullet with your teeth. For example, you can break your teeth because you hide the bullet in your mouth. Several magicians have died because of this trick. In 1869 magician Dr. Epstein tapped a bullet into a gun down with his wand, but part of the wand got stuck in the gun and when it fired the wand shot out and killed him. In 1880 magician Raoul Curren performed the trick in the Wild West and a drunken member of the audience fired his gun at Curren to see if he could catch his bullet, shooting him dead.
- XL Tangent: Another trick which went disastrously wrong was when one magician attempted to stab himself with a sword. The trick involved having sheep intestines hidden in your clothing and a metal plate behind it so you cut out the sheep guts and did not stab yourself. This magician however one night forgot the plate and stabbed himself to death.
- XL Tangent: Someone else who died from the bullet trick Chung Ling Soo, who was not Chinese and was actually called William Robinson. He spoke cod Chinese on stage and never spoke English, until the day he performed the bullet trick and it went wrong, was shot. He said in English: "Oh God, something's gone wrong. Close the curtain." Those were his last words on stage.
- XL: The Great Lafayette's last and greatest disappearing act was when his body turned up three days after it was cremated. Lafayette was the most successful performer of his day, sold out 10 years in advance and earned £44,000 per year (£2.3 million in today's money). He had a pet dog called Beauty that was given to him by Harry Houdini. Lafayette used to travel in his own private railway carriage and Beauty in another containing a porcelain bath, its own china and crystal. Beauty died from being overfed and Lafayette insisted that Beauty should be embalmed and buried. The cemetery allowed it on condition that Lafayette was buried with the dog. Lafayette died four days after Beauty died in a fire caused by a lamp while performing on stage. The audience first thought it was part of the trick and by the time they realised it was not 11 people had burned to death including a midget in a mechanical bear suit. The people found what they thought was the body of Lafayette, cremated the bits that were not already burned and buried the body next to Beauty. They then pulled down the burned theatre, and found another body which they recognised to be the real Lafayette due his diamond ring, so they had to exhume the first body and bury the actual one. The reason for this confusion may stem from the fact he used doubles on stage, which made it look like he appeared and disappeared on stage very quickly.
- The panel are asked to complete the following sentence: "I before E except...". There is no actual answer to this because the "magic e" rule, which is "I before E except after C", is wrong. There are more exceptions to the rule and thus it is no longer taught in schools. There are 923 words in English that have "cie" in them, meaning there are 21 times as many words which break the rule than obey it. Words which break the rule include "glacier", "species", "concierge", "caffeine", "weird", "Madeira", "hacienda", "weir", "being" and "veil". (Forfeit: After C)
- Tangent: The panel, especially Lee, annoy Stephen by failing to give him examples where the rule does not work, with Lee constantly giving the example of "ceiling" which does follow the rule.
- XL: Stephen asks which sport is it where the aim is to thrown a ball with handles on it into a goal consisting of a long vertical pole with a hoop on the end. The sport is horseball, which was invented in France in 1970. It is played on horseback and it involves throwing a ball, catching it by the handles and throwing it through the hoop to score a goal. The game is related to a Spanish game called pato. The word is Spanish for "duck" and it involved throwing a basket with a live duck in it. It became the national game of Argentina under President Juan Peron in 1953. (Forfeit: Quidditch)
- XL Tangent: Daniel comments that in quidditch the rules say that if you catch the snitch you automatically win the match, which he claims is unfair because it does not matter how many points you score with the other ball you can still lose straight away. A form of quidditch is played in real life. It is known as "muggle quidditch" because the people who play it have no magical powers and so run with a broomstick between their legs. There are over 200 muggle quidditch college teams in American universities.
- The panel are asked whether they would prefer a muggle, Hagrid or Dumbledore on their quidditch team. The words "muggle", "hagrid" and "dumbledore" have origins before they became associated with the Harry Potter books. A "muggle" is jazz slang for someone who uses cannabis. To be "hagrid" or "hag-ridden" is to be inflicted with nightmares. A "dumbledore" is a bumblebee and was later used as a term for a village idiot which appears in Thomas Hardy's Under the Greenwood Tree.
- Hogwarts tackled drinking problems by being put into submarine fuel. Early torpedoes in the US Navy were fuelled by ethyl alcohol (ethanol) which is 80% proof. In 1914 the US Navy banned alcohol, so the fuel was the only supply of alcohol the navy had. Sailors would thus drink it and flavour it various ways. To try and stop sailors from drinking it they first put methanol in the fuel and told the sailors it would make them blind if they drank it, but they still went for it. They then added croton oil which comes from the hogwart plant, which when consumed made you vomit and gave you diarrhoea. The sailors however still got around this by boiling the fuel.
- Tangent: J. K. Rowling has been told in interviews that there is such a hogwart plant. She says that she thought she made the word up, but maybe she went to Kew Gardens, spotted this plant and the name stuck. "Rowling" is pronounced to rhyme with "bowling" not "howling".
- A question about a different type of "Harry". The Domesday Book contains so many empty villages in Yorkshire because of the Harrying of the North. When towns in the North rebelled against King William the Bastard (whom we now call William the Conqueror) because of his Domesday Book, William ordered the area to be destroyed, killing 100,000 outright and killing more that were left to die of starvation. It is the worst act of genocide committed on British soil.
- XL: A question on a type of "Potter". The subject of Beatrix Potter's first book of fungi. Before writing her series of children's books, she wrote a book about fungus which was presented by her uncle to Linnean Society. She could not present as women were barred from the meetings and the society did not apologise until 100 years afterwards. Potter wrote The Tale of Peter Rabbit for the son of her former governess. The opening line of the book is: "Once upon a time there were four rabbits called Flopsy, Mopsy, Cottontail and Peter." Peter Rabbit was the first ever merchandised toy. It appears that the names of many of her characters come from the tombstones in a cemetery near where she lived.
General Ignorance
- XL: You should open the first door of your advent calendar on the first Sunday of Advent which is four Sunday's before Christmas and occurs mostly in November. The date moves around between 27th November and 3rd December. It only occasionally occurs on 1st December. (Forfeit: December 1st)
- XL Tangent: Alan talks about in pubs when they used to have bags of nuts stuck onto a picture of a naked woman. Lee says that Johnny Vegas told him about a pub in St. Helen's where there was a topless bar where if you paid an extra 50p the barmaid would stick her breasts in the beer.
- The panel all pulls some Christmas crackers and tell each other the jokes which are:
- Graham: Knock, knock. Who's there? To. To who? To whom, surely.
- Lee: What cheese do you use to coax a bear out of its cave? Camembert.
- Daniel: Who is the most famous married woman in America? Mississippi.
- Alan: What disease can you get from decorating your Christmas tree? Tinsellitis.
- The panel are asked why their jokes are so bad. The answer is that in most cases not everyone will find a joke funny. Thus if you tell a good joke the chances are you will split the room in two; between those who like the joke and those who do not, and thus some people may dislike you. However, if you know the joke is going to be bad, then the figure of hatred is the joke itself rather than the person telling it.
Scores
- Daniel Radcliffe: 10 points
- Graham Norton: 4 points
- Lee Mack: -18 points
- Alan Davies: -19 points
Final Tricks
- To end the show the panel perform their own magic tricks. Alan saws Lee in half successfully. Graham guillotines Daniel but actually gets the trick wrong and cuts off Daniel's head (not really of course).
Notes
In the normal edition there is no mention of General Ignorance, but in the XL edition it is revealed that the crackers question is part of the General Ignorance around.
Broadcast details
Date

Friday 24th December 2010

Time

9:30pm

Channel

Length

30 minutes
Cast & crew
Supporters and subscribers get more
Additional content and tools are available across the site for Supporters and BCG Pro subscribers. On this page you can:
Broadcast details of 46 further repeats of this episode
This episode's inital overnight ratings
Already a donor or Pro user? Sign in