Series H, Episode 11 - Highs And Lows
Further details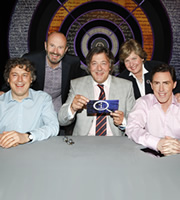 Topics
- Out a selection of tartans displayed, the only one that Stephen would be allowed to wear is the Royal Stewart, which has a red background with darker red criss-cross lines, green squares and thin yellow and white lines. As this is a royal tartan anyone in Britain can wear it because the Queen is our "chieftain". However, clan tartans are a very recent idea, which came about during the 19th century when Scotland became associated with the royal family, especially Queen Victoria. Tartans were not related to families, and the idea of family or clan tartans were mainly the ideas of tartan salespeople wanting to sell their stock. The word originates from the French "tiretain", and was originally worn as a long robe over one shoulder. The shorter "skirt" kilt was an English invention. An Englishman called Rawlingson who owned an iron foundry in Scotland thought it would be a simpler and quicker thing to put on.
- Tangent: Amongst the other tartans displayed is the Sikh tartan for the Singh, which is mainly purple and green. A rich Sikh businessman went to a tartan company and asked for a tartan for his people.
- XL Tangent: The American word for tartan, "plaid", comes from the Gaelic for "blanket".
- Tangent: The correct way to get the height of a kilt is to kneel down. The bottom of the kilt should touch the surface. Sandi says this was how they measured for skirts at her boarding school. Her uniform rules also meant she had to wear two skirts - a white pair with a blue pair on top.
- To win a caber throwing competition you have to throw it so it does at least one full turn and then land it so it lands exactly straight in front of you. Caber throwing contests are not about distance or height. You have to try and land it so it is facing "12 o'clock" and you lose points for every "minute" you are out by.
- Tangent: Apart from caber tossing, other events at the Highland Games include "weight over the bar", "sheaf toss", "hammer toss", "putting the shot" which used to be called "putting the stone", and "dancing". While some people try to claim it goes back to King Malcolm III, son of murdered King Duncan, it is actually another recent invention dating back to the 19th century which was liked by the royals. Later Baron Coubertin attended them and included some events in the Highland Games into his Olympics, including the hammer and the shot put.
- XL Tangent: Donald Dinnie is the most successful competitor at the Highland Games. During his career he won medals in all the disciplines. He once won 20 medals in one day. He took part in the games from 1850-90. Dinnie was best at caber tossing, but also good at high jumping. During one high jump his kilt knocked the bar off twice, so in the final attempt he took his kilt off and successfully completed the jump.
- The thing that was regularly smuggled into the USA from Canada between 1989 and 2010 for the traditional Burns Night celebrations was haggis. The USA stopped imports of haggis in 1989 due to the dangers of BSE and other related problems in the lungs. The first reference to haggis in the British Isles is in Lancashire, but some believe it could be Scandinavian, like the word "offal" which comes from the Danish for "rubbish". Burns Night is celebrated on Robert Burns's birthday, 25th January.
- Tangent: Fred recites the first verse of the Burns address to the haggis which is said on Burns Night: "Fair fa' your honest, sonsie face, great chieftain o' the puddin-race! Aboon them a' ye tak your place, painch, tripe, or thairm: Weel are ye wordy o' a grace as lang's my arm." A friend of his had translated the poem into German for a Burns Supper over there but the poem was translated back into English. The line, "Great chieftain o' the puddin-race!" was translated as: "Mighty F
Broadcast details
Date

Friday 3rd December 2010

Time

8:30pm

Channel

Length

30 minutes
Repeats
View more broadcast data
Help celebrate and promote British comedy by donating to fund more content and functionality. BCG Supporters get extra features in return, including this episode's audience figures and further repeats data.
Find out more
Already a donor?
Sign in
Cast & crew
View related press
Help celebrate and promote British comedy by donating to fund more content and functionality. BCG Supporters get extra features in return, including press coverage related to this episode.
Find out more
Already a donor?
Sign in