Series G, Episode 8 - Germany
Further details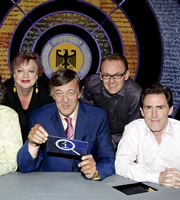 Theme
- Don't Mention the War Forfeit: The panel are deducted points each time they mention the war.
Topics
- XL: The panel are given a selection of German "Loan Words", which are words in German that we use in English.
-
Stephen asks for a sentence using correctly the word "schadenfreude". Jo gives one, which is, "I enjoyed the schadenfreude I experienced when my husband was killed by a local gangster." The word "schadenfreude" means taking pleasure in the misfortune of other people.
-
The word "gemütlichkeit" means a kind of cosy, nice place or people. In 1973, a court case known as "Jarvis vs. Swan Tours Ltd." saw a man who sued aganist a travel company because there was no gemütlichkeit on his holiday, and won. It set a precedent in English contract law.
-
XL Tangent: The word "gesundheit" means "soundness" or "health" in German.
-
The word "zugzwang" is a chess term, in which a player's disadvantage is that he has to move. You cannot skip turns in chess, so by moving you weaken you posititon, and this is known as being in "zugzwang".
-
The word "zeitgeist" translates as "time spirit" or "time ghost" and means when ideas or people come together at the same time.
- The Germans are not that upset about losing the 1966 World Cup. While the English consider the Germans to be their great football rivals, the Germans consider the Dutch to be their great football rivals. Their great match as they see it was the 1974 Final where they beat the Netherlands 2-1. (Forfeit: Very)
- Don't Mention the War Forfeit: Sean gets the penalty when he claims that the Dutch have never provided any opposition to the Germans.
- Tangent: A German lawyer called Ralf Hoecker did a study that showed that the Germans do often hog sun-loungers, but the Germans are unaware of this stereotype. A 2009 study by Halifax travel insurance found that while Germans were most likely to hog sun-loungers, the British were the second most likely. The French, Italians and Portuguese care less about such matters. Germans are proud of their reputation for being efficient.
- Tangent: When Jo was on holiday, some German tourists insulted her. Jo, who can speak some German, insulted them back, but they laughed at her poor German. The following day, Jo walked past them on her way to her deckchair, sat down and went through the chair, to the enjoyment of the Germans who were mocking her.
- Tangent: The stereotypical view of the English according to the Germans is that English people are untidy, come in mobs, obsessed with royalty, drink tea all the time, reserved, and cannot cook.
- The Germans confiscated Dutchmen's trousers because of sponsorship. During the 2006 World Cup in Germany, thousands of Dutch fans attended matches wearing orange lederhosen, with big pockets which could carry beer and a lion's tail. They were called "leeuwenhosen" which in Dutch means "lion pants". However, they displayed the name of a beer called Bavaria, which was not the official beer of the World Cup and therefore broke sponsorship rules. Therefore, in Holland's first game against the Côte d'Ivoire, they had to watch the match in their underpants.
- Tangent: At Wimbledon, a woman had her yogurt taken away from her because it was not the official yogurt of Wimbledon.
- Tangent: The reason why footballers get booked for taking their shirts off is because that is the time you see the sponsor on the shirt. Therefore, if you take the shirt off you do not see the sponsor. Therefore FIFA made it a bookable offence to take the shirt off.
- Tangent: "Lederhosen" means "Leather trousers" in German. In the 18th century, the aristocracy had expensive weddings in which they pretended to be ordinary people.
- Tangent: Rob tries to encourage men to wear longer socks.
- Tangent: The Pennsylvania-Dutch people of America came from Germany, in particular the Rhineland and Switzerland. They were called Dutch because the word "Dutch" and "Deutsch" are the same word. The Hollanders or "Dutch Dutch" as they were known, where at war with Britain many times and did indeed invade Britain.
- Don't Mention the War Forfeit: Jo claims that Stephen mentioned the war, but actually Stephen said they were "at war", and was not talking about "the war". However, Sean points out that Jo brought the conversation up, and thus she is deducted points.
- XL: The panel are shown a picture of a plastic device with a smily face and are asked what it is. It is a spuk, a device that orders men not to lift up toilet seats and make them sit down on the lavatory. The voice on it is so loud that everyone in a public lavatory can hear it. "Spuk" is German for "Spook", and it is also an acronym for "Sitzpinkeln Unter Kontrolle". "Sitzpinkeln" means "to stand up when urinating", while "Stehpinkeln" means "to sit down when urinating".
-
XL Tangent: Rob says that when he sits down to go to the toilet while wearing a jumbo cord, he gets annoyed when the trousers pull down his long socks, so he often hoists them back up again while sitting down.
-
XL Tangent: Sean says that when he sits down to go to the toilet, he will sometimes take off his glasses as he does not like wearing them and uses his underpants as a kind of hammock to hold them in. However, he sometimes forgets about his glasses and puts on his pants again without removing them.
- XL: German students often clean people's houses while naked for a living. This is known as "Nacktputzservice". Nudism is a very German thing, as the movement as we know it came from there, in ways such as the Frei Körper Kultur (FKK) or "Free body culture". The movement was popular in the 1930s but the Nazis banned it, with Goring being the most against the movement. Countries bording Germany such as Poland and Switzerland now get angry with naked German ramblers coming across the border. There are nude beachers in Germany. The Englischer Garten (English Garden) in Munich and the Tiergarten, Berlin's largest park, have nudist aeras.
-
Don't Mention the War Forfeit: Sean loses points when he talks about German summers, saying that if the summer isn't good they just expand the country to somewhere where the summers are better.
- The most repeated television programme of all time is Dinner for One, a comedy sketch starring British comedian Freddie Frinton. It is shown on every German TV channel on New Year's Eve, every year since 1972. The sketch involves Frinton serving a Christmas dinner for his mistress played by May Warden, who is rather mad and old. Frinton pours out drinks for imaginary guests and gets drunk himself. In Germany, the sketch is almost unavoidable. People even hold parties for it. The sketch itself originated in 1920 and was performed in music halls. A German TV presenter saw it in 1963 and asked for it to be performed in Germany. So they did the sketch live once, and then in 1972 they returned to do a recorded version. It has since been repeated ever since.
-
XL Tangent: Dinner for One is also shown in Denmark and Austria. Although most of the humour is slapstick, there is dialogue in the clip. The butler, called James says, "The same procedure as last year, Miss Sophie?" to which Miss Sophie, the old woman says, "The same procedure as every year, James." At the very end, Miss Sophie retires for the night and says, "The same procedure as every year," James says, "I'll do my best".
- XL: Uncle Wiggly Wings dropped chocolate into Berlin for children. In 1948, the Soviet Union cut off Berlin from the rest of the world. This resulted in the Berlin airlift, in which British and Americans dropped in food for the people of Berlin. An American pilot, Gail Halvorsen, had two sticks of gum and said to the children and said that if they shared it with the other children, he would return tomorrow with more candy. So Halvorsen, nicknamed Uncle Wiggly Wings, wiggled his wings over Berlin and dropped in chocolate for the children every day. It was known as Operation Little Vittles. American children gave their own candy to help. The candy was floated down using silk parachutes. A total of 2,223,000 tonnes of supplies were dropped during the Berlin airlift.
-
Don't Mention the War Forfeit: Sean loses points for talking about the war when in fact the Berlin airlift occured after the war.
-
Don't Mention the War Forfeit: Rob talks about the dangers of sending in a Terry's Chocolate Orange in such an airlift. Sean says that when it landed, it could act like a bouncing bomb, referencing the dambusters raid.
- If you get involved in an argument on the internet, inevitably it will involve a comparison with Hitler or the Nazis. This is known as "Godwin's Law" or "Godwin's Rule of Nazi Comparison", which states "As an online discussion grows longer, the probability of a comparison involving Nazis or Hitler approaches 1." Once the Nazis or Hitler is mentioned, the discussion is considered closed and the person who mentioned the Nazis or Hitler is generally deemed to have lost the argument. Examples include people saying that fox hunting is a good thing because Hitler banned it. The rule itself is generally overlooked when talking about Nazism itself. The rule is named after Mike Godwin, who is general councillor of the Wikimedia Council.
- You could use a Monopoly set to escape from a POW camp by hiding real money with the Monopoly money and silk maps in the board (paper is too bulky). A man called Clutty Hutton turned Monopoly sets into escape kits for MI9. He set up pretend charities which gave the games to British soldiers in the camps. Hutton's earlier work involved hiding compasses in tunic buttons. The Germans got wise to this and unscrewed the buttons, so Hutton reversed the thread so when it was screwed the button tightened. The Germans got wise to this as well. Hutton then used razor blades which were magnetised at one end so that the "G" of Gillette faced north. Other things sent to British POWs included blankets that when wettened gave the outline of a great coat which they could cut out and use as a template. They also sent them dice containing different coloured dyes to colour the coats. There were also playing cards that when thrown in water peeled open and had money in them. (Forfeit: Get Out of Jail Free)
General Ignorance
- Brideshead Revisited was written by Evelyn Waugh. (Forfeit: Evelyn War)
- Don't Mention the War Forfeit: Sean loses points for saying Evelyn Waugh, whose surname is pronounced the same as "War".
- The panel are show a picture of a dog and are asked what breed it is. The dog in question is a German Shepherd, which has been the official name for what was previously called the Alsatian since 1977. After World War One, English people stopped calling German Shepherds by this name because they did not like anything with German, so they called them Alsatian wolfhounds in 1918. The wolfhound was then dropped.
- Tangent: Alan had to go to court after his German Shepherd killed the dog from next door.
- The Munich Oktoberfest takes place mostly in September. It generally begins on the third Sunday of September (except when it falls on the 15th, in which case it starts on fourth Sunday - the 22nd) and ends on the first Sunday of October. As 3rd October is a holiday in Germany, Oktoberfest can last an extra 17th day if 3rd October is a Monday, or an 18th if it is a Tuesday. It is one of the largest regular festivals or fairs in the world, with six million people a year visiting it. 6,940,600 litres of beer are drunk during it.
- Tangent: Sean spent two nights in Munich during Oktoberfest and did not like it because everyone was so drunk.
- Tangent: When Alan was in Bordeaux at the 1998 World Cup in France, there was a series of large temporary bars in the middle of the town square. When Scotland played Norway, the Scots came to the bars and drank more beer over the weekend than they normally drink in Bordeaux in a year. The only drink on offer was larger. There was no food and no toilets. One of the Scottish supporters went up to Alan and mistakenly shouted, "Alan... Alan... Alan... Partridge!" Every time the Scotsman saw Alan, he kept quoting Alan Partridge's "A-Ha!" catchphrase.
- The panel are played a section of the song "My Favourite Things" from The Sound of Music and are asked what is wrong with it. The problem is the line "schnitzel with noodles", because schnitzel is not normally served with noodles. It was chosen because it rhymes with "crisp apple strudels". The lyrics were written by Oscar Hammerstein II. Other oddities concerning The Sound of Music include the end. While most people think they get into Switzerland, they actually land in Bavaria, quite near Hitler's private house, near Salzburg. In actual fact, the Von Trapp family walked 100 miles down to Innsbruck down towards the Italian border. Luckily, they got there the day before the border shut.
- XL: At 11:11 on the 11th November the Germans celebrate the start of their carnival season, with runs all the way to Ash Wendesday. This is much older than Armistice Day. "Carnival" means "to leave the meat".
-
Don't Mention the War Forfeit: Alan loses points when he claims that on 11th November the British Prime Minister telephones the Germans and says, "Ha, ha, ha, ha! We won!"
Scores
- Jo Brand: -6 points
- Rob Brydon: -7 points
- Alan Davies: -36 points
- Sean Lock: -76 points
Broadcast details
Date

Friday 15th January 2010

Time

8:30pm

Channel

Length

30 minutes
Repeats
View more broadcast data
Help celebrate and promote British comedy by donating to fund more content and functionality. BCG Supporters get extra features in return, including this episode's audience figures and further repeats data.
Find out more
Already a donor?
Sign in
Cast & crew
View related press
Help celebrate and promote British comedy by donating to fund more content and functionality. BCG Supporters get extra features in return, including press coverage related to this episode.
Find out more
Already a donor?
Sign in