Series G, Episode 14 - Greeks
Further details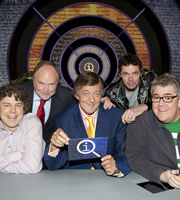 Theme
- The set is decorated with Greek statues, columns and pots.
Topics
- If you are a wealthy ancient Athenian and you want to avoid funding the navy the best way to avoid paying up is to find someone richer than you. Under Athenian law, if your property was worth 70 times or more than the average wage, you had to pay this tax, which was one of only a few in Athens. However, if you could find someone you thought was richer, they would tax them instead. This was tested by the challenger asking the richer person if they would like to swap property. If there was no swap, then the person challenged was deemed to richer and would instead be taxed, unless they could find someone richer.
-
XL Tangent: The "ship" in words like "sponsorship" and "championship" is of Germanic origin. Many Germanic words containing the letter "f" became "p" in English. For example, "Pfeffer" became "Pepper". This change was so dramatic that in Arabic there is no letter "p" in Arabic. The brothers Grimm, most famous for their fairy tales, also invented linguistics and traced this phenomenon, known as the great fricative shift.
- XL: If you were spending the weekend with your grandmother and were often the chance to take her to either a Greek symposium or a Roman orgy, probably the best one would be the orgy. Orgies were not sexual in Roman times. They were mainly huge, showy feasts. The orgy also provided entertainment for the whole family. Caligula at the time was more famous for having orgies which featured solid gold food and fish that was bright blue so it looked like it was still in the sea. Symposia tended to be wilder.
-
XL Tangent: Clive asks if it is true that people at Roman orgies deliberately vomited up food so that they could continue eating. Alan says that people do this today in pubs, by throwing up outside and then return to drink more. Phill refers to it as the "tactical chunder".
- If you see a Spartan with a new hairdo you should runaway, because the last thing a member of this warrior race did before going into battle was to cut their hair. Before the Battle of Thermopylae, the Persians made a huge mistake when one of their spies saw them getting their hair cut and claimed them being nancy boys by doing their hair.
- Tangent: One of the most famous depictions of Spartans in film is in 300, where Alan says the Spartans looked a bit camp. Stephen points out it might have looked camper because as well as 300 soldiers there were accompanied by 700 thespians.
- Tangent: Stephen compares the Spartans conquering Athens to be a bit like if the Klingons beat the Vulcans in Star Trek, or if the Daleks won in Doctor Who.
- Tangent: A "laconic" statement is a one which is very short and to-the-point. One ancient Greek one occurred when the Athenians sent a long message to Sparta that: "If we beat you, we will destroy your civilization, we will kill everybody, we will spare no-one." The Spartans replied with the message: "If."
- The proper thing to wear at the gym is nothing at all, because the word "gymnasium" comes from Greek "gymnos" meaning "naked". A "gymnasium" is "a naked place". However, they did wear a "kynodesme" which was a kind of leather pouch with a string bow that prevented your penis getting in the way of their training. Trainers would attract the athlete's attention by pulling on the string. Other gymnos related words include "gymnopedia" which was dances performed by naked boys at public events and "gymnologise" which is to debate naked.
-
XL Tangent: Gymnasiums also became places of education like the Academy (where Plato taught) and the Lyceum (where Aristotle taught). The French word "lycee", meaning "school", comes from "Lyceum".
-
XL Tangent: The origin of the word "Odeon" comes from Oscar Deutsch. It comes from his initials OD. This is correctly answered by the audience.
- Baron de Coubertin, father of the modern Olympics, won a gold medal himself in the poetry event, which he entered anonymously. Up until 1948, apart from the sporting events there were also artistic events in the Olympics which also included town planning, sculpture, music and painting. The oldest person ever to win an Olympic medal was 73-year-old Briton John Copley who won silver in the etchings and engravings event. In 1900, a woman won gold for poodle clipping, trimming 17 poodles in 2 hours. The artistic events stopped because of amateurism. The people in these events carried on being artists and so on after the games, while those doing the sport had other work to do. Correction: The idea of Poodle Clipping as an Olympic event was actually an April Fool created by The Daily Telegraph.
- Olympics gold meals are made mostly out of silver (at least 92.5%), with only a tiny amount of gold (6g). The last ones to be made entirely out of gold were in 1912. If they were made out of 18-carat gold each gold medal would be worth
Notes
For information on the correction, see the QI Qibble Blog.
Broadcast details
Date

Friday 5th March 2010

Time

8:30pm

Channel

Length

30 minutes
Repeats
View more broadcast data
Help celebrate and promote British comedy by donating to fund more content and functionality. BCG Supporters get extra features in return, including this episode's further repeats data.
Find out more
Already a donor?
Sign in
Cast & crew
View related press
Help celebrate and promote British comedy by donating to fund more content and functionality. BCG Supporters get extra features in return, including press coverage related to this episode.
Find out more
Already a donor?
Sign in