Series G, Episode 4 - Geography
Further details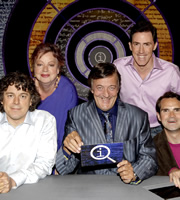 Topics
- Over 300,000 British car journeys every year are ruined by the SatNav giving wrong directions. Examples include a car touring group's pink Mercedes van which had to be rescued after the SatNav told them to drive through a ford. Another was a Syrian lorry driver delivering luxury cars from Turkey to Gibraltar, and was told to go to the Grimsby area, 1,600 miles out of his way, because he was directed to Gibraltar Point in South Yorkshire. The driver was seen trying to drive into the North Sea. Several villagers have complained about SatNavs because their villages are used as cut-throughs. According to the Royal Society for the Prevention of Accidents, a quarter of all traffic accidents are caused by distracted drivers. (Forfeit: Are we nearly there yet?)
- Tangent: Jimmy's girlfriend once said: "Where would we be without SatNav?"
- Tangent: Rob does his impression of an American trapped in a box/American radio set.
- A baby camel is to the right of Genghis Khan. It is buried next to him. In Mongolian tradition, the grave of a great ruler had to be anonymous. According to Marco Polo, 20,000 people were killed in order to keep Genghis Khan's grave secret. All the slaves who excavated the grave where killed by soldiers, then the soldiers were killed and so on. Then they realised that suddenly they were in danger of killing everyone who knew where the grave was. So what they did was kill a baby camel in front of its mother, by the grave. Then they took the mother away and buried the baby next to Genghis Khan. Because camels have long memories, the adult camel would return to the grave every year. Then the adult camel died and the grave has since remained unknown.
- Tangent: Genghis Khan had around 500 wives. He had so many children that a recent study showed that 8% of central Asian males were all related to the same Central Asian ancestor from 1,000 years ago, who could be Genghis Khan.
-
XL Tangent: The Mongols were great warriors because they developed short bows which they could carry with them on their horses. They could ride on their horses for days, jumping from one to another. They even went to the toilet while riding. The Mongol hordes consisted of 2 million people. They killed 50 million people.
- The china teacup changed the course of Chinese history because the Chinese never invented glass. China had no glass between the 14th-19th centuries. As a result, they did not invent lenses, telescopes, microscopes, mirrors, glass beakers or spectacles, the last of which would have given intellectuals an extra 15-20 years of active reading life. Part of the reason for this is because the Chinese did not drink wine, which Europeans did, and they invented glass so that they could look at it when they drank. Glass helped in medical science because glass does not react with chemicals, unlike china. The Chinese did not develop electronics because glass valves were used. Instead of glass in their windows, the Chinese used paper.
- XL: The connection between the world's driest lake, the world's smallest mountain range and the world's wetest desert is that they are all in the Western states in the USA. The world's direst lake is Lake Bonneville in Utah. The world's smallest mountain range is in the Sierra Nevada foothills in Sacramento, California. The world's wetest desert is the Sonoran Desert in California.
-
XL Tangent: The Mediterranean was once the world's direst lake during the late Miocene era, but it flooded after Gibraltar broke away from Europe and Africa, becoming a seperate island. All the fish in the Mediterranean are decended from fish from the Atlantic Ocean. Gibraltar is home to Barbary monkeys.
- The best direction to see James Wyld's 60-foot-high scale replica of the Earth, named the "Great Globe" was from the inside. Installed in 1851 in the middle of Leicester Square to coincide with the Great Exhibition, it included all the landmasses, seas and mountains built to scale. Sadly, in 1862, it was pulled down because the lease on the land expired. Interestingly, as you are inside it, it is an inverse of how the world really is, but it looks exactly the same as a globe.
- The Arctic Highlanders got their cutlery from metal that came from three meteorites. A man called Ross (after whom Ross Sea is named and who was the first man ever to get up close to the North Pole) observed that a tribe of 200 Inuits in 1818, whom he was the first to encounter, made their cutlery from bone and from the metal taken from three meteorites that they named "The Woman", "The Dog" and "The Tent", after what they thought they looked like. The tribe thought that they were the only people on the planet before Ross met them. 70 years later, Admiral Peary, who claimed to be the first man to reach the North Pole (although the claim is now largely discredited) stole the meteorites and sold them to a museum for $40,000. He also took six Inuit children with him, four of whom died of tuberculosis immediately. One of them survived and was brought up by an American couple. He then discovered that his father's bones where a public exhibit in the Natural History Museum in New York. He complained but Peary refused to do anything about it. However, he did give him enough money to return home. The bones were not returned till 1993. (Forfeit: Sheffield; Ikea)
- XL: Glaciers are large, blue, rare, slow-moving, have carves, suffer from wet bottoms and are found all over the world (not blue whales). Despite being made from ice, they can even be found in the tropics. Some travel at 65 feet a day. One in Pakistan went 7.5 miles in three months.
-
XL Tangent: Galciers have red algae on them which is home to ice worms. Their perfect temperature is 0 degrees celcius. They freeze to death at -7 and melt at +5. You can find more worms in one glacier than people on the entire planet.
-
XL Tangent: There are no snakes in Ireland because the Ice Age wiped them out.
- XL: The USA claims to legal right to invade any country whenever they might find guano. Guano, which is made from bird poo, is a very good fertiliser. The best comes from Peru, where the birds eat anchovies. It was responsible for 75% of Peru's economy. In the 19th century, it was mined by Chinese people and convicts who were treated as slaves. The law, which came into force in 1856, for claiming land containing guano has never been repelled. A similar idea can be found in the book version of Dr. No.
-
XL Tangent: Anchovies are now mainly used for feed salmon in fish farms. For every salmon, five kilograms of anchovies are killed. Therefore, salmon farming is not really sustainable.
- Alexander von Humboldt, the father of geography, was taught the Ature language 40 years after the last person to speak it died by a parrot. The parrot, which belonged to the Venezuelan tribe which had eaten by the cannibalistic Carib tribe, had learned 40 words, which Humboldt learned, but he did not know what they meant, but he could make educated guesses using related languages. Humboldt was gay.
- Tangent: Some parrots can learn up to 200 words. Parrots never mimic other birds in the wild. No-one knows why parrots mimic humans.
-
XL Tangent: Parrots also mimic human movements. For example, if a person raises a leg, so will the parrot.
- XL Tangent: The fourth best-selling children's book of all time, Green Eggs and Ham, has only 50 different words in it.
General Ignorance
- Mongolians live in a ger, which means "home" in Mongolian. A "yurt" is Turkish. (Forfeit: Yurt)
- The Dutch city of Groningen is not in Holland. It is in the Netherlands. The Netherlands is the name of the country where the Dutch live, which includes two different regions in it called North Holland and South Holland, which include the cities of Amsterdam, Rotterdam and The Hague. Calling the Netherlands "Holland" is like calling Great Britain "East Anglia". Groningen claims to have a pub which has been open non-stop for 10 years.
- The quite interesting thing about Church Flats Farm, Derbyshire, is that is the point in Britain the furthest inland, and can therefore be argued to be the exact centre of the country. Nowhere in Britain is 70-72 miles away from the coast.
- The Spanish national anthem is not sung in any language because it has no words. It is entirely instrumental and is the only national anthem in the world that has no words. The tune, "La Marcha Real", is one of the oldest national anthem tunes. It did have words, but they were dropped in 1975 after the death of Franco. However, they were inspired by visiting Liverpool F.C. fans singing "You'll Never Walk Alone" to add some new words. The Spanish Olympic Committee organised a competition to create some new words for the anthem in 2007, but it was withdrawn after five days having fallen foul of several different Spanish regions, who claimed the new version, "Viva Espana" was too nationalistic. The words were, "Long live Spain, we sing together with different voices and only one heart." (Forfeit: Spanish; Catalan)
- Tangent: "You'll Never Walk Alone" comes from a Broadway musical called Carousel.
- Tangent: The words to La Marseillaise, the French national anthem are, "Do you hear in the countryside the roar of those ferocious soldiers. They come right here into your mist to slit the throats of your sons and wives."
- Tangent: The sixth verse to God Save the Queen contains several references to defeating Scotland which could be considered racist. It goes, "Lord, grant that Marshal Wade, may by thy mighty aid, victory bring. May he sedition hush, and like a torrent rush, rebellious Scots to crush, God Save the Queen."
- Tangent: The Dutch national anthem includes the words, "William of Nassau, scion of an old German line, I dedicate undying faith to this land of mine. A prince Of Orange, I am, undaunted ever free, to the king of Spain I've granted a lifelong loyalty." The reason for mentioning the King of Spain was because 350 years ago, Holland was part of the Spanish Netherlands.
Scores
- Alan Davies: -7 points (Eight victory)
- Jo Brand: -10 points
- Jimmy Carr: -21 points
- Rob Brydon: -28 points
Broadcast details
Date

Thursday 17th December 2009

Time

9:30pm

Channel

Length

30 minutes
Repeats
View more broadcast data
Help celebrate and promote British comedy by donating to fund more content and functionality. BCG Supporters get extra features in return, including this episode's audience figures and further repeats data.
Find out more
Already a donor?
Sign in
Cast & crew
View related press
Help celebrate and promote British comedy by donating to fund more content and functionality. BCG Supporters get extra features in return, including press coverage related to this episode.
Find out more
Already a donor?
Sign in