Series B, Episode 9 - Bats
Further details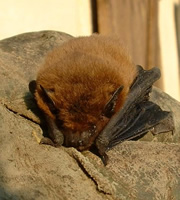 Topics
- Moth larvae eat clothes. Moths grow to a quarter of an inch long. They do not eat synthetic fibres and dry cleaning also prevents them. (Forfeit: Moths)
- Tangent: Leopards will eat rotten flesh, whereas cheetahs only eat fresh meat. There is a theory that the Tyrannosaurus Rex was a scavenger.
- Butterflies are believed to have evolved from moths because they live during the day whereas moths live at night. There are two theories for the root of the name. One is that it comes from a Dutch word meaning, "To excrete butter", the other is that when the Anglo-Saxons invaded, the first butterflies they discovered where butter-coloured.
- Tangent: If you put cotton wool into the ears of a bat, they would bump into everything because they need echolocation to know where they are going. A French scientist discovered this but his work was ignored for 150 years.
- Tangent: David Attenborough once did a piece for a wildlife documentary saying that you never get bats caught in your hair. Whilst saying this, a bat got into his hair. Josie once thought someone asked her a question about who she would most like to be like, to which she answered, "David Attenborough". The question actually asked who she would most like to look like.
- Tangent: When Richard Attenborough was directing Ben Kingsley in the film Gandhi, he asked first assistant director David Tomlin to tell over 1 million extras to feel sad because of Gandhi's death. Tomlin then shouted at the crowd, "Right, listen up. Gandhi's dead and you're all fucking sad."
- Owls do ring bells. An experiment was conducted to see how birds and owls moved in the dark by placing them in a room with bells. When it was pitch-black, the birds flew into the bells but the bats avoided them using sonar.
- Tangent: Stephen tells how his aga kept going out, due to an owl nesting on top of the flue of the chimney.
- "Batology" is the study of brambles and blackberries. There are over 1,000 different species of bramble.
- "Batophobia" is the fear of being close to tall buildings. A similar phobia is "Bathophobia", the fear of depth. (Forfeit: Fear of blackberries)
- "Battology" means pointlessly repeating the same thing over and over again.
- "Battology" means pointlessly repeating the same thing over and over again.
- Tangent: Stephen says that a friend of his thought that the word "Sugar" was the only word beginning with "Su" where the beginning is pronounced "Shu", and someone nearby said, "Are you sure?". Alan says he has a friend called Dave who repeats everything he says, he's nicknamed Dave-Ja Vu.
- There was the exact same number of 8-year-old girls in Sweden on 1 January 1994 as there were 9-year-old girls in 1 January 1995. None died and none immigrated. The exact number survived a whole year. This is unique in statisitcs. In Britain in 1994 however, 8 people were injured by place mats, 13 by cruets, 5 by dustpans, 8 by breadbins, 5 by sieves, 14 by serving trolleys, 17 by draught excluders, 11 by underwear and 476 whilst on the lavatory. In 1994, tea cosy damage was down from three to nil.
- Tangent: Hospitals use acronyms. Examples include GOOMER (Get out of my emergency room), SARA (Sexual activity related accident) and NFN (Normal for Norfolk).
- Between 1934-1943, the single biggest tourist attraction in Canada was the Dionne quintuplets. Five girls were born from a single egg to a poor family. Their father wanted to exhibit them, so reached an agreement with the Canadian government. The parents got the children back 9 years later, but they all left when they turned 18. In 1998, the two surviving quintuplets were given C$4 million as compensation from Canadian Prime Minister Mike Harris. (Forfeit: Niagara Falls) Correction: Mike Harris was not Prime Minister of Canada, but was Premier of Ontario.
- In the first recorded Olympic Games in 776 BC, the only event was a 192 metre run. (Forfeit: Discus, Javelin, Hammer, 200m)
- The naked chef was at the first Olympic Games because he won the race. The winner was a cook, who like all the other participants, ran naked.
- The length of the Marathon (26 miles and 385 yards) was due to the British Royal Family at the 1908 Games in London. It is the distance between Windsor Castle and the White City Stadium. The original marathon was run by Pheidippides, delivering the message of the Athenian victory of the Battle of Marathon. The nearest source was from Herodotus, who was born 6 years later, who claimed he had ran from Sparta, which was 145 miles away, and ran back. He also did not die. This was a myth created 500 years later by Plutarch.
General Ignorance
- The first modern Olympic Games were staged at Much Wenlock, Shropshire, England in 1850, by W. P. Brookes. He was the inventor of the modern Olympic Games according to Baron de Coubertin, father of the Olympic movement. He was able to get the rest of the world involved due to his political connections as a baron. King George I of Greece sent a silver medal as prize at the Much Wenlock Games. Brookes died a year before the first official games in 1896. (Forfeit: Athens; Greece)
- King Charles XIV of Sweden was ashamed of his tattoo, because it read "Death to Kings". He used to work for Napoleon Bonaparte, but was later made king by Charles XIII. When he became king, he backed away from France, had an alliance with England and Russia, invaded Norway, and his family still rule Sweden.
- The Danish King Harold "Bluetooth" is where we get the name for Bluetooth technology in mobile phones.
- St. Bernard dogs carry milk around their necks. The only evidence to suggest it is brandy is a painting by Landseer in 1831. Brandy would kill someone with hyperthermia. The dog in the painting was called "Barry", who managed to rescue 40 people before being shot by the 41st person he was due to rescue, who thought Barry was a wolf. In honour of Barry, the most handsome St. Bernard at the Great St Bernard Pass hospice is called "Barry". (Forfeit: Brandy)
- Tangent: St. Anthony is the patron saint of lost things. Stephen claims that praying to St. Anthony to help you find lost things is "Bullshit".
Deleted scenes
- Tangent: Stephen sneezes very loudly. He apologises to the sound department for the shock. The department respond by playing dramatic music to him.
- The Toronto Stork Derby was an event where a very rich man called Charles Vance Millar left a prize in his will to the woman who could give birth to the most children in ten years. The prize being money that was tied up as highly successful stock, which reached C$750,000. Two women give birth to ten children in ten years. Amongst those was a stillborn child and three or four "obvious bastards". At the end, four women who gave birth to nine children shared the prize, with the two who were disqualified getting C$12,500 each. Millar also left shares in race tracks to anti-gambling clerics and shares in breweries to prohibitionists.
- There is no such animal as a panther. It is a black leopard. "Panther" is a Greek word meaning "All beasts".
Scores
- Rich Hall and Josie Lawrence: 4 points
- John Sessions: -14 points
- Alan Davies: -72 points
Broadcast details
Date

Friday 26th November 2004

Time

10:30pm

Channel

Length

30 minutes
Cast & crew
Supporters and subscribers get more
Additional content and tools are available across the site for Supporters and BCG Pro subscribers. On this page you can:
Broadcast details of 51 further repeats of this episode
This episode's inital overnight ratings
Already a donor or Pro user? Sign in