Series B, Episode 3 - Bombs
Further details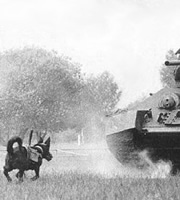 Topics
- In World War II, the US planned to attach napalm 'waistcoat bombs' to Mexican free-tailed bats so they would destroy Japanese towns. However, when the bombs were tested, the wind blew the bats towards a US army base which blew up.
- Tangent: "Kamikaze" is Japanese for "Divine Wind".
- Tangent: As all aeroplanes are fuelled to only go one way, all planes are Kamikaze planes technically.
- Zeppo Marx helped to design the clamps that held the nuclear bomb that was dropped on Hiroshima from Enola Gay. Zeppo joined the Marx Brothers after Gummo (also known as "Who-o") left. He appeared in five films, the last being Duck Soup. When he left, he became an agent for an engineering and design company. Amongst his other products was a wristwatch that contained an alarm that would go of when you had a heart attack. Groucho believed that Zeppo was the worst actor in the Marx Brothers, but most people are in agreement that, of the brothers, he was by far the wittiest off-screen.
- Tangent: Harpo Marx could actually talk. This was great help to him when after-dinner speaking. It allowed him to start: "Unaccustomed as I am to public speaking...". In his autobiography, he writes that for the first 15 years of his life he and all the other Brothers stole stuff for a living.
- In World War II, the Russians trained dogs with bombs strapped to them to go under tanks and blow them up. This was done by putting food under tanks. However, in battle the dogs ran towards the Russians tanks, thinking they had food under them and blew up their own tanks. All the dogs were eventually shot by the Russians. Correction: The main photographic evidence (pictured) which features a tank that was used after the "Dog bomb" was scrapped. Therefore, either the photo was faked, the bombs were used later that was first thought or the dog is doing something else.
- The first postcard ever sent from Antarctica has a picture of a bagpiper playing to a penguin.
- Tangent: 50% of bagpipers suffer from repetitive strain injury.
- The common name for the Ursus Arctos is the "Grizzly bear". Ursus is Latin for bear and Arctos is Greek for bear. (Forfeit: Polar bear)
- Tangent: The Arctic region gets its name from the constellations The Great Bear and The Little Bear.
- Tangent: The easiest way to tell Anthony McPartlin and Declan Donnelly (Ant and Dec) apart is that Ant always stands on the left.
- Polar bears disguise themselves by hiding in something white like snow. There is a misconception that they cover their noses with their paws, but this is false.
General Ignorance
- Is this a rhetorical question? No, it isn't.
- There are 46 states in the USA. Kentucky, Virginia, Pennsylvania and Massachusetts are commonwealths. (Forfeit: Fifty)
- Tangent: Hawaii is the only US state with no straight lines on its borders.
- During World War II, the only six Americans to lose their lives on home soil did so on a church picnic in Bly, Oregon. They were killed by Japanese fugos - balloon bombs. They were hard to detect on radar because they were mostly made out of paper called washi, which radar does not pick up. Most of the bombs were made by schoolgirls who didn't know what they were building.
- The fugo should not be confused with the Fugu fish. In Japan between 30-100 people a year are poisoned by fugu, and half of those die. It is believed that most Japanese people are daring enough to eat the fugu, but there are always traces of poison left and if you eat enough you can get high, so you have to be an expert filleter. Japanese restaurants have lanterns outside with fugu skin, to show that a trained fugu filleter is inside. Part of the training involves eating the fugu that you have cut.
- Tangent: Rich objects to Stephen saying that a bomb is most likely to land on "wasteland", claiming that Birmingham is a wasteland (both the one in the UK and the one in Alabama).
- Penguins will be living at the North Pole soon because the North and South poles flip.
- Tangent: Penguins and polar bears never meet because they live at opposite sides of the Earth. Lions and tigers never meet because they live on different continents.
- The panel are shown a picture of Saturn and are asked what is wrong with it. The answer is that it was shown upside-down. Alan answered correctly, but he actually thought it was meant to be on its side, possibly confusing it with the Uranus.
- The connection between Boy Scouts and Poles is the salute. A Boy Scout salute has two fingers tucked in, whilst the Polish salute has three tucked in, presumably after a war hero who had three fingers shot off.
- Tangent: The Boy Scout movement is now believed to be an American invention, due to Ernest Thompson Seton who created the Woodcraft Indians.
Deleted Scenes
- There is a polar bear jail in Churchill, Manitoba, Canada. It can hold up to 23 bears. Churchill is the coldest town in Canada.
- Tangent: There was a German man who liked eating endangered species. He would telephone zoos whenever animals died and asked if he could eat them. He was found to have a freezer full of endangered animal meat.
Scores
- Phill Jupitus: 4 points
- Rich Hall: 2 points
- Clive Anderson: 1 point
- Alan Davies: -4 points
Broadcast details
Date

Friday 15th October 2004

Time

10:30pm

Channel

Length

30 minutes
Cast & crew
Supporters and subscribers get more
Additional content and tools are available across the site for Supporters and BCG Pro subscribers. On this page you can:
Broadcast details of 57 further repeats of this episode
This episode's inital overnight ratings
Already a donor or Pro user? Sign in