Series B, Episode 4 - Bible
Further details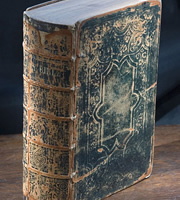 Topics
- There are only 15 professional ventriloquists in Britain. The word "Ventriloquist" means "Stomach talker".
- Tangent: The Sugar Puffs bear was called "Jeremy". Hercules the Bear mauled a television presenter. Peter Brough, the ventriloquist from the radio series Educating Archie always moved his lips when the doll was talking. He asked Beryl Reid if she could see his lips moving. She said, "Only when the doll is talking."
- Tangent: In Britain, there are 280,000 heroin addicts, 75,000 people in prison, 50,000 practitioners of alternative medicine and 10,000 practising druids. The Archbishop of Glastonbury and Stonehenge is Rollo Maughfling.
- Tangent: The rulebook for Dutch prostitutes is an inch thick.
- A Birmingham screwdriver is slang for a hammer. (Forfeit: Drink)
- Tangent: Jeremy Clarkson claims that all people from Birmingham are dull and whine all the time. Employees of British Leyland used to take car paint home and decorate their houses in it, like burnt orange.
- Tangent: One saying in Birmingham is, "He'd skin a turd for a farthing." The panel tell jokes about people from Birmingham, and Jeremy Hardy jokingly claims that Jimmy Savile invented hip hop.
- The people of Bhutan have the least use for Jeremy Clarkson, because they have little television and few roads. Television was introduced in 1999. Parking fees were recently introduced although there are no traffic lights in the whole of the Kingdom. Most people live a day away from a road. 0.01% of the country is on the internet. The domain initials are .bt. Telephones were introduced to Bhutan in 1980, and there are only 6,000 of them.
- Tangent: India has no speed limits and every car in the country within five years will be involved in a fatal road accident. The UK has the largest number of car thefts in the world. Alan's motorbike got stolen and he pleads for its return.
- Tangent: Stephen's cousin is an American doctor who refers to motorbike riders as "Donors".
- Tangent: Britain and Finland are the only two democracies to have declared war on each other. Correction: As was later revealed on Series M, Episode 2, "Military Matters", there have been other wars between democracies, such as the the Fourth Anglo-Dutch War of 1780-84 and the Football War of 1969 between El Salvador and Honduras.
- According to the book of Leviticus, Jews can eat grasshoppers but not cuckoos, ferrets or camels. They also cannot eat lobsters, crabs, frogs, chameleons, eels, hares, snails, lizards, moles, ravens, ospreys, vultures, swans, owls, storks, herons, bats, pelicans, lapwings, prawns, eagles, pigs and shellfish.
- Tangent: Leviticus is a Latinisation for the word "Levi" which is a type of priest. Jeremy Clarkson's third puppy is called Leviticus, his others being called Genesis, Exodus and Numbers.
- Tangent: At the Roadkill Cafe, they will cook anything you knock down with your car. Their poster says "From Your Grille To Ours!"
- Tangent: The Wedge-tailed Eagle in Australia hunts for roadkill. During the morning, the road train runs over them at windscreen height because they have eaten so much they can only take off into the wind. The result of which results in the birds contents splattering over the driver.
- Since Tsar Alexander III in 1881, the leaders of Russia have alternated between being hairy and bald. The current leader at the time of broadcast was Valdimir Putin, who was bald. Since this was broadcast the line has continued, with Dmitry Medvedev (hairy) and Putin (bald) again.
- Tangent: Vladimir Putin hit someone who thought he resembled Dobby the House Elf in the Harry Potter novels.
- Tangent: The brother of the Brontë sisters, Branwell Brontë died standing up.
General Ignorance
- The English Civil War resulted in the highest proportion of British soldiers dying, mainly because everyone in it was British. (85,000 on the battlefield, another 100,000 of wounds subsequently - 10% of the adult population) The Irish population was halved by Oliver Cromwell.
- Tangent: 90% of British people cannot name a battle in the English Civil War, 80% do not know which English king was executed by Parliament, and 67% of schoolchildren have never heard of Oliver Cromwell.
- Less than 0.02% of the Earth is water. Seven-tenths of the Earth's surface is covered in water. Earth can also go into the Red Spot on Jupiter. (Forfeit: Two-Thirds)
- Andy Warhol always wore green underwear. The only funeral he went to was his own and he never danced.
- Robert Burns never wore a kilt, since kilt-wearing was illegal in the 18th century, mainly because of the Jacobite Rebellion. He was never referred to as "Robbie" or "Rabby" Burns, but sometimes "Rab".
Scores
Jeremy Clarkson: 5 points
Jeremy Hardy: 3 points
Alan Davies and Barry Cryer: -6 points
Broadcast details
Date

Friday 22nd October 2004

Time

10:30pm

Channel

Length

30 minutes
Cast & crew
Supporters and subscribers get more
Additional content and tools are available across the site for Supporters and BCG Pro subscribers. On this page you can:
Broadcast details of 56 further repeats of this episode
This episode's inital overnight ratings
Already a donor or Pro user? Sign in