Series B, Episode 6 - Beavers
Further details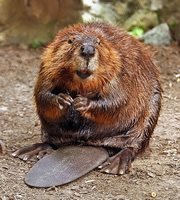 Topics
- The Pope eats beaver, in particular on a Friday or in Lent. The Roman Catholic Church designated it a fish because they are scaly and live in water. Catholics are not allowed to eat meat on Fridays or in Lent. 400 tonnes of capybara, the largest rodent of Earth, is eaten during Lent in Venezuela. Beavers excrete castoreum, which is used in aspirin.
- If aliens came to abduct Earth's most successful inhabitants, they would abduct bacteria. If chicken had no bacteria, it would be completely tasteless. Only a few types of bacteria are dangerous. There are 40,000 different species of bacteria found in a gram of soil. 75% of the bacteria in the stomach are not identified as separate species.
- Tangent: The Latin for "Bulge" is "Torus". It is also the name of the doughnut shaped part of a particle accelerator and the fleshy part of an apple.
- Tangent: The fear of getting peanut butter stuck to the roof of your mouth is "Arachibutyrophobia". "Begonnophobia" is the fear of beards. "Anthropophobia" is the fear of people. "Antherphobia" is the fear of flowers. "Allurophobia" is the fear of cats. Every phobia has an opposite philia.
- In the Battle of the Bulge, the stomach division was made up of German soldiers that had illnesses deemed not suitable enough to be taken out of battle, such as stomach bugs. They had their own latrines and their own special diet, but they were defeated by the Canadians. It was the largest and bloodiest battle in American military history. 600,000 people were involved, which is more than the Battle of Gettysburg, which had Americans on both sides.
- Tangent: The German for "Diarrhoea" is "Durchfall", which literally means "Through fall".
- Tangent: At the Paralympics, the Spanish national basketball team pretended to be mentally ill to compete. They won gold. Note: The Special Olympics is for people with mental and learning disabilities. The Paralympics is for people with physical disabilities.
- The Earth bulges 30 centimetres twice a day due to the gravitational pull of the Moon. It is the same effect that causes the tides.
- The Earth has either one or five moons. Since the discovery of Cruithne in 1997 (See Series A, Episode 2), three more have been discovered. They are called 2000 PH5, 2000 WN10 and 2002 AA29. If Cruithne is a moon, then so must the other three. (Forfeit: Two) Correction: Since 2006, it has been officially recognised that the Earth has only one moon. In Series K it was revealed that there are now about 18,000 "mini moons" as defined by NASA.
- Tangent: There is no evidence to suggest that people go insane during a full moon.
General Ignorance
- In 2003, only 11 points are needed to win a game of table tennis. (Forfeit: 21)
- Tangent: Also in 2003, the ball was increased by 2mm to make the game slower and easier to watch on TV.
- Kangaroos have three vaginas, but only two wombs. As soon as a joey is born, it crawls along its mother's body and into the pouch. If the joey does not survive the year, the birth of another joey is triggered in the other womb. The third vagina is a mystery. The male kangaroo has two penises.
- Tangent: The clitoris is the only organ in the body designed purely for pleasure. It has 8,000 nerve endings, twice as many as the penis.
- There is nothing special about the birth of Julius Caesar. The phrase "caesarean section" is derived from the Latin word meaning for "Cut". There was a form of caesarean section in Caesar's time but it would always kill the mother. Caesar's mother was alive in his adulthood, so she could not have had a caesarean. (Forfeit: Caesarean section)
- Tangent: Roman statues have blank eyes because the eyes were painted.
- Tangent: The most common last meal on death row is a cheeseburger, fries and a coke. Bill refers to this as a "Happy Meal".
- There are no offences left in the UK for which you can be put to death. The last capital punishments were outlawed in 1998 by Jack Straw. Arson in the Royal Dockyards was outlawed in 1971. (Forfeit: Arson in the Royal Dockyards; Treason)
- Dead bodies are eaten by bacteria. Kitchen chopping boards contain three times more bacteria than toilet seats and dishcloths have a million times more than that. (Forfeit: Worms)
Deleted scenes
-
Tangent: In the early 1980's, during the Troubles in Northern Ireland, Stephen, Hugh Laurie and Robert Bathhurst went to do a comedy show. The three were travelling on a dark green minibus and had just had haircuts, so they looked just like soldiers. In order to avoid being shot mistakenly, the three of them stuck their faces against the windows and pulled faces.
Scores
- Anneka Rice: 7 points
- Bill Bailey: 6 points
- Sean Lock and Alan Davies: -18 points
Notes
There were some complaints over this episode as Alan used the word 'Mad' to describe people with mental and learning disabilities.
Broadcast details
Date

Friday 5th November 2004

Time

10:30pm

Channel

Length

30 minutes
Repeats
View more broadcast data
This content is exclusive to
BCG Pro subscribers
and
BCG Supporters
. Join them and get extra features including this episode's audience figures and further repeats data.
Already a donor or subscriber?
Sign in
Cast & crew
View related press